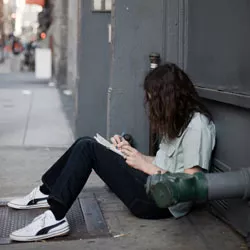 Kurt Vile is quickly reaching "Your Favorite Songwriter's Favorite Songwriter" status. That rarefied air is inhabited by only a handful of artists whose music transcends media and marketing hype. And it's no surprise, considering the volume of critical praise Vile has recently garnered.
Earlier this month, he released Smoke Ring for My Halo, a follow-up to his acclaimed 2009 record Childish Prodigy and his second album for legendary indie-rock imprint Matador Records. On the surface, Vile's latest is far more refined and subdued than the unpredictable, psych-rock-informed Prodigy, but it's no less powerful. Halo finds Vile wielding his talents with uncanny precision, and revealing an affinity for folk songwriting. The result is his most compelling and, in some ways, challenging work to date.
Seven Days caught up with Vile by phone from his Philadelphia home in advance of an upcoming gig with his full band, the Violators, at the Monkey House on Sunday, March 13.
SEVEN DAYS: You've described Childish Prodigy as being created through a sort of "aimless wandering." In contrast, Halo seems very focused. Was your approach in fact more purposeful?
KURT VILE: Yeah. I went in knowing I wanted to make a more cohesive album. But I wouldn't have said Childish Prodigy was aimless when I was doing it. I just happened to be working on an electric, psychedelic record that was inspired by our live shows. I also didn't know it was going to be on Matador [Records].
SD: Would that have mattered?
KV: Well, I knew I was recording it to shop around. And I thought it was my ultimate statement, which it was at the time. But [Halo] is the first record we've done completely from scratch.
SD: Did you find that to be limiting or liberating?
KV: Neither, I guess. But when I first started I thought it was going to be an acoustic record. Then, somewhere along the line, I figured out what the theme wanted to be and just went along with it — the sonic theme. It's not a concept album or anything.
SD: Maybe not. But there are certainly running lyrical themes. The title, for example, hints at a moral duality.
KV: This is a very lyrical record. And I think this batch of songs did carry that vibe, though just by chance, because that's where I'm at lyrically right now. "Smoke Ring for My Halo" was my favorite song on the record. But it's a pretty straightforward song, and I wanted it to pop out, which is why I chose it for the title. But those lyrics do sum up a sort of loose theme with the other songs. Like an angel smoking a cigarette. Those things kind of cancel each other out, and then you're just human.
SD: The music on Halo seems a little brighter, or maybe cleaner, than it is on Prodigy. But then there is a darker lyrical undercurrent. But even that is balanced with a subtle humor.
KV: I think that's just the way my songs come out … it's usually late at night, like, one or two in the morning, and I'm by myself. But I'm not really a cynical person. Or, only as cynical as any person who's thinking about life late at night.
SD: This album feels like the union of the various sonic experiments you've undertaken over the years.
KV: Sort of. The result is that nothing "rocks." There are rock undertones, and psychedelic and pop and folk undertones, too. But when you combine 'em all, I'd say it's an "epic folk" record.
SD: You do a lot of in-store performances at record shops. Why is that important to you?
KV: I started out playing solo acoustic. I mean, I always had a band on the side, too. But once you're dealing with electricity, you can spin out of control. So, it's nice to go back and do songs solo in a place that is comforting to me, which is the record store. People are there who buy music, who are music fans. So, it's a chance to deliver music to them in the purest form, or the earliest form of me writing music, anyway.
SD: But you also tour with a full band, the Violators.
KV: And that's equally as powerful. If you choose the right bandmates, everybody has their place. Everybody adds their own pieces and then everybody is bouncing off each other, and the energy. And that's rock and roll. It would be a bummer to not be able to rock.
SD: Absolutely. Speaking of rocking, a clear touchstone for your music is the alt and indie rock of the 1980s and 1990s. What was it like to tour with bands you idolized, such as Dinosaur Jr. and Sonic Youth?
KV: I'll tell you, I've always had that master plan in mind. But, on a personal level, just to get to know them as people is really awesome. And it's amazing to play for their crowds. It's beyond a childhood dream. Though I don't like to say that because I don't want to make anyone feel like they're old. Nobody's old.