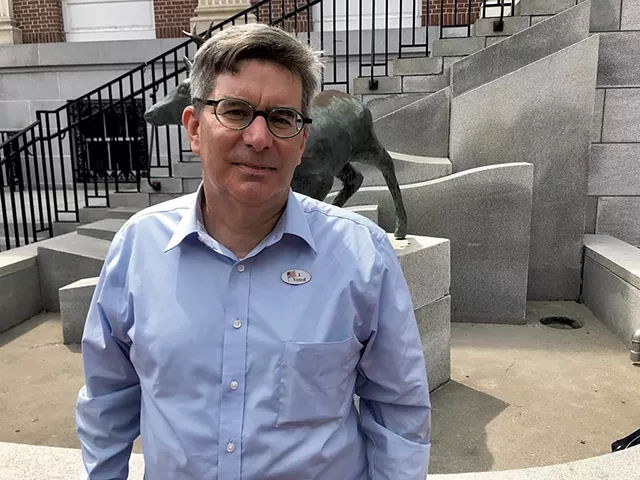 Chelsea Edgar ©️ Seven Days
Andrew Champagne
As of July 10, Andrew Champagne had, by his own count, registered 1,304 people to vote in the state of Vermont. I was the 1,304th. All of my previous registration experiences have involved appeasing a disgruntled civil servant at a DMV or dropping an envelope into a mailbox with a stamp and a prayer; in both scenarios, success has seemed strangely arbitrary, a fluky combination of magic and bureaucracy.
But Champagne has made it his personal quest to ensure that any Social Security card-carrying adult who resides in Vermont can cast a ballot here — and to make registering to vote feel like securing a permanent spot on the guest list of the world's best party, which, in Champagne's view, is American civic life.
Since 2012, Champagne has been setting up booths at events all over Burlington, at Higher Ground and Nectar's and Grand Point North. Last winter, a Seven Days colleague spotted him at a Prince tribute show at Waterworks Food + Drink in Winooski, chatting up drunk concertgoers as they stumbled to the restrooms. He's registered people 60 and older who have never voted before, people with felony convictions, people who are homeless or insecurely housed. "Our most vulnerable citizens are the most under-registered and underrepresented," he told me. "If I can help anyone get the confidence to vote for the first time, that makes me feel like I'm doing something good for my country."
Champagne, 57, grew up in West Hartford, Conn. As an undergraduate, he attended the University of Vermont and Trinity College in Hartford, where he majored in history and political science. He's lived in Burlington for 25 years, most of which he's spent on Greene Street in the Old North End.
He is a two-term inspector of elections for his ward — essentially, a hallway monitor for democracy— and a five-term justice of the peace. His fealty to the Democratic Party resembles the obsessive, almost mechanical devotion of a rock groupie; in fact, Champagne has done a lot of gallivanting around the Burlington music scene.
But his dedication to registering people to vote, which no one pays him to do, transcends partisan politics. Because Vermont doesn't require that voters list a party preference, Champagne doesn't ask. And he doesn't seem to care. He really, really, really just wants people to exercise their right to vote, to feel the wind of participatory democracy in their hair as they stride to their local polling place or the nearest mailbox, ballot in hand. He claims to be the state's most prolific voter registrant — which no one has disputed, because no one but Andrew Champagne keeps track of such things.
Champagne has graying hair, horn-rimmed glasses and the wholesome, unremitting pep of a student body president. On a stupefyingly humid Friday afternoon, I met him on Church Street, on a bench across from Burlington City Hall; he wore khaki shorts and a long sleeve button-down shirt, with an "I Voted" pin proudly affixed under the left collar. From a well-worn Essex Hornets messenger bag, he produced a voter registration form and began filling it out for me.
With a kind of solemn competence, he transcribed my full name, my date and place of birth, the last four digits of my Social Security number, my previous voting address, and my current residence. When I gave him my Burlington street address, he emitted an awe-struck noise, as if I had told him that I live on the slope of an active volcano. "My friend," he gasped, "there is a marquee matchup in your district!" He was referring to the Vermont House contest between incumbent Democrat Jean O'Sullivan and Progressive challenger Emma Mulvaney-Stanak, who are both vying for the Democratic nomination for the sole seat in the Chittenden 6-2 district. Champagne has an encyclopedic grasp of state electoral politics; he can list all 14 Vermont counties in alphabetical order in under 10 seconds. He performed this parlor trick for me while I verified that the information on my application was correct.
The voter application doesn't require proof of residency, such as a Vermont-issued driver's license or a recent piece of mail. I told him I found this astoundingly chill for a state government.
"Here's a good quote for you," he said, scrutinizing my signature. "Unlike a lot of other states, Vermont wants you to vote. Is that chicken scratch really your signature? I think you can do better. Sign again, please." I obliged. He continued. "We want you to be part of our voting family. This is the most important election our country has faced since the Constitutional Convention." In a state of fewer than 700,000 people, Champagne added, every single vote makes a difference.
Champagne's goal is to register 500 more voters by November and ensure that as many people as possible receive a mail-in ballot. ("I don't like the term 'absentee' ballot," he explained. "Please do not use that word in your article. You can say, 'Vote early, in the pleasure of your home.'")
The pandemic has been a bit of a drag for Champagne's ambitions. During the height of quarantine this spring, he only managed to register a handful of people: "It was, indeed, a fallow period," he sighed. Champagne, a patriotic citizen of the analog universe, conducts all of his voter registrations with pen and paper. He chooses not to own a car; whenever he registers someone outside of Burlington, he has to find a ride. R. Christopher Di Mezzo, the communications director for the Vermont Democratic Party, has driven Champagne as far as Rutland to bring someone a form and help them fill it out.
The two met at a Democratic party fundraiser in August 2018, shortly after Di Mezzo moved to Vermont. As Di Mezzo recalls, one of the event planners mentioned that they needed an extra table for someone named Andrew. "I was like, 'Who is this guy, and why does he need his own table?'" said Di Mezzo. "And they said, 'Just you wait.'" That evening, Champagne registered him to vote.
Since then, Champagne has updated Di Mezzo's registration every time he's moved to a new address. At this point, he can recite Di Mezzo's phone number from memory. ("My girlfriend can't even do that!" Di Mezzo told me.)
"To Andrew, voting is the single most important act of patriotism," Di Mezzo said. "I think he does what he does because he thinks it's right, and he wants to give back to his country."
After I had re-signed my application to Champagne's quality standards, he gave me a sticker ("I Registered to Vote Today!") and offered to mail my completed application for me. I told him that wasn't necessary. "My friend, it is an honor and a privilege," he insisted.
He sent me home with mail-in ballot applications for my roommates. "If they don't feel like filling them out, I'll come to your house and do it for them. And please," he added, "make sure you call me and let me know when you get your ballot in the mail, will you?"
How to Register to Vote
Register Yourself
If you're a U.S. citizen, a Vermont resident, and will be over 18 years old by November 3, you can register to vote at olvr.vermont.gov or print out a voter registration form from the site and mail it in.
Want to register in person?
Visit your town clerk. You can also show up at the polls with proof of ID and residency; Vermont allows same-day voter registration.