Matt Dunne's campaign website
The 2016 governor's race is getting more interesting by the day. Two candidates — Republican Bruce Lisman and Democrat Matt Dunne — clarified this week that they are indeed running, setting the stage for primaries for both parties.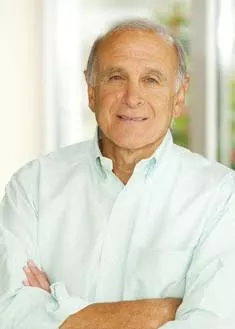 Dunne plans to make his candidacy official Wednesday. He told Fair Game he's still on the "listening tour" he started last week, but enough pieces had come together to green-light his campaign.
Specifically, he has raised $200,000, and his campaign manager, Nick Charyk, started Tuesday.
"I want to be governor because I am concerned that Vermont is at a turning point where we are seeing the economy not bounce back evenly," said Dunne, who lives in Hartland. He plans a formal campaign kickoff later this month.
Lisman, of Shelburne, will kick off next month, but he said Tuesday he's definitely running for governor as a Republican, calling himself "not the usual guy."
"I love this state, but it's headed in the wrong direction. People are angry with their government," Lisman said. "I think I can fix it." Sounds like the former Wall Street exec is looking to tap into the same discontent as presidential candidates Sen. Bernie Sanders (I-Vt.) and Donald Trump.
Neither of the newly minted gubernatorial candidates was ready to delve into policy details on Tuesday.
"There's plenty of time to talk about that," Dunne said.
"We're going to lay out all the details over time," Lisman said.
That makes three official candidates in the running to replace Gov. Peter Shumlin, a three-term Democrat, who announced in June that he won't seek a fourth term.
House Speaker Shap Smith (D-Morristown) made it official last month. He and Dunne will go head-to-head in a Democratic primary race.
And there may be more heads. Transportation Secretary Sue Minter, a former Democratic legislator from Waterbury, said she is still considering running for governor. "It's certainly more in my thoughts," said Minter, noting that she's given herself a deadline to decide — shortly after Labor Day.
Dunne, 45, a former state senator, will be looking to improve on his fourth-place finish in the five-way Democratic primary in 2010. He said he learned a lot from that race: "You don't want to be outspent 2- and 3-to-1. You need to be running a full-time campaign for longer, and a positive message really does do well."
Dunne pitched his 14-county listening tour, which started last week, as exploratory. But it's clear he was well on his way to launching a campaign. He had already raised $135,000 by mid-July, filed with the Secretary of State's Office as a candidate and was arranging to hire Charyk, a former Vermont Democratic Party campaign worker who left his job with Voices for Vermont's Children the day before he started working for Dunne.
Dunne insisted Tuesday that the pieces didn't all come together until last weekend. "It's a process," he said, noting that he'll consider what he hears on the listening tour — which runs through September 24 — as he firms up his platform.
Dunne, who is director of community affairs at Google, said he expects to take a leave of absence from his job next year to be available for campaigning. He is the father of three kids, ages 5, 7 and 10. His wife, Sarah, is a writer.
Lisman, 68, will likely face Lt. Gov. Phil Scott of Berlin. Vermont's No. 2 said he expects to make a decision internally around Labor Day and to go public sometime after that. But all indications are that the race-car-driving lieutenant governor is ready to start his engine.
For example, he was willing to answer a question about the prospect of Lisman running in a Republican primary. "It's good for the party if he chooses to run as a Republican," Scott said. "I think primaries are healthy. It certainly didn't seem to hurt Gov. Shumlin."
That was the sentiment among many Republicans at a Monday night fundraiser headlined by Republican presidential candidate Rand Paul. They remembered five Democrats soaking up all the attention for most of 2010, then primary winner Shumlin defeating Republican Brian Dubie.
Lisman, a Burlington native, University of Vermont graduate who started the public policy organization Campaign for Vermont, had toyed with the idea of running as an independent. But that would have made him a spoiler and the election more difficult for Scott, as the two likely would have split votes in the general election.
"I might have considered all possibilities," Lisman said. "The best way to present ideas in this country is through a political party."
Lisman didn't want to spoil Monday night's party fundraiser, either. He said he stayed away in part to avoid creating a distraction. He also conceded that he's not been a regular Republican Party participant. When he started Campaign for Vermont, he insisted it was nonpartisan, though the organization tends toward more conservative fiscal views.
Lisman appears ready to sell himself as the outsider. Meanwhile, Scott drew loud cheers at Monday night's fundraiser and already has the support of former governor Jim Douglas.
Lisman said he conducted a poll this summer, but it wasn't to determine whether to run as an I or R. Instead, he said, he wanted to get a sense of which issues mattered most to voters. He said the poll affirmed that Vermonters are angry over the cost of living and a sense that government isn't listening.
For 20 years, Lisman was head of global equities for Bear Stearns, the Wall Street investment company that collapsed in 2008. He retired in 2009 from JPMorgan Chase & Co. as chair of its global equities division.
Lisman plans to step down from the Campaign for Vermont board and will no longer fund the organization. When he started it in 2011 with his own cash, many wondered whether his real goal was to run for governor. What about that? "If I had intended to run for governor from the beginning, there would have been easier ways to do it," he said.
Stand With Rand?
Terri Hallenbeck
Sen. Rand Paul (R-Ky.), right, poses for a photo with state Sen. Dustin Degree (R-Franklin), left, and Rep. Corey Parent (R-St. Albans).
Rand Paul is not exactly tearing it up on the Republican presidential primary trail. A Monmouth University poll released Monday indicated he'd slipped from being the No. 1 choice for 5 percent of Iowa Republicans to just 3 percent of them last month. That puts him in ninth place.
So the Kentucky senator had time to stop by Vermont on Monday evening to headline a Republican party fundraiser, sell a few of his Taking a Stand: Moving Beyond Partisan Politics to Unite America books and speak to about 220 people who rewarded him with a polite standing ovation.
The Vermont Republican crowd especially liked it when Paul whacked Democratic presidential candidate Hillary Clinton for not boosting security at the U.S. consulate in Benghazi, where the ambassador was killed in 2012. "Her dereliction of duty ... should forever preclude her from holding higher office," he said.
They also cheered when he dissed Republican rival Trump and President Barack Obama.
The audience was less sure how to react when he called for less military intervention overseas.
"Sometimes, it's best not to intervene," Rand said.
Wait, weren't we for the war in Iraq? you could almost hear some in the crowd thinking.
It surely wasn't the most partisan Republican gathering Paul has addressed, but for him, there was little downside to the minor detour off the campaign trail's main path.
Paul's visit was all good for Vermont Republicans. He paid his own way and didn't insist on making the event a fundraiser for his campaign. It raised $22,000 for the state GOP.
The party has invited other Republican presidential candidates to Vermont, too, hoping they'll bop over while visiting New Hampshire, said executive director Jeff Bartley. Paul was the first to respond, but others could still show up. Asked if Trump was on the invitation list, Bartley said, "We have not sent a request to Mr. Trump."
Trump aside, it's always risky for Vermont Republicans to bring their national brethren to the state. They are inevitably more conservative than Vermont's own elected Republicans. That can make it dicey to, well, stand with Rand.
As Paul spoke to the crowd Monday night in the Whitcomb family barn in Essex, he carefully avoided bringing up any issues that were likely to make Vermont Republicans squirm. He didn't mention that he's strongly anti-abortion and wants to defund Planned Parenthood. Or that he wants a wall along the Mexican border.
Sen. Dustin Degree (R-Franklin) shrugged off any implication that he was embracing Rand's policies when he stepped up for a photo with the candidate.
"I've been on record as supporting Planned Parenthood and choice," Degree said. "I'm here to support the Vermont Republican Party."
But other Republicans remained at arm's length.
Republican Lt. Gov. Phil Scott chose not to cross the road to attend the private pregame reception with Paul. He attended the public event, said he appreciates Paul's libertarian approach and thinks it's good for Vermont Republicans to hear from a wide variety of Republican presidential candidates. But?
"I'm not in favor of defunding Planned Parenthood," Scott said.
Scott indicated he'd stay even farther away from Trump. Asked if he thought the party should invite the toupee-topped business mogul to Vermont, Scott said, "not particularly."
Three-term Lt. Gov. Scott has yet to announce plans to run for governor. But as the crowd chanted support for him Monday night, Scott let slip, "I'll see you on the campaign trail."
Media Notes
Talk-show host Mark Johnson announced last month he was giving up his WDEV radio show of 16 years to take a senior reporter job at VTDigger.org. His replacement is Mike Smith, former top aide to Republican governor Jim Douglas.
The transition is raising the hackles of liberals worried about Smith's political proclivities. Johnson was a career journalist, while Smith has spent most of his career in partisan political positions.
Smith, whose "Open Mike with Mike Smith" starts airing September 8, said he knows some will question whether he can be politically fair on the air. "Listen in and find out and make your own judgment," he suggested.
Smith was a Republican state legislator in the 1970s, then deputy state treasurer, administration secretary and human services secretary under Douglas.
Since retiring in 2008, the former Navy SEAL has served as fix-it man at FairPoint Communications and Burlington College. He's also been doing political commentary for WCAX and the Rutland Herald/Barre-Montpelier Times Argus. He plans to hang onto those gigs.
Ken Squier, president and chief executive officer of WDEV, approached Smith about taking the job with the Waterbury station. He said he was impressed with Smith's commentary, and that was all that mattered.
When listeners accused Johnson of being liberal, "We paid no attention," Squier said.
Smith's show will air Tuesday through Friday, from 9 to 11 a.m. Squier is still working out what to do on Mondays, but said he hopes to have VTDigger reporters on the air talking about developing stories.
Speaking of VTDigger: It has a new political reporter in Jasper Craven, a 2015 Boston University grad who is the son of filmmakers Jay Craven and Bess O'Brien. The Peacham native has done work for the Boston Globe and the Chicago Tribune.
Meanwhile, Mike Faher, who was laid off in June from his job as a reporter at the Brattleboro Reformer, is covering his old Windham County territory for VTDigger and the Commons. Digger editor Anne Galloway said she plans to continue a story-sharing arrangement with the Reformer.