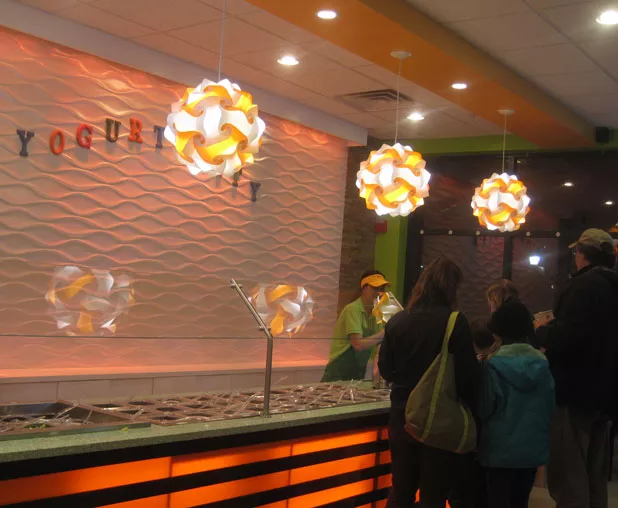 Anatolian Grand Bazaar began its soft opening at Burlington's 163 Pearl Street on Monday, May 20. The mother-and-son team of Nazan Bozkurt and Efe Çimrin has filled the airy, white-walled space with packaged meals consisting of mixed vegetarian and vegan Turkish appetizers. There's sweet stuff, too: Don't miss Bozkurt's pistachio baklava and hazelnut Turkish delight.
Speaking of sweets, Williston's Maple Tree Place finally has a replacement to feed the crowd that once flocked to Ben & Jerry's after the movies. Shawn Zhen opened Vermont's first Yogurt City franchise there last week. At the grand-opening celebration on Saturday, June 1, all 14 self-serve flavors and 42 toppings will be free, says manager Wendy Lu. She and Zhen are already looking to expand to Burlington, Lu adds, and have been scouting locations.
Less than two months after opening, the owners of Burlington's Uva Wine Bar have changed its name as a result of a trademark objection from a similarly named restaurant in New York City.
Uva — which means "grape" in Italian — will instead be known as Vin Bar & Shop.
"It was disappointing to have to change the name, as we had put a great deal into it before we had opened," writes co-owner Kevin Cleary in an email. Vin — located steps away on College Street from L'Amante Ristorante, the decade-old Italian eatery Cleary runs with his wife, Kathi — is a combination wine bar, retail store and education center.