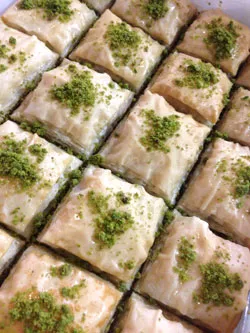 Most of us don't have a Turkish mother cooking her specialties at home for us. But Efe Çimrin does, and he's willing to share. He'll do just that when he and his mom, Nazan Bozkurt, open Anatolian Grand Bazaar at 163 Pearl Street in Burlington in early May.
Bozkurt's baklava has been approaching local-legend status since 2006, the year after she left her job in the Istanbul fashion industry to join her son, then a University of Vermont master's student. As Anatolian Ethnic Food, the family has established itself as a Burlington Farmers Market fixture and sold its wares at City Market and Dobrá Tea.
The same packaged foods — dolmas, borek, lentil soup, pistachio hummus and more — will be for sale at Anatolian Grand Bazaar, which is strictly take-out. "We're going to make sure people have a big selection of Mom's cooking available to them at their own leisure, so they don't feel like they have to eat here," says Çimrin of the store. Aside from occasional meaty treats, he notes, the fare is vegetarian, and 80 percent is vegan.
Space that might have been taken up by seating is instead filled with treasures from Turkey, including coffee, olive oil, spices, tea sets and glassware. For customers who want something heartier than the mezzes, soups and desserts that Bozkurt prepares, she'll provide her family recipes and aids to making Turkish meals at home. For now, those will likely be handouts, but the former designer is also working on a cookbook.
And, of course, there will be baklava, both walnut and pistachio varieties, sold in sizes to suit every honey-drenched, flaky occasion.