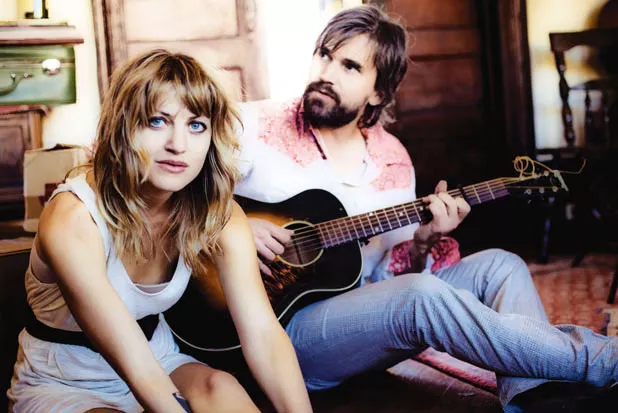 Anaïs Mitchell and Jefferson Hamer
Anaïs Mitchell is sitting cross-legged on the rolling lawn of her parents' rural home in Vergennes, where she has spent the morning harvesting dandelions to make wine. Hip, multicolored Wayfarer sunglasses shield her eyes from the brilliant midday sun. She's clad in shorts and a tank top that curves over a modest baby bump — she's due to have her first child with husband Noah Hahn in late July.
Mitchell is rhapsodizing about 1970s British Isles folk/neo-traditional singers such as Paul Brady, Martin Carthy and Nic Jones, whom she discovered while she was playing in England several years ago.
"There is something so familiar, yet exotic, about that music," she says of recordings such as Jones' Ballads and Songs and Carthy's Crown of Horn. "They're fucking awesome."
It is a musical era that hypnotized Mitchell. It also inspired her latest record, and first with New York City-based songwriter Jefferson Hamer, Child Ballads. The duo performs at the Higher Ground Ballroom on Tuesday, May 14, with New York-based folk duo Mike & Ruthy.
Child Ballads is a collection of songs derived from The English and Scottish Popular Ballads, an anthology of traditional British and Celtic folk songs compiled by British collector Sir Francis James Child in the 19th century. Mitchell and Hamer adapted seven selections from that voluminous compendium — Child collected 305 ballads in total — tweaking the language and arrangement of these centuries-old tales to tickle modern ears.
"In that way it was almost like adapting a novel for film," says Mitchell, describing a process not dissimilar to her last adaptation project, the folk opera Hadestown.
"It is such a world unto itself," she says of her retelling of the Orpheus myth. "We're used to a certain style of storytelling, of story arcs. Hadestown doesn't have that anatomy. It doesn't give you the Hollywood ending, and it's unusual in that way."
She says the stories found on Child Ballads are similar in that they, too, rarely offer conventional or convenient narratives. That meant occasionally deconstructing the songs — a process she and Hamer call "bushwhacking" — to modify archaic language or streamline a story arc. In the song "Tam Lin," for example, the duo cut an entire verse about fairies because it was deemed extraneous.
"There's a push and pull between bringing things into the mold that feels the most satisfying and being open to the fact that our formula is limiting," Mitchell explains. "Maybe there's a reason why things are so sprawling in these storytelling traditions."
As with Hadestown and, more recently, Mitchell's 2012 pseudo-concept album, Young Man in America, Child Ballads concerns itself first and foremost with telling great stories.
"The ballads are such an amazing example of storytelling," says Mitchell. "It's the English 101 thing of showing and not telling. They're always giving you a visual to explain what's happening."
She offers the ballad "Sir Patrick Spens" as an example.
"The first line that Sir Patrick read, he gave a weary sigh. The last line that Sir Patrick read, the salt tear blinds his eye," she recites. "You know how he felt, without anyone telling you. It's a satisfying way to understand the story."
Because the language of original ballads is so vivid, Mitchell and Hamer needed to strike a balance between honoring their source material and making sure their audience would be able to follow along. In some cases that meant cutting obsolete verbiage — "He's tirled low at the pin," for example.
"We didn't want to water it down, but we didn't want to do anything that would get in the way of people's comprehension of the stories," Mitchell explains.
The songs on Child Ballads have been handed down for centuries, often orally. As such, there are countless variations, both in prose and melody, from which Mitchell and Hamer could draw. The duo's take on "Clyde Waters" was based on a Nic Jones version of the song. Their "Willie's Lady" owes a debt to Martin Carthy's.
Mitchell says part of the challenge was choosing the older versions on which to base their own adaptations and finding a way to personalize them. She adds that for certain songs there were no existing versions on which they cared to frame their own. So they simply invented new arrangements — a bold move in traditional folk.
"We love these versions already," she says. "There isn't anything anyone can do that can destroy what's already been done. All those versions still exist. So the worst you can do is do something stupid and nobody cares." She pauses before adding, "We didn't want to feel like we were playing dress-up for some ren fair or something," referring to Renaissance festivals celebrated by enthusiasts of the period.
Mitchell says she has a "fantasy" to do another musical-theater venture like Hadestown. But given the coming changes in her life she can't say when. She doesn't rule out some of the remaining 298 Child ballads emerging in some form in the future, though.
"I think this material is really generative and inspiring," she says. "I can't imagine that I wouldn't go back to it at some point."
Anaïs Mitchell and Jefferson Hamer play the Higher Ground Ballroom this Tuesday, May 14, at 7:30 p.m. $17/20. AA. Mike & Ruthy open. Child Ballads is available at amazon.com.
The original print version of this article was headlined "Child Care."