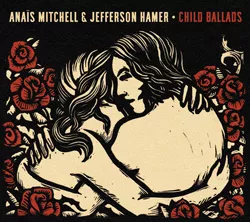 (Wilderland, CD, digital download)
On their debut collaboration, Child Ballads, Vermont's Anaïs Mitchell and NYC-based songwriter Jefferson Hamer mine the five-volume treasure trove of old-world folk music that is The English and Scottish Popular Ballads, an anthology compiled by 19th-century collector Sir Francis James Child. Rife with stirring tales of political intrigue, love and death — and witchcraft! — drawn from centuries-old folk songs, Mitchell and Hamer's lovingly produced adaptation is, simply put, timeless.
Intriguingly, the two chose not to strictly adhere to the linguistic or melodic nuances of their source material. For starters, because they were most often shared orally, there are countless variations of each of these seven songs, making it next to impossible to agree on a definitive version. Wandering minstrels have been taking liberties with these songs for centuries, so why not Mitchell and Hamer?
Additionally, while Old English provides beautifully poetic phrases, in certain instances the original language proved too confusing for modern audiences — raise your hand if you know what "he's tirled low at the pin" means. So in the interest of attending to each song's story, Mitchell and Hamer made slight adjustments to the original texts — and, when it served the narrative, to melodies. Coupled with well-considered choices for instrumentation and arrangements that err on the side of sparseness, the result is a record that honors old-world storytelling tradition without losing itself in the heady fog of history.
In spite of these modest modern updates, the album's sense of time and place is absorbing. The richness of language imparts nobility, or at least gravity, as Mitchell's sprightly voice flitters alongside Hamer's effortless tenor on foreboding tales of star-crossed lovers, brazen peasants, foolish kings and ill-fated sea voyages. Backed by nimbly plucked acoustic guitars and accented by well-placed swirls of pump organ and fiddle, these breathe with striking vitality.
You'll find yourself hanging on every word as the duo sings of a noble maiden bearing a peasant's child out of wedlock ("Willie of Winsbury"); a wife pleading for the life of her wrongly accused husband ("Geordie"); and a scorned mother's cruel curse ("Clyde Waters"). As Mitchell and Hamer discovered in these ancient songs, this is finely wrought storytelling. And on Child Ballads, Mitchell and Hamer vividly bring those stories to life once more.
Child Ballads by Anaïs Mitchell and Jefferson Hamer is available beginning Tuesday, March 19, at anaismitchell.com.