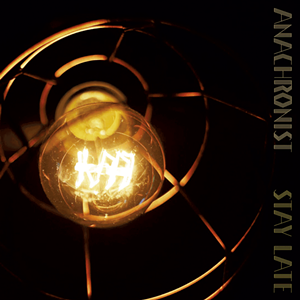 Courtesy
Anachronist, Stay Late
(Self-released, LP, digital)
A solitary, glowing light bulb encased in a metal frame adorns the cover of Anachronist's new album, Stay Late. The fixture looks like the kind of hardware meant to illuminate a rustic cabin's creaky front porch, a perfect spot to while away humid summer nights with a couple of close friends. The image of comfort and intimacy sets the tone for the Montpelier rock group's fourth album — fifth if you count Solo Duo Trio, the first record from Brian Clark, the band's mastermind and primary songwriter.
Stay Late is likely the final Anachronist album to include guitarist Craig Jarvis, who left the band in 2017. In an email to Seven Days, Clark points out that, in addition to Jarvis' absence on many of the new tracks, the new LP showcases a maturity and coalescence that came out of slimming down from a five-piece to a quartet of Clark, vocalist/percussionist Angela Paladino, bassist Mike Donofrio and drummer Phil Carr. Indeed, the album is a sophisticated batch of guitar-driven anthems with a distinctive style.
Anachronist have been compared to raw and substantive rock bands that thrived in the late '80s and '90s, such as Low and Yo La Tengo. Those influences are certainly there, but not in an overpowering way or at the level that some would call homage. Engineered and mastered at Tank Recording Studio by Rob O'Dea and Ben Collette, respectively, the final product benefits from an all-around level of excellence.
Clark and Paladino's vocal chemistry is hugely appealing. They lock their voices together in tight, impenetrable harmonies, supported by masterful arrangements created by the band as a whole. "Sorry Tale" is one of the best examples of this cohesion. Spacey and simmering with apprehension, it glides slowly through a bell curve, ramping up to a percussive climax and then easing back down.
Bite-size "Happy High" also stands out with its jacked-up, muscular architecture. Practically power-pop, the tune features thrashing chord changes and a sugary hook, recalling the New Pornographers' manic energy. At just over two minutes, it's one of the album's shortest cuts, but it packs more wallop than most.
But the majority of the tracks on Stay Late aren't designed to wallop in quite the same way as "Happy High" or its fraternal twin, "Someone Out There." Even up-tempo tracks such as "Constellations Guide" are more understated in their pop-rock excesses, eschewing flash for a slightly grittier sensibility.
And then there are songs like the title track, a cautious slow jam that shows restraint can be more powerful than the loudest riffs. Anachronist have many moods and execute all of them extremely well.
Stay Late is full of authentic, genuine songs created by a gifted group of friends. Nearly a decade on from its origin, the band is undoubtedly growing stronger by the year.
Stay Late is available at anachronist.bandcamp.com. The band performs on Saturday, August 1, as part of Ben Dunham and Sara Grace's Facebook Live virtual concert.