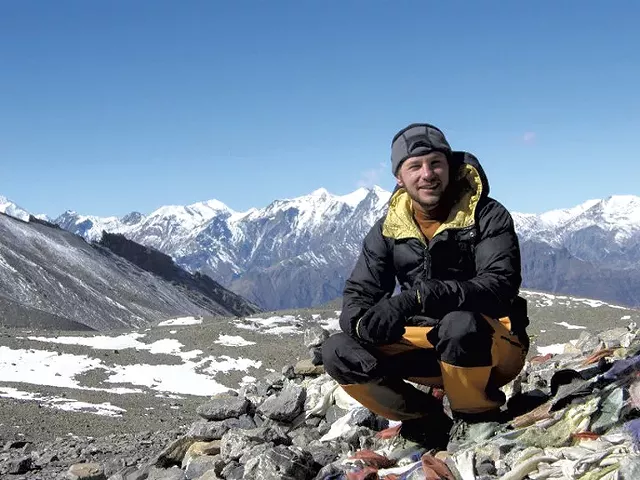 Courtesy Of Austin Borg
Austin Borg on the Annapurna Circuit in Nepal
Like Hermione Granger's enchanted purse in the final Harry Potter book, Austin Borg's backpack contains an astonishing array of items: a small guitar, a chunk of cheese, a serving of wine, a tripod, a sleeping bag for his dog, and a homemade fire-starter consisting of sawdust and melted candles. These items — along with an outdoorsman's enthusiasm and expertise — are central to Borg's adventures in winter camping, as you can see on his YouTube channel, GuideYouOutdoors.
His backcountry excursions in snowy Vermont are solo endeavors with his dog, Summit. But Borg, 33, believes anyone can enjoy these adventures and hopes his videos will entice and assist novice and more experienced campers to do just that.
Borg shoots videos of his hikes, canoe trips and other excursions, narrates them with selected quotes from naturalists, and posts them on GuideYouOutdoors, which he created with his friend Scott Ellis. Founded in 2012, the channel has 15,915 subscribers, and its 79 videos collectively have 1.3 million views and counting.
You can watch Borg "layer up" to stay warm in Camel's Hump State Forest. You can observe him settling into his sleeping bag one frigid evening on the Long Trail, knowing he'll be up through the night to clear snow off his tent so it doesn't collapse. You can see Borg build a quinzee, or snow fort, for shelter, or pour boiling water into a packet of freeze-dried food and place the pouch in his sleeping bag to warm it while his supper rehydrates.
Summit is almost always in view, running through the snow or snuggling with Borg. "He's the real star of the show," Borg says. "It doesn't matter what the video is about."
Borg's trips take place in different seasons, but winter offers a stark aesthetic: long sight lines through bare trees, profoundly quiet surroundings, animal tracks in the snow. And solitude.
"You focus on being warm," Borg notes. "You focus on shelter, food and water. And, once those are covered, you can just be. It's just you and your thoughts."
Borg is a one-man camera crew, backpacker, cook, storyteller and twig gatherer. He's an experienced outdoorsman conveying his knowledge and point of view on GuideYouOutdoors. And he's a contemplative soul who believes the world would be a better place if we all spent more time outside.
"We believe nature is healing, and that's a message that resonates with a lot of people," Borg says in an interview at his Burlington apartment. "A relationship with nature is intrinsic to being human."
Ellis, 38, is the outdoor program coordinator at Thetford Academy and lives in White River Junction. He and Borg typically explore and document their trips independently, but share ideas and discuss their videos in the editing/production phase. The two are pleased with the following their project has gained — not because they're focused on commercializing the channel, but because spreading the word aligns with their goal.
Still, ads on GuideYouOutdoors have brought in a total of about $300, enough money to pay for a canoe trip on the Dumoine River in Québec. (You can watch the vid!)
"The more people get outside, the better it is for them and the better it is for those wild places that need protection," says Ellis. "If you have a connection to a place, you're going to be more likely to preserve that place. At this stage in the world, I think it's really important that we get people to care about the planet."
Borg lives in the Old North End and works in communications and customer service at Outdoor Gear Exchange. But he has spent much of the past 10 years outdoors, exploring far and high reaches of the globe on foot with his gear on his back.
His love of the outdoors began about 20 years ago, he recalls, when he was a kid in Connecticut getting in trouble and running with the wrong crowd. His parents sent him on an eight-day hiking trip on the Appalachian Trail, the long-distance footpath that runs from Mount Katahdin in Maine to Springer Mountain in northern Georgia.
"Something spoke to me," Borg says. "Every meal was [on] a different mountain peak, and every place we slept was a new location. I remember, at the end, I wanted to hide from the van."
In 2008, after attending Roger Williams University in Rhode Island, Borg hiked the Appalachian Trail north to south. "I got to Georgia, and I had $14 in my bank account," he recalls. "After I finished, I knew I wanted to keep hiking."
Borg found a way to do so by saving the money he earned working at a summer camp in Fairlee, then buying plane tickets to far-off backpacking locales. Over two years, he hiked in New Zealand, India, Nepal, Thailand, Cambodia, Vietnam and the Philippines. The third year, Borg went to Peru for four months and hiked and camped in the Andes.
Language was never a barrier during his travels, he says, explaining, "You hit people with a big smile, and they smile back."
In the States, where Vermont has served as Borg's home base, people often tell him they wish they could do what he does, he says. You can, he tells them. Just click a button and buy a plane ticket.
"I don't possess anything differently than anyone else," Borg says. "I had the gall to throw myself into the unknown and trust the universe."
Through a chance encounter in Peru, Borg met a shaman in the mountains, with whom he wound up spending three weeks. That "spiritual experience" brought his travels full circle, Borg says: "It was the culmination of what I learned traveling. I was ready to put it into practice, to give back."
He's done so through his work at Waitsfield-based True North, a wilderness therapy program for adolescents and young adults, and with his YouTube channel.
Early on, Borg and Ellis made their videos casually, as they hung out in the New Hampshire woods engaged in a practice called "trail magic." The Appalachian Trail Conservancy defines this as "an unexpected act of kindness" — in their case, showing up on the Appalachian Trail with food and beer for through-hikers. At a campsite near Mount Cube, the friends set up a camera and tripod and made an offer that hikers could hardly refuse.
"I'll trade you a beer for a story," Borg and Ellis would say, and they'd train the camera on a hiker to shoot videos they called "Trail Tales." Their work grew more sophisticated over three and a half years, leading to guest appearances on "Windows to the Wild," a Willem Lange-hosted show on New Hampshire PBS.
Day jobs for both men — and a 3-year-old daughter for Ellis — make it tougher to find time for making videos. They still try to post a few a year, and both aspire to keep getting outdoors and sharing their adventures.
"It's been a cool, organic movement with well over 1 million views," Borg says about GuideYouOutdoors. "It's been cool to see that engagement and that people are digging what we're doing."