Courtesy Of Katherine Lazarus
Doug Lazarus
If you stroll through College Park in Middlebury between now and the end of the year, you'll meet some impressive figures from the college town's past, including farm equipment icon John Deere, America's first Black college graduate Alexander Twilight and former Vermont governor Jim Douglas. Or rather, you'll encounter lifelike portraits of those people — unless you bump into the real Douglas, who still lives in Middlebury.
The seven 4-by-6-foot vinyl banners compose an installation by Middlebury painter Doug Lazarus called "Middlebury's Own: Celebrating Seven Remarkable Individuals" — famous men and women with strong connections to the town.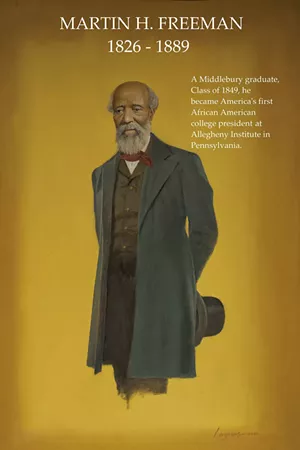 In addition to the aforementioned trio, the collection includes paintings of Emma Willard, who founded a girls' school in Middlebury that eventually became the Emma Willard School in Troy, N.Y.; philanthropist Joseph Battell, who donated the 30,000 acres of land that led to the creation of the Green Mountain National Forest; Lillian Stroebe, who developed the immersion method of foreign-language learning and founded the German School at Middlebury College; and Martin H. Freeman, who became the first Black president of an American college.
Lazarus conceived of the project while walking in Middlebury in winter 2019, when its downtown was in the midst of a disruptive construction project.
"It was so disheveled, and it was so bleak. I thought it would be nice to have something upbeat," he recalled. As he wandered, Lazarus, who owned Middlebury's Great Falls Gallery until it closed in 2009, began to imagine banners depicting famous residents adorning the buildings. He went to work.
"Getting an idea is the easy part," Lazarus said. "After that, you're up against real life."
Initially, that meant running the approval gauntlet of a town selectboard. Middlebury's was intrigued by Lazarus' idea, he said, but there were concerns about the scale of the project, violating Vermont's billboard law and distracting drivers.
"Everyone had something else that was of concern," Lazarus said. Still, he stuck with the idea until it was approved for installation in College Park. Then he set about fundraising, lining up sponsors that include Middlebury College, National Life of Vermont and college trustee emeritus Will Jackson.
But real life struck again.
"The funding showed up, and so did COVID," Lazarus recalled. He was "about 98 percent" funded in March 2020. After that, "nobody wanted to talk about money," he said, so "I went ahead with what I had." He decided that the initial motivation for his project — finding inspiration amid chaos — was even more apropos.
"It occurred to me that COVID is such a negative reality. Promoting heroic individuals that came out of Middlebury would be perfect," Lazarus said.
"Middlebury's Own" was supposed to go up in September, but pandemic-related delays kept it from being unveiled until November.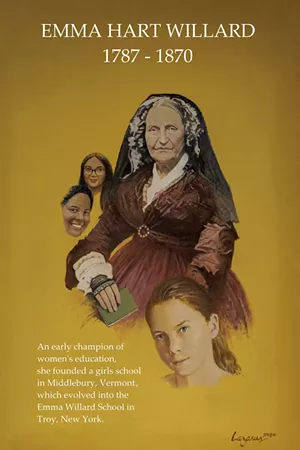 Lazarus' favorite portrait is of Freeman, the 1849 Middlebury College graduate who became president of Allegheny College in Pennsylvania in 1850. With his hands placed behind his back, Freeman is tall and serious looking, but the pose is a Lazarus invention.
"There was no picture like that," conceded the artist, who had only headshots of Freeman to work from. So he found a picture of a Victorian-era man with his hands behind his back and put Freeman's head on him, then added a top hat in Freeman's hands as a stately flourish.
"They all went like that," Lazarus said of the portraits. "There was a lot of artistic invention on my part."
College officials gave Lazarus input on whom to feature, but ultimately he chose the subjects himself based on their achievements. He hopes to add a few more figures the next time the installation goes on display. Those will likely include record-breaking Middlebury College swimmer Heidi George and another person whose absence is rather glaring, considering his place in Middlebury history: Robert Frost.
"Who's he, right?" Lazarus joked.