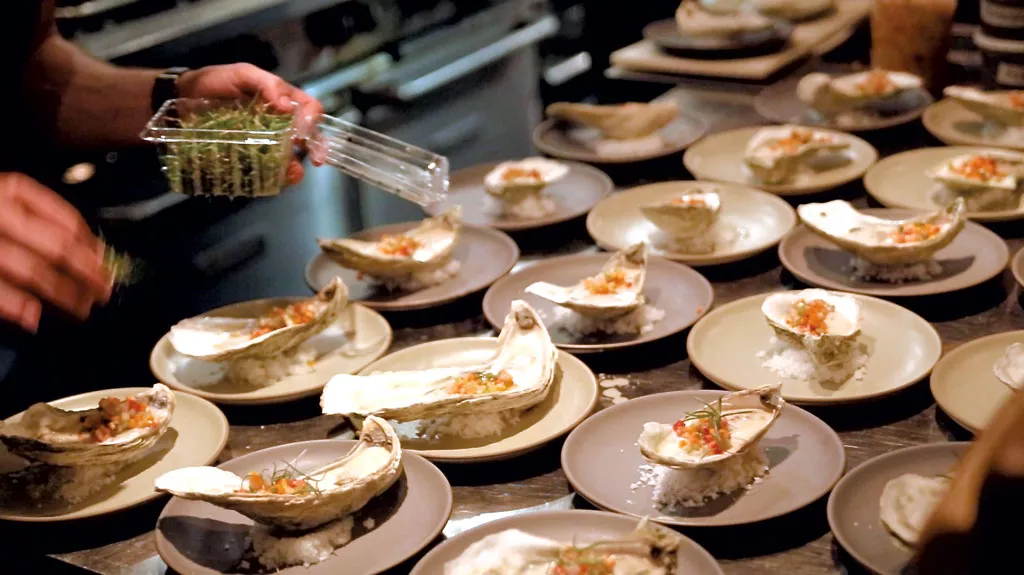 Courtesy Of Cat Around Films
Triple Dynasty Oysters
Montréal dining is known for its eccentrics. In 1998, the New York Times recognized French Canadian chef Normand Laprise for his "provocative" menus. Since then, outsize personalities have come to represent the city's envelope-pushing rebuke to old-school fine-dining austerity — be they pork master Martin Picard of Au Pied de Cochon or Frédéric Morin and David McMillan of Joe Beef, with their truffles-and-foie-gras-everything ethos.
Courtesy Of Cat Around Films
Jean-Michel Leblond
In 2011, a young gun named Jean-Michel Leblond bashed his way onto that scene with his Tripes & Caviar food club. Now 28, Leblond was a student at the Institut de tourisme et d'hôtellerie du Québec when he began serving pop-up dinners focusing on his raisons d'être: "the offal, the odd bits, the fifth quarter."
Leblond has already expanded his Montréal empire with a restaurant (also called Tripes & Caviar), a catering company and cooking classes. Now he's using his trademark blend of culinary chops and showmanship to prove himself across North America. Last month, Leblond employed the skills and idiosyncratic restaurant space of his friends at Vermont's Hen of the Wood to fire his first shot into the United States. It will not be the last time Green Mountain diners experience the kind of meal he calls his "Bon Jovi rock show, but on steroids."
On April 20, Leblond stood on a chair in Hen of the Wood's Waterbury dining room, his voice booming as always. The shouting usually ends in a joke and his high-pitched laugh. This was serious, though: He was praying over the meal about to begin. Granted, the French-language "Tripes & Caviar blessing" dealt more with the love of earthly delights than with divine concerns. And Leblond's Tripes & Caviar food club feasts couldn't have less in common with a traditional church supper.
For one thing, the prayer was followed by a shot called Summer's Edge. Prepared by Hen of the Wood bartender Christopher Maloney — the night's "bar chef," as Leblond described him — the drink combined lemon and honey with Douglas-fir-flavored vodka. "It's ballsy — like cojones in your mouth," Leblond said.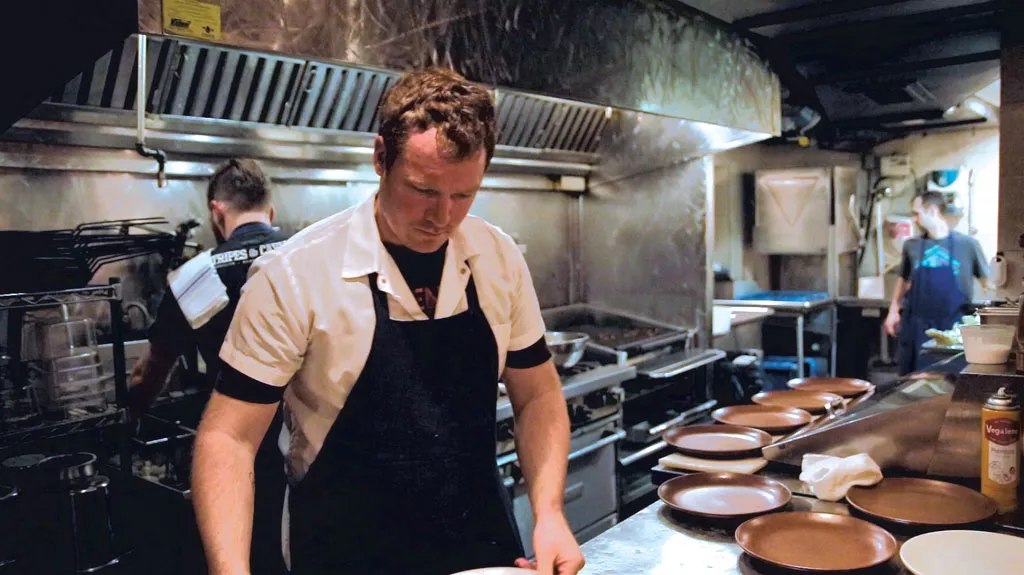 Courtesy Of Cat Around Films
Jordan Ware
At a T&C dinner, "cojones in your mouth" is no figure of speech. Lamb testicles are standard fare at the restaurant that Leblond calls the T&C "castle." But this CDN$80 dinner (plus CDN$40 for cocktail pairings) was a collaboration of the chef and his Hen counterparts to celebrate Vermont's bounty, and apparently cojones were hard to come by.
Not all the menu was local. The meal began with lightly grilled octopus provided by Wood Mountain Fish and prepared by Hen's Burlington chef de cuisine Jordan Ware. Leblond had originally planned to serve monkfish liver on a bed of apple salad, pea purée and capers. But he was so impressed with Ware's scallop-tender cephalopod that the pair made a last-minute replacement.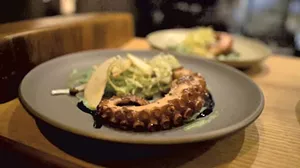 Courtesy Of Cat Around Films
Octopus with apple salad
Ware's crispy head-cheese recipe has been a Vermont favorite for years, yet his collaboration with Leblond gave the melting pig patties a new life. Bright pink sauerkraut lightened the oleaginous pork from Chelsea's Vermont Heritage Farm. The cabbage's acidic leftover juice was emulsified into a sauce using xanthan gum and spattered across the plate alongside aioli speckled with popping trout roe.
"We decided on the plating a minute beforehand," Ware later recalled. "It was very different from anything Hen of the Wood has ever done. [Leblond]'s just no-holds-barred."
It was the Québec chef's free spirit that sealed the friendship with his Vermont peers. Last year, during ramp season, he stopped in for dinner at Hen of the Wood in Burlington. After a wild night, Leblond ended up crashing at Ware's house. "We all became friends," Ware explained. The Hen crew also became fans of T&C's "badass restaurant."
Like each of the dinner's seven courses, the head cheese was paired with one of Maloney's drinks. The lightly fizzy Almost Fitzgerald used cucumber-flavored Hendrick's Gin and cardoon-infused amaro as a subtle counterpoint to the food's unctuous and tart extremes.
Throughout the meal, Maloney's pairings impressed. His take on a Chinese-restaurant Scorpion Bowl, Falernum & Fire, was served flaming. Guests used extra-long straws to sip the nutmeg-spiced rum cocktail. The party drink was such a hit that the restaurant will make it an off-menu specialty, Ware said. It was certainly just the ticket accompanying a single oyster flavored with coconut broth that resembled Thai tom kha soup.
Leblond, whose longtime bartender recently left T&C, wasn't sure what to expect when he began working with Maloney, he said later. But the former teacher proved himself not only as a bartender but as a public speaker, explaining the thought and planning that went into each drink pairing. "I think I liked working with Chris more than the actual event itself," Leblond said. "People have been asking me about him here in Montréal. Maybe I would even use Chris for future U.S. events. He could become one of our U.S. resident bar chefs."
Courtesy Of Cat Around Films
Diners digging into the John Mike LeStourgeon Pollock
Leblond's own version of manifest destiny is never far from his mind. While most chefs are happy to keep their heads down and call themselves "cooks," he describes himself as being in the entertainment business. "What gets me up in the morning is the emotion and the adrenaline rush I have when I host these parties," he said. "What really gets me horny is organizing art and entertaining people."
Leblond will repeat that feat in Vermont before the end of the summer, with an even larger event that he said will be tied to a farm or farms. Hen of the Wood's chefs will likely be connected, but Leblond also hopes to engage cooks from other Vermont restaurants. The next stops are New York and Boston, where he's already forging connections; he plans to host a New York dinner before the end of the year. After that will come westward expansion. "Give me a year, and I'll be surfing in Hawaii," Leblond vowed.
For his part, Ware said he hopes to collaborate in the future with more Montréal chefs. He and his team have struck up friendships with the crew at Joe Beef, and the owner of gastropub Hôtel Herman will be married at the Waterbury restaurant this summer.
Ware said that, with only an hour and 45 minutes between Burlington and Montréal, he sees more cross-pollination on the horizon. "We love that connection between Burlington and Montréal. Five years ago, everyone hated that connection. Now people just want to come here," he said, noting that more sophisticated Vermont restaurants mean more food-focused Québec visitors.
But are Vermonters ready for haute Montréal cuisine? ArtsRiot co-owner PJ McHenry thinks the T&C dinner proved they are. When his party of seven saw the menu, they had serious reservations about the duck-heart tartare. Once they tried it, "We were most pleased," he said. "I took one bite and never turned back."
Heart wasn't the only potentially off-putting ingredient in the dish. Québécois Rougié foie gras had been frozen and grated over the finely chopped tartare. The whole thing sat in a burst of chipotle-spiced, ash-gray aioli blended with huitlacoche, or corn smut, an appropriately fungal-tasting plant disease. It was a brave preparation with enviable results.
Leblond has been working to perfect techniques to give offal "a second chance at life" for years. When culinary school couldn't teach him everything he needed to know, he turned to butchers at a Latin American market near his home.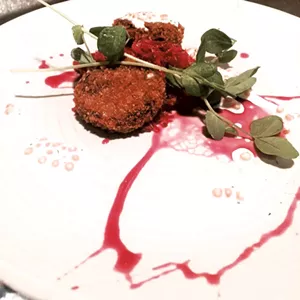 Courtesy Of Jordan Ware
Crispy head cheese
Despite that international influence, some of his creations are pure Montréal — such as pig-heart pastrami. As waitstaff brought the smoked meat, served croque-monsieur style, Leblond exclaimed, "This is the showstopper! We don't have this on the menu much, because it makes people very anxious and fat."
Bayley Hazen Blue Mornay sauce added to the dish's heaviness, as did Ware's addition, an Espelette pepper-dusted duck egg. While diners supped on that dish, the playlist, which had already jumped from the Shangri-Las to Amy Winehouse, stopped on Ben E. King's "Stand By Me." The result was a tipsy sing-along led by guests who'd come down from Montréal.
But the real show was just beginning. Following a course of dry-aged rib eye paired with fried oysters and uni Béarnaise, Leblond asked guests to gather around the restaurant's mezzanine area. To the tune of French DJ group C2C's song "Down the Road," Leblond and Hen of the Wood pastry chef Andrew LeStourgeon "performed" T&C's signature Pollock dessert.
This work of edible performance art typically starts with simple sweets: gingerbread, lemon curd and chocolate. But Leblond empowered LeStourgeon to create his own version. "At one point a week or two prior, he said, 'Let's re-create the forest that you live in,'" LeStourgeon recalled later. "I kept pitching him ideas, and he kept saying, 'I'm not worried about it. I trust you.'"
LeStourgeon borrowed vintage cake stands from acquaintances and filled them with candy-colored confections. A pastel-pink flower cake blended orange blossom, honey, vanilla and rose. A rich chocolate one was covered in pine-needle buttercream. There was Black Forest cake, too.
As the music blipped in the background, LeStourgeon and Leblond tore apart the cakes — smashing them and barraging them with cherries, candied violets and meringues that exploded like bombs as they hit the table. When the song was over, guests were invited to dig into the destruction with their bare hands.
And so the T&C show drew to an appropriately punk-rock close. It may have been just the right combination of culinary excellence and P.T. Barnum-style drama to show Vermont a new way to dine.