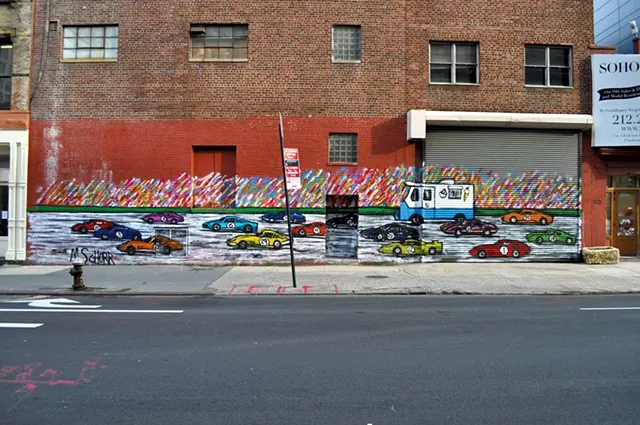 Courtesy of Art on Board
Previous mural by Mitchell Schorr
Heads up, walls of Burlington. Several area businesses will be getting an exterior makeover this week, as University of Vermont-born organization Art on Board returns to the Green Mountain State for a series of mural-painting sessions.
Originally a UVM capstone project in 2013, Art on Board is now in its third year of operation and riding a wave of momentum that cofounders Ben Weigher and Tim Andreasen could not have anticipated. Even before it was a class assignment, "We knew we wanted to do an event with our creative friends involving action sports and art," says Weigher, who now lives in New York City. "That is exactly the kind of place Burlington is — a town that brings together those sorts of people."
The then-seniors jumped at the opportunity to mix their creative aspirations with a class project. But they had no idea at the time that it would last beyond graduation.
Now, Art on Board hosts what Weigher refers to as "community-centric events." The organization's goal is to promote positivity, creativity and youth engagement in action sports. Art on Board events have ranged from a free skateboard clinic for Seattle youth to live art shows in Manhattan featuring hand-painted snowboards.
Art on Board receives blank boards as donations from Burton, then distributes them to its stable of contributing artists. Those artists turn the boards into canvases for their unique works, which are auctioned off at events. The proceeds have gone to such causes as the Burlington City Arts scholarship fund and Burton's Chill foundation, a charity that teaches life skills to underprivileged youth through board sports.
Art on Board is funded through donations, sponsorships and purchases made at its live auctions and online store. The latter offers artist-designed T-shirts and cobranded daypacks created by Burlington's Hemetic Trading Co. Other Vermont collaborators have been Switchback Brewing Co. and UVM.
When Weigher moved to New York after college, he recalls, he began reaching out to the city's street artists, asking them to contribute their work to Art on Board. He was amazed at the amount of positive feedback, Weigher says, in the New York area and beyond. He and Andreasen were soon collaborating with artists whose work appears on the covers of publications such as HYPEBEAST and Juxtapoz.
As part of this outreach, Weigher made contact with Manhattan-based muralist Mitchell Schorr. This week, Schorr will create new editions of his signature mural series, titled "Da Race," at locations including Pearl Street Beverage and the back of the downtown Mobil station on South Winooski Avenue.
Weigher describes "Da Race" as "an ongoing, progressive series that pits a protagonist ice cream truck, representative of the common man, in a race against sleeker racing cars." Schorr has been commissioned to paint previous installments for the GM Plaza in Detroit, Mich.; the New York City Department of Parks & Recreation; and ONLY NY, a clothing company, among others.
Local production company the Main Idea will document Schorr's Vermont creations. Weigher expects to host a premiere of the film this fall in Burlington.