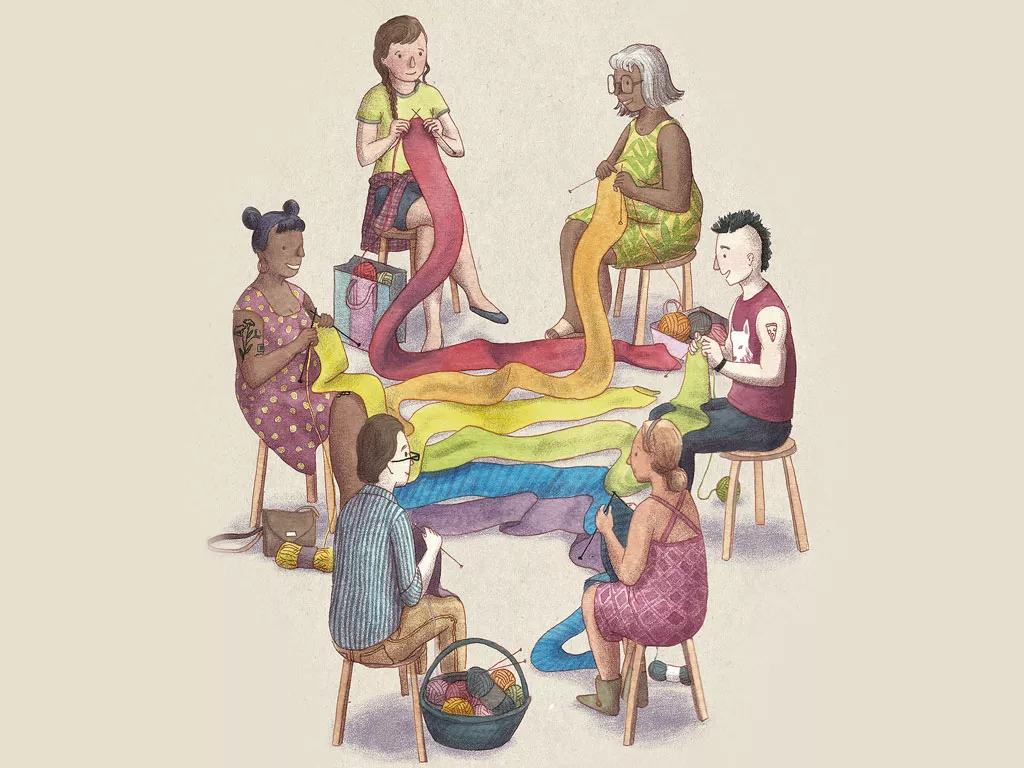 On a Sunday morning in Burlington's South End, six women trickled into a small second-floor conference room that was decorated with portraits of local drag queens and multicolored weavings. The women greeted each other familiarly and settled in, eventually extracting in-process projects from their bags — projects that involved thread, embroidery hoops, needles, hooks or yarn. The Pride Center of Vermont's bimonthly Fiber Arts Group, or FAG, was officially under way. And, yes, the group's acronym is deliberate.
For an uninitiated visitor, the next two hours provided a sort of crash course in the micro-worlds of fiber art and textile engagement at large — knitting, crocheting, darning, felting, tatting. Knitting is much more mainstream than crochet, said Kat Geraghty, a nurse who was working on a star-shaped baby blanket for a new family member. What's the difference? "[With] knitting you have two things. Crochet, you have one," Geraghty explained, referring to the pair of knitting needles versus the solo crochet hook.
Mike Bensel and Megan Moerdyk launched FAG in 2011, when the Pride Center was known as RU12? and was housed at the Winooski Mill. Bensel is now PCVT's health and wellness coordinator, and Moerdyk is a dedicated volunteer. In addition to his work with FAG, Bensel has been leading knitting classes with Mary Alice Elbaum for five years at Camp Outright, a weeklong residential camp in Starksboro for queer and questioning youth. "We're fostering new knitters," Bensel said in a later phone call.
On Sunday, Moerdyk was armed with The New Crewel: Exquisite Designs in Contemporary Embroidery, a book from which she sourced a pattern she planned to use to embroider over a stubborn ink stain on a brightly colored tunic. She asked the group whether she should choose the magic-ring or the spider-web design. The consensus was for the spider web. Moerdyk told Seven Days that FAG had provided the support and confidence she needed to start her own small business, Opportunistic Adornment. She's been making original "vintage/industrial/upcycled" jewelry for three years from buttons, wire and intriguing found objects.
The projects FAG participants bring to the gatherings are varied. Shannon Reilley was testing out a half-completed, rust-colored sock. Holding it up to her foot, she drew oohs and aahs from around the table. Sue Wilson prepared to darn a sock, and brought along a pair of pants that needed mending. Dawn LaCross deftly handled not two but four small golden needles as she knitted pearlescent yarn into a head for an already completed blue nautilus shell. The spiraling cephalopod stuffed toy will be a present for LaCross' 10-year-old niece.
Many members of FAG said family members introduced them to their craft. When Cara L. Sachs was just 4, she said, her mother taught her to crochet a simple chain. After that, Sachs just "experimented and experimented and experimented," she said. She recalled a tablecloth that her Hungarian grandmother had made. "I just kept looking at it and was like, 'I want to do that,'" she said. "That's when I started to look at [crochet] patterns."
The group's participants also credited YouTube — as well as online communities such as Ravelry and the Crochet Crowd — as a source of fiber-arts lessons, tips and patterns.
Traditionally associated with homemaking and "women's work," the textile arts have been subversively co-opted by feminist artists since the 1970s. More recently, the DIY and maker movements have seen a resurgence of fiber-based arts, as well as a blurring of gender affiliation.
"For years, I hid my crochet because it was too 'feminine,'" Sachs said, eliciting a murmur of recognition from the group. She didn't share her work publicly until Bensel contacted her about starting an LGBTQ fiber-arts meetup. "That was a coming out, in a way," Sachs said, adding, "We're kind of saying 'fuck it' to stereotypes."
Bensel said that one of the most exciting aspects of FAG is the space it makes for different communities to intersect. "A lot of the groups that meet here are identity-specific," he said. "The Fiber Arts Group is a place where people can come together across generations and identities. Like, I might sit across from an older lesbian feminist who spearheaded Burlington activism in the 1970s."
"It's nice to have [the group] at the Pride Center and to have a couple of hours where I don't have to explain anything," said Wilson, and then quipped, "My socks would never get darned if I didn't come here."
Over a couple of hours filled with innuendo, giggles and shared fantasies — of, for example, owning alpacas for their wool — FAG's participants made it clear that the group isn't just about a love of fiber arts. "I don't really come to crochet," confessed Sachs. "Mostly I come here to laugh my head off."