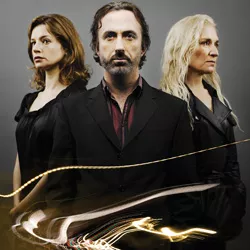 Vermont fans of Eire looking to celebrate St. Patrick's Day with more than just green beer couldn't do better than to catch Terminus at Middlebury College. The 2007 play by Dubliner Mark O'Rowe, performed by the Abbey Theatre of Dublin on tour, has it all: not just a pub crawl (of sorts), but a virgin who sold his soul to the devil, fatal accidents, serial murders, a car chase and a sweet-natured demon made up of writhing worms.
None of this actually appears onstage. It's all delivered in monologues by three unnamed characters: a woman in her forties, another in her twenties and a man in his thirties. Each describes what happened on one fantastical night in stories that end up being interconnected. The trio speaks in a rhyme-rich free verse that both captures contemporary street lingo and pays homage to Ireland's centuries-long love affair with language.
"We go, see the slo-mo ebb and flow of pub-spill," the twentysomething woman says in one particularly Joycean passage; "the mill, the babble, the rabble of wobbling waywards, exiled and aimless, unlike us as, purposeful and double-file, like kids on a dare, we head who the fuck knows where?"
"Terminus is edgy, contemporary and very hard-hitting," says Mahaney Center for the Arts marketing manager Liza Lloyd, who plays a key role in choosing the theater component of the college's Performing Arts Series. "You wouldn't think such dark material would lend itself to rhyme," she says, "but it really works." Lloyd calls O'Rowe's writing "uniquely Irish in its sound," agreeing with Middlebury's theater department chair, Mark Evancho, that the play is best performed by Irish actors.
Terminus also showcases — and relies entirely on — the actors' ability to conjure whole worlds in audiences' minds through language while standing rooted to the floor. No doubt the Abbey cast (Olwen Fouéré, Catherine Walker and Declan Conlon) is up to the job. Ireland's renowned national theater has been in operation since it was founded in 1903 by a group of Irish Literary Revival lights led by William Butler Yeats. The Abbey's storied past includes the 1907 staging of John Millington Synge's riot-causing Playboy of the Western World, which it then performed to more uproar in New York on its first U.S. tour in 1911. The Terminus tour celebrates the centennial of that visit.
Though it's unlikely to cause riots, Terminus — like Synge's play about rural Ireland — portrays a Dublin that may challenge the nostalgic Irish American's image of the city with scenes of backstreet abortions, seedy bars and empty construction sites (a crane plays a central role in the plot). O'Rowe, 40, doesn't shy away from depicting the violence of contemporary life: His Howie the Rookie (1999) stars two Dublin thugs.
The Abbey's appearance in Vermont is, needless to say, a rarity. Before moving on to England, Scotland and Australia, the Terminus tour is hitting only six major U.S. cities — plus tiny Middlebury. The college was able to afford the production partly because the Irish Ministry of Culture is providing some travel and housing expenses, says Lloyd.
Evancho notes that theater students will benefit from acting workshops with the three performers and a writing workshop with O'Rowe himself, who's flying to Vermont for the Middlebury performance by special request from the college. The audience will be able to question both actors and playwright in a Q&A after the show. Then everyone is free to head out for a well-earned green beer.