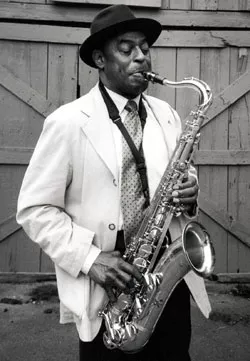 Don't call Archie Shepp a jazz musician. Also, as we found out recently, don't call him before 4 p.m. — Shepp is nocturnal and might not yet be out of bed.
Sleeping habits aside, Archie Shepp, 75, is a an icon of the Black Arts Movement — a term he prefers to the word "jazz." A playwright, poet, composer and saxophonist, he was mentored by John Coltrane and was a central figure in New York City's thriving avant-garde and free-jazz scene in the 1960s, alongside Coltrane, Bill Dixon and Cecil Taylor, among others.
Throughout his career, the Goddard College alum has been an outspoken advocate for social justice and civil rights. This Saturday, January 19, Shepp returns to his alma mater for a performance with his quartet at the Haybarn Theatre. He will also receive the school's highest honor, the Goddard College Award for Excellence, which recognizes individuals who "exemplify the highest ideals and aspiration" in accordance with Goddard's mission statement: "to advance cultures of rigorous inquiry, collaboration and lifelong learning, where individuals take imaginative and responsible action in the world." Shepp is only the third recipient of the award in the college's history.
In advance of that performance, Seven Days caught up with the saxophonist by phone.
SEVEN DAYS: How long have you been nocturnal?
ARCHIE SHEPP: Well, musicians generally work later in the evening and get up later in the day.
SD: Sure, but your routine is to wake up at 3 p.m. and go to bed at 7 a.m. Most musicians I know still try to catch some daylight now and again.
AS: It comes with the territory. When I was working in New York, the clubs close at four in the morning. So if you get home at six, you don't expect to get up at nine. Frequently, I find the atmosphere, the solitude, very conducive to writing and creating music. And over the years, having often worked late at night, I find myself frequently getting up late in the day. Musicians are subject to all kinds of diverse schedules.
SD: I imagine that would make playing, say, a daytime set at a festival challenging.
AP: It really is. These are the vicissitudes of a complex life as a performer, especially a performer of so-called "jazz" music. Classical musicians, they play all times of the day, and frequently not too late in the evening. But the jazzman, if you will, can sometimes have a very challenging schedule.
SD: I gather you're not a fan of the term "jazz."
AP: First of all, the word jazz originates around the time of the turn of the [last] century. It was first used in New Orleans, where some of the first scholarly writing about this music was done. But the people who originally wrote about it were not Americans; they were frequently French. African American folk music and so-called jazz music were not of particular interest to American scholars, who were much more concerned with European music.
So the term jazz, which was originally spelled j-a-s-s, seems to come from a French word, "jaç," meaning "a dirty place," a stable of some kind. And it was first used in conjunction with the bordellos, houses of prostitution. And in these places would be, specifically, pianists. The first "jass" music was piano music played by people like Jelly Roll Morton. And the term alluded to the activities that went on in these places, more so than an appreciation of the music.
SD: So you see it as a derogatory term?
AS: "Jazz" was "nigger music," it was black music because it was primarily played by black musicians. It was also used as a verb. "Jazz" could mean to fornicate. You could say "I jazzed that girl." Well, you didn't play music for her.
SD: Well, you might have earlier in the evening…
AS: [Laughs] I suppose that's true. But it's a term that's more slang; it has never had any formal definition, like, "Western classical music." When you say that, Stravinsky, all the masters, come to mind. But when we say "jazz," there is a multiplicity of events that surround a word like that, none of them having to do with music. So why do we insist on using that term?
SD: Well, when I hear the word "jazz," I think of masters like Coltrane and Miles Davis…
AS: We use it because it's a familiar term. But do you know what it means, really? For example, the king of this music is Benny Goodman. Paul Whiteman is the father of it. Paul Whiteman [laughs]. I find the term jazz dichotomous, and that there are many discrepancies in the use of the term.
SD: You've lamented jazz music being taken from "uptown to Lincoln Center." Does the, let's say, "Berklee-fication" of jazz add to that dichotomy for you?
AS: Not so much. That is, if we're talking about African American music, I mean, it was created by black Americans. But the demographic has changed. In 1959, all the clubs in New York were basically uptown, and there were some in the Village. But Harlem was a thriving atmosphere for the creation of this music. Now that music has moved downtown. People go to Lincoln Center in tuxedos. I remember I was in a club about 15 years ago, Christmas night. There was a young man playing alto sax and he sort of had a groove going with the blues, so I started clapping my hands. The waitress came over and shushed me.
SD: She shushed Archie Shepp. At a jazz club.
AS: Yes. I thought, How things have profoundly changed. I think the context has changed. It's become more academic and much less a music that has social meaning. When I was a young man, this music was associated not only with swing and having a good time, but poverty and hard times, the blues. You can't teach the blues in an academy. It was born in the cotton fields.
The Archie Shepp Quartet perform at the Haybarn Theatre, Goddard College, in Plainfield this Saturday, January 19, 8 p.m. $35/40.