Bolton Valley
Justin Cash
Snowshoeing at Bolton Valley
Burlington locals love Bolton Valley, not only because it's a pole length from the Queen City, but also because 10 of the 70 trails and all three terrain parks stay hopping long past happy hour, thanks to lighted night skiing. During daylight hours, find steep stuff on Preacher, cruise down the long Timberline, or wind through the Sleepy Hollow Woods. Bolton loves Burlington, too, affording killer views of the city and lake from the Vista Peak fire tower, and a wind turbine that gives energy back to the Greens.
Burke Mountain Resort
More than 50 Olympic athletes hail from the academy at the base of this 3270-foot mountain, which has 270 skiable acres, 100-plus acres of maintained glades and three terrain parks. It's been a hidden gem with virtually no lift lines, but now that the new owners at Jay Peak are pumping $108 million into snowmaking and lodging at Burke, the mountain will likely shine like so much Olympic gold. Get thee to the tree skiing soon.
Cochran's Ski Area
A nonprofit ski area, Cochran's raises young rippers on a handful of trails alongside Interstate 89 in Richmond. Just witness the legions of parents and kiddies participating in the annual Ski Tots program on weekends. Lift tickets are $20 for adults and $14 for kids. Friday night skiing is just $5. But don't let the 350-foot vertical drop or the dirt-cheap grilled-cheese sandwiches fool you: This place is home to the legendary ski-racing Cochran family and beloved by the fastest alpine athletes in the U.S.
Jay Peak Resort
Jay Peak
Jay Peak Resort
Long known for its legendary trees, steeps and powders, Jay Peak now offers all the bells and whistles, too: a 50,000-square-foot indoor water park, a professional-size ice rink, ski-in/ski-out suites, concerts and other events, and a Zenlike spa to soothe any aches from all the activity. Over the next three years, the resort plans to expand into the coveted West Bowl; this winter, skiers and riders will see new lifts accessing the nearly 500 acres of groomed and gladed terrain, plus a new restaurant at the top of the 60-passenger Tram. Even better, Jay is actually reducing lift prices for 2012-2013.
Mad River Glen
This cooperatively owned mountain in Fayston with a "ski it if you can" attitude hasn't changed much since its Single Chair began ferrying skiers to the top of 3637-foot General Stark Mountain in 1948. And at Mad River Glen that's the way everyone likes it — except snowboarders, who are not permitted on the four lifts. Expect 45 rustic trails and 800 acres of off-piste action with natural cliffs and chutes.
Middlebury College Snow Bowl
One of the best things about being a "Midd Kid" is the student rate of $160 for a season pass at this 120-acre area. For students who graduate in February, the procession actually involves skiing down the Middlebury College Snow Bowl. But the public is welcome here, too, and families love the relaxed atmosphere and affordable food in the sunny day lodge. The Sheehan Chair delivers beginners to the tame Lang, while the Worth Mountain and Bailey Falls chairs access steeper inclines, as well as the training grounds for the college ski team.
Smugglers' Notch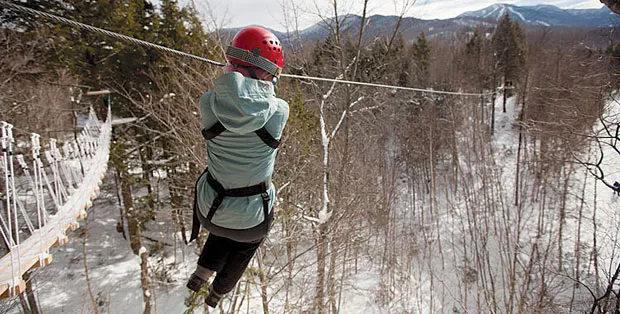 Smuggler's Notch
The zip line at Smuggler's Notch
With a Mogul Mouse mascot, ski lessons for kids still in diapers, and a nearby canopy tour and FunZone Family Entertainment & Recreation Center (not to mention myriad indoor pools and hot tubs), Smuggs is a mini Disneyworld of winter. Its children's programs have won national awards. Grown-up skiers and riders flock here, too, for the Black Hole — the only triple-black-diamond trail in the eastern U.S. — and for the steep, gladed terrain. The chairlifts aren't high speed, so there are fewer people on the mountain to tear up the 78 trails, and that just means more snow per skier.
Stowe Mountain Resort
Stowe has long pampered its guests, once giving chairlift riders blankets to stay warm on their trip to the top of Mount Mansfield (at 4393 feet, it's the tallest mountain in Vermont). Today, new high-speed quads and a gondola stave off the cold, but deluxe touches abound in the multi-million-dollar base area at Spruce Peak and at the gourmet Cliff House at the summit. Among the 116 trails, the Front Four of National, Lift Line, Starr and Goat remain legendary, as does the après-ski scene at the Matterhorn.
Sugarbush Resort
Ever heard of the Lincoln Limo? It's a 12-passenger snowcat with cushy seats and a flat-screen TV that shuttles eager skiers and riders to early-morning first tracks around the 578 skiable acres of Sugarbush in Warren. The service is part of the ski area's massive overhaul during the past decade that has resulted in a new Lincoln Peak Village with upscale lodging and dining, a racquet club and other amenities. Still, the 111 trails spread over two mountain areas stay true to the quintessential Vermont roots of this resort. A sprawling Adventure Learning Center caters to rookies, while backcountry programs keep the adrenaline pumping.
Les stations de ski et de surf des neiges des Montagnes vertes du Vermont
Bolton Valley
Les habitants de Burlington adorent Bolton Valley, non seulement parce que cette station de ski n'est pas trop éloignée pour eux, mais aussi parce que 10 des 70 pistes ainsi que les trois parcs de surf acrobatique sont éclairés le soir et restent ouverts bien après l'heure de l'apéro. De jour, attaquez la pente abrupte de la piste Preacher, amusez-vous sur la longue descente Timberline ou dévalez la Sleepy Hollow Woods. Bolton offre des vues spectaculaires de Burlington et du lac depuis la tour d'observation de Vista Peak; une turbine éolienne redonne de l'énergie aux Montagnes vertes.
Burke Mountain Resort
Plus de 50 athlètes olympiques ont fréquenté l'école qui se trouve au pied de cette montagne de près de 1 000 mètres d'altitude qui possède une superficie skiable de 270 acres, plus de 100 acres de sous-bois et trois parcs de surf acrobatique. C'est un secret bien gardé et les files d'attente étaient pratiquement inexistantes jusqu'ici. Maintenant que les nouveaux propriétaires de Jay Peak injectent 108 millions de dollars dans la fabrication de neige et l'hébergement à Burke, il est probable que la montagne attire plus de monde. N'attendez pas pour aller profiter du ski entre les arbres.
Cochran's Ski Area
Cochran est une station de ski sans but lucratif offrant quelques pistes le long de l'Interstate 89 à Richmond. Des hordes d'enfants, accompagnés de leurs parents, participent au programme annuel Ski Tots la fin de semaine. Les laissez-passer de ski coûtent 20 $ pour les adultes et 14 $ pour les enfants. Le vendredi soir, on peut faire du ski pour seulement 5 $. Cette station, dont le dénivelé atteint 140 mètres et où les sandwichs au fromage fondant sont pratiquement donnés, a vu grandir la légendaire famille de skieurs Cochran, et les athlètes américains les plus rapides en raffolent.
Jay Peak Resort
Célèbre depuis longtemps pour ses arbres, ses escarpements et ses neiges poudreuses, la station Jay Peak offre maintenant toutes les commodités : un parc aquatique intérieur de 4 645 mètres carrés, une patinoire de dimensions professionnelles, des suites directement sur les pentes, des concerts et d'autres événements, ainsi qu'un spa de type zen pour reposer vos muscles endoloris. Au cours des trois prochaines années, la station projette une expansion dans le fameux West Bowl. Cet hiver, de nouveaux remonte-pentes permettront aux skieurs et aux planchistes d'avoir accès à près de 500 acres de pistes damées et de sous-bois, et un nouveau restaurant les accueillera au sommet, à l'arrivée du Tram de 60 passagers. De plus, Jay réduit actuellement les prix des laissez-passer pour la saison 2012-2013.
Mad River Glen
Cette station détenue par une coopérative à Fayston n'a pas beaucoup changé depuis que son télésiège simple a commencé, en 1948, à remonter les skieurs jusqu'au sommet de la montagne General Stark, haute de 1 108 mètres. Son style bien à elle plaît aux adeptes, sauf aux planchistes qui n'ont pas accès aux quatre remonte-pentes. Découvrez les 45 pistes pratiquement à l'état naturel et les 800 acres de ski hors piste agrémentés de falaises et de cascades.
Middlebury College Snow Bowl
L'un des principaux avantages d'étudier à Middlebury est le laissez-passer de saison offert au prix de 160 $ pour ce domaine skiable de 120 acres. Pour les étudiants qui reçoivent leur diplôme en février, le défilé officiel comprend même une descente à ski. Mais la station est ouverte à tous et les familles adorent l'atmosphère détendue et les repas abordables du pavillon aux espaces lumineux. Le télésiège Sheehan transporte les débutants jusqu'à la piste Lang, tandis que le Worth Mountain et le Bailey Falls donnent accès aux pentes plus abruptes ainsi qu'aux pistes d'entraînement de l'équipe de ski du collège.
Smugglers' Notch
Avec sa mascotte Mogul Mouse, ses leçons de ski pour les enfants encore en couches, son parcours dans les arbres et le centre récréatif voisin FunZone pour les familles (sans oublier toutes les piscines intérieures et cuves thermales), Smugglers' Notch est en quelque sorte un mini Disneyworld d'hiver. Ses programmes pour les enfants ont remporté des prix à l'échelle nationale. Les skieurs et les planchistes expérimentés y trouvent leur compte aussi et raffolent de Black Hole, la seule piste trois losanges dans l'Est des États-Unis, ainsi que des sous-bois escarpés. Les remonte-pentes ne sont pas ultrarapides, ce qui fait que les 78 pistes ne sont pas bondées et que chaque skieur a plus de neige fraîche.
Stowe Mountain Resort
Stowe a toujours traité sa clientèle aux petits oignons. À une époque, on avait droit à une couverture lorsqu'on prenait le télésiège jusqu'au sommet du mont Mansfield, la plus haute montagne du Vermont avec ses 1 339 mètres. Aujourd'hui, de nouveaux télésièges quadruples haute vitesse et une gondole permettent de braver le froid, mais les petites attentions abondent au pied de la montagne, où se trouve le complexe de Spruce Peak qui a coûté plusieurs millions de dollars, et au restaurant gastronomique du sommet, le Cliff House. Sur les 116 pistes, la Front Four of National, la Lift Line, la Starr et la Goat sont légendaires, tout comme l'après-ski au Matterhorn.
Sugarbush Resort
Avez-vous déjà entendu parler de la Lincoln Limo? Il s'agit d'une dameuse pour 12 passagers équipée de sièges confortables et d'une télévision à écran plat qui transporte les skieurs et les planchistes lève-tôt et enthousiastes jusqu'au sommet des pistes de neige fraîche du domaine skiable de 578 acres de Sugarbush, à Warren. Ce service a été instauré dans le cadre du vaste projet de modernisation des dix dernières années, pendant lequel ont été construits un nouveau Lincoln Peak Village offrant tables et hébergements haut de gamme, un club de raquettes et d'autres commodités. Les 111 pistes réparties sur deux montagnes restent néanmoins fidèles aux racines authentiquement vermontoises de cette station. Les débutants peuvent profiter des services du Adventure Learning Center et les programmes de ski hors piste sauront combler les ardeurs des plus aguerris.
The original print version of this article was headlined "Going Downhill Fast"