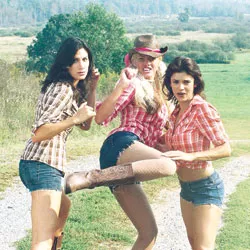 Viewers of The Amish, a documentary shown on PBS last week as part of the "American Experience" series, may have seen some familiar places. The filmmakers showed vintage footage of Burlington alongside their interview with Saloma Miller Furlong, who fled from her Ohio Amish community to Vermont in 1977.
At the Burlington YWCA, the young woman met David Furlong, a wooden- toy maker and early Church Street peddler — and fell in love. Her relatives came to bring her back to Ohio, where she struggled to conform to the community's rules for nearly three more years before leaving again. Today, the Furlongs are married with two grown sons and live in Massachusetts, after 30 years in Vermont.
Last year, Furlong published a memoir, Why I Left the Amish, that gives readers a rare look inside the reclusive community. (Most of the Amish interviewed for the PBS documentary declined to appear on camera.) To the makers of The Amish, she says in an email, her story was a "counterpoint" to the pastoral images of horse and buggies and the testimonies from Amish youth who can't imagine leaving their community. (One teen talks about her fear of marrying someone who might take her more than 14 miles from her family.)
Furlong will talk about her experiences growing up Amish — and leaving — after a screening of The Amish this Saturday at Burlington's Fletcher Free Library.
It's time once again for Focus on Film's annual Green Mountain Film Festival, which runs March 16 to 25 in Montpelier, and March 30 to April 1 in St. Johnsbury.
The program is crammed with artistically important and edifying flicks, but the one we're most anticipating is Craptastic!, a documentary from David Giancola of Rutland's Edgewood Studios. Giancola attained a measure of media immortality by directing ill-fated bombshell Anna Nicole Smith in her final film, the campy sci-fi spoof Illegal Aliens. He kept cameras rolling behind the scenes of that chaotic shoot, and Craptastic! is the result. At the March 20 screening, Giancola and producer/Illegal Aliens costar John James (best known for his long run as Jeff Colby on "Dynasty") will discuss the experience. Look for a preview in next week's Seven Days.
Here, grouped by theme, are a few more highlights of the fest. Find dates, times, venues and ticketing info at greenmountainfilmfestival.org.
Radical Docs: Long before Michael Moore, there was Leo Hurwitz, who was blacklisted by the film industry in 1950 after crafting pioneering progressive works such as Native Land (1942). Hurwitz's son, Tom, a cinematographer, introduces his father's work and other rarely seen political documentaries dating from 1932 to 1950 in a series called "American Documentary's Radical Roots," downstairs at the Savoy Theater.
Oscar Buzz: Curious about those "other" nominees for Best Animated Feature Film, A Cat in Paris and Chico & Rita? Now you can see them both. The former is recommended for kids 7 and up; the latter is an acclaimed, adult-oriented love story set in the heyday of Cuban jazz. If Hugo aroused your curiosity about the fantastical world of Georges Méliès, catch a screening of A Trip to the Moon, along with a documentary about its restoration. And if The Artist made you eager to see silents on the big screen, check out Buster Keaton's The General with live piano accompaniment.
Circus!: Circo is a documentary about the tough life of a traveling family circus in Mexico. Circus Dreams is local director Signe Taylor's record of an extraordinary summer spent touring with the teen performers of Vermont's own Circus Smirkus. Warning: Cirkus Columbia is a drama set in the run-up to the Balkans conflict, not a circus story.
World of Stories: As always, the dramas at GMFF take us around the globe. Two young Englishmen find their one-night stand becoming something more in the acclaimed Weekend. A New Zealand kid learns hard truths about his idolized dad in Boy. Rachel Weisz plays a mid-century Englishwoman embroiled in a forbidden passion in The Deep Blue Sea. An Israeli company man struggles with tragedy in The Human Resources Manager. Turkish detectives unravel a mystery in Once Upon a Time in Anatolia.
Music on Film: A tone-deaf cop pursues a band of "guerilla percussionists" in the Swedish comedy Sound of Noise. Steve Martin narrates Give Me the Banjo, a doc about the quintessential American string instrument. Director Chris Pepino and Frank Zappa collaborator Joel Thome speak at a screening of Inside the Perfect Circle, Pepino's doc about how Thome used music to rehabilitate himself after a stroke.
Gone, Not Forgotten: Character actor Michael Murphy, a veteran of scores of Robert Altman films, discusses the late director with Burlington's Allan Nicholls on March 18. The Altman reminiscences continue with screenings of Brewster McCloud and Tanner '88.
Local Color: Get a sneak peek at Welcome to Vermont, a close-up look at the lives of refugee families from Essex director Mira Niagolova. Burlington's Rob Koier chronicles the aftermath of Tropical Storm Irene in Strength of the Storm. Actor-director Dan Butler of Newbury presents his new short film, "Pearl," based on a Ted Kooser poem and costarring Frances Sternhagen.
Finally, don't miss the screening and judging of entries in the Green Mountain 48-Hour Film Slam on March 18. Last year's inaugural edition showcased just how much a crew of caffeine-fueled camera wielders can get done on the strength of last-minute ingenuity and desperation.
Screening of The Amish with Saloma Miller Furlong. Saturday, March 10, 2 p.m. at the Fletcher Free Library, Burlington. Free. fletcherfree.org; salomafurlong.com. The documentary can also be viewed at pbs.org/wgbh/americanexperience/films/amish.
Green Mountain Film Festival, March 16-25 at the Savoy Theater, City Hall Arts Center and Pavilion Auditorium in Montpelier; and March 30 to April 1 at Catamount Arts in St. Johnsbury. $9 per film. Schedule and ticket order info at greenmountainfilmfestival.org, or call 262-3456 starting March 10.