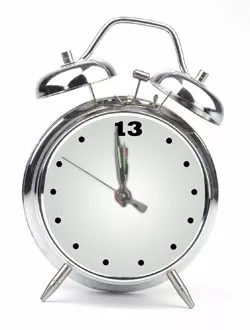 A non-leap year consists of 8760 hours: more than enough time, you'd think, to take care of everything that needs to get done. But sleep eats into waking life, and modern innovations such as Snood, email and cellphones offer endless opportunities to piss away idle moments. It seems that by the end of a given day, we hardly have a minute left to collect our thoughts.
There aren't enough hours in the day. The common lament has become a cliché. The more important question may be: What would you do with an extra hour if you had it?
Here at Seven Days headquarters, we writers could easily spend an extra hour removing moldy cake from our fridge. But we figured other Vermonters with more vivid imaginations — or less-flexible notions of food safety — would have better ideas. Some of them couldn't find two seconds to think about it: A clerk at the state's emergency management division, Senator Patrick Leahy and every tow-truck driver at Handy's Service Station on Burlington's North Winooski Avenue were all too busy to talk.
Others, however, were glad to oblige. In the following 15 vignettes, an entourage of artsy types, recognizable public figures and other thoughtful busybodies chew the fat on those proverbial 60 minutes of lost life: where they go, and what to do should they ever turn up.
Steve Goodkind, 56
Burlington
Director, Burlington Public Works
What takes up your time?
Work takes up time. There's a lot going on. There's always something. Just when you think everything's under control, something comes up.
What would you do with an extra hour?
I might ski. I might go motorcycle riding. I might play volleyball. I might watch "The Simpsons."
Kiki McDonald, 36
South Burlington
Business consultant; mother of six, including newborn "surprise" triplets
What takes up your time?
My day is working, homework with the big kids, making dinner, bottles, feeding in the middle of the night — it's just constant family stuff. The only time I can get out is maybe for an hour or two on the weekends to go grocery shopping.
What would you do with an extra hour?
If it was an hour where time stopped and I could just do what I wanted? I would probably just sit and read or — God forbid — go tanning or something, just to pretend that I actually get outside every once in a while. But if I really had an extra hour, I'd probably spend it shopping at Costco, Wal-Mart or Price Chopper.
Louis Armistead, 21
New York City
Political Science/Film and Television Studies major, University of Vermont
What takes up your time?
My schedule is structured so that I get up after 12 every day; afternoons are mornings for me, more or less. Then I go to my classes, do whatever. I usually skip breakfast — it's not the greatest thing in the world. Then I just kind of take care of whatever I have to do, try to knock as much out of the park as I can. I usually don't meet all of the daily goals I set for myself.
What would you do with an extra hour?
I'm into making movies and doing the whole video thing. I've got a lot of ideas brewing in my head and it'd be nice if I had more time to write them down . . . An extra hour? Let me think for a second . . . You know what I'd do? I'd cook more, 'cause I don't do that enough. It saves money, and it's better for you. It builds character when you don't just go out for that $8 sandwich.
Gerard Rubaud, 66
Westford
Baker, Gerard's Breads
What takes up your time?
It's very easy to organize my time, because I have no distractions, other than making the bread or thinking about the bread. I don't have a TV and I listen to music, that's all. I have a very simple life — I'm not running around like a chicken with no head, because my main concern is the bread. That's where I spend all the time I am not sleeping.
What would you do with an extra hour?
If I was able to move, I would do more sports, like I used to before I had a stroke. But I'm adapting very well to a life without needing a driver to go anywhere. I need a chauffeur, that's what I'm saying.
Maureen
Benedict, 48
Norfolk, New York
Weather observer, Burlington International Airport
What takes up your time?
Going from point A to point B, going to different jobs. Especially in the winter — like, it took me four and a half hours yesterday to get here.
What would you do with an extra hour?
An extra hour? I have a nephew and grandchildren, and I would love to take them on a toboggan, or just go to a dollar store so they could pick something out. You know, spend time with them. Fun things.
Ernie Stires, 82
Cornwall
Composer; mentor of Trey Anastasio
What takes up your time?
Three times a week I go to the gym. When you're there, you have these sadistic machines that you have to get on — ache, pull, gasp. You hope to have a whole lot of gym friends, so you can engage them in a conversation that kills at least half an hour.
What would you do with an extra hour?
If I had an extra hour, and the energy that goes with it, I would bite the bullet, take out my old scores and arrange them in some sort of order before I die. Because I've got tons and tons of manuscripts lying around, waiting, whispering to me, "Straighten this out!" Certainly, a couple of winks-of-an-hour a day of that, and I'd have it done. But ask me why I haven't done it, and I don't know . . . You could think of a whole lot of things you could do with that extra hour that you don't. But while you have it, you waste it.
Tari Swenson, 56
Waterbury
Co-owner, West Branch Gallery & Sculpture Park, Stowe
What takes up your time?
Being at the gallery, making artwork and presenting artwork by others . . . Man, I'm here probably seven days a week — that's boring! In general, if I'm not at work doing art, I'm cooking or hiking with the dogs. And honestly, baking chocolate is my form of cooking.
What would you do with an extra hour?
I would spend time without interruption, thinking . . . It's a form of meditation, but I suck at meditation, so I can't call it that. That kind of work is hard to do when you're hanging other artists' work, dealing with customers and clients in the gallery. So if I had an extra hour to myself? I'd hole up in my studio, think, and make a brushstroke — simple as that!
Lauren-Glenn Davitian, 47
Burlington
Executive director, CCTV/Channel 17
What takes up your time?
It's my mind that takes up the time. It's not the stuff; it's the busy, incessant mind that can't really be in the present very well. The thing that occupies my time is this constant scanning of the horizon to see what's next. The people who are good at living in the moment are not feeling that time is escaping.
What would you do with an extra hour?
I really don't want to say I would work more . . . I would probably swim. I'd swim a mile and take a steam bath. I can swim a mile in 40 minutes, which leaves 20 minutes to enjoy the steam. Or I might call my mother.
Kate Schubart, 65
Hinesburg
Writer; radio producer
What takes up your time?
I end up every day wondering how I do spend my time. Another day has gone by, and I can't always account for it. I do hospice work and I do family connecting work. And I do household work. I do a lot of trying to stay on top of what's happening in the world.
What would you do with an extra hour?
If I had another hour in the day, the irony of that is . . . I probably would spend it doing what I do, anyway: reading, writing and talking to family and friends. I'd like to be able to give more time to other people. My big anxiety about time is being torn between things that I think matter — in terms of saying I lived for a reason and purpose — and wanting to be there for other people. That pressure is probably only going to grow.
Bill Schubart, 62
Hinesburg
CEO, Resolution Inc.
What takes up your time?
A lot of it is just bad priorities on my part. The time's there. I think we get addicted to feeling there's not enough time. It's like when you sit down at your computer to write something, you check your email, you check your bank balance. What you really want to do is the hardest thing. The biggest tax on my time is self-imposed.
What would you do with an extra hour?
I would read, primarily classics. I would write more fiction. And I would listen to more serious music, learning music — not just fun music.
Marion Leonard, 98
Rochester
Environmental activist
What takes up your time?
Well, what takes up my time is what I call the "Great Work" — trying to get the human connected to the Earth again. There's no way we're going to save this planet — or ourselves, really — unless we understand that we're part of the Earth. We are the Earth's conscience, the Earth thinking about itself . . . Frankly, I never believed that I would live long enough to see the movement that I have.
What would you do with an extra hour?
An extra hour? Of course, I have to do a certain number of things for living. You know, I don't have people come in to help me do things . . . I spent some time today just changing the sheets, washing them and getting them back on — that's a major chore for me! But an extra hour? I'd probably be doing more of the same. I spend a lot of time calling our representatives every week telling them what to do, and how to do it. But if I had an extra hour to do more of that, would I do it? Probably not.
North Clarendon
Nurse, 325th Combat Support Hospital, Al Asab Airbase, Iraq
What takes up your time?
[by Facebook message:] Gettin Low, Ridin Dirty, Washing the sand out of . . . everything.
What would you do with an extra hour?
With an extra hour in the day, I would try to call my family and friends at home.
Burlington
Artist
What takes up your time?
Oh, God ! You know, working, cleaning crap at home . . . Running around, it feels like. I always feel like I'm just trying to do too many things. There's always something going on.
What would you do with an extra hour?
I'd probably paint more — that's kind of a generic thought. Um, yeah, I'd probably paint more, or write about painting, do more "thinking time" around painting. That would either be looking at my work, or making new work, or writing about making work.
David Fairbanks Ford, 44
White River Junction
Curator/director, Main Street Museum
What takes up your time?
My life . . . But life consists, uh . . . For me, I'm so tied to this museum, I'm sort of wedding my brain to a collection of objects in White River Junction. I'm simultaneously collecting objects, trying to collect myself to them, tell their stories and also to separate myself from the objects so that I can have the wherewithal to be a curator and interpret the objects. So I'm basically running a museum, and the museum's like an extension of my own brain. Which is really what all museums are: an extension of a collective unconscious, if they're formed by a country. Or if it's just one person doing it, they're just extensions of one human being's brain.
What would you do with an extra hour?
I would throw out more objects! I would clean things more, get a cat, so that we don't have mice in the museum . . . Ha! We got rid of our cats in October, and now we have mice.
Joshua Chasan, 62
Burlington
Rabbi, Ohavi Zedek Synagogue
What takes up your time?
What takes up my time? Worry.
What would you do with an extra hour?
If I had another hour in the day, I would have another hour to carve wood. I carve wood.