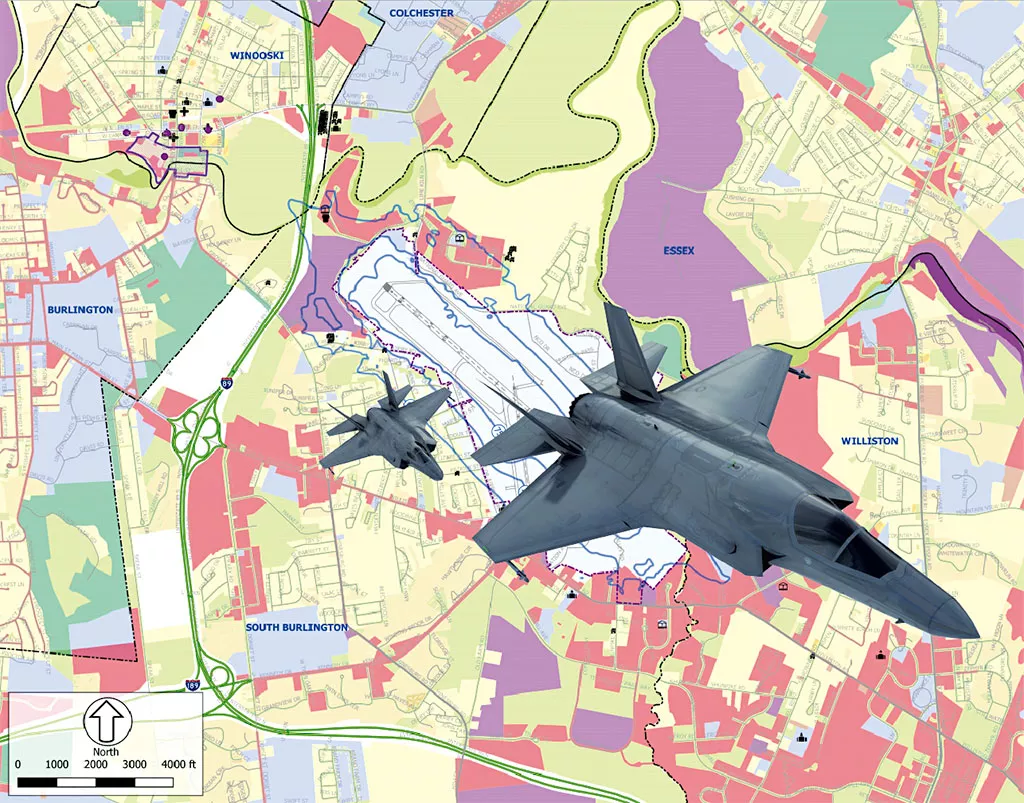 Long-awaited sound maps released last Tuesday contained bad news for Winooski: Half the city now lies within the expanded area that will experience high noise levels from the F-35 jets to be based at Burlington International Airport starting in September.
The following day, four Utah-based F-35s coincidentally made an unscheduled stop at BTV, and city residents got a preview of what's to come. Shortly after 8 a.m. on Friday, the military fighter planes left — the first time the next-gen jets have roared off from the airport.
Community reaction was as swift as the planes.
"I was pretty astounded by the sound level at my house," said Carl Severance, who lives on Thornton Street, just outside the high-noise zone — defined as the area that will be subjected to sound in excess of 65 decibels.
On nearby West Canal Street, inside the zone, retiree Marguerite Adelman found the jets to be much louder than the F-16s that they are replacing at the Vermont Air National Guard.
"Let's just say I'm partially deaf, and I've been partially deaf from birth," she said, "and I wasn't wearing hearing aids. And for me, they were deafening."
Matthew Ennis was waking up in his apartment at Hood and Lafountain streets when the jets took off, and he covered his ears. "I don't know if I can hack staying in Winooski," said Ennis, who has protested the F-35 basing.
Eli Harrington, who lives on Main Street, grew up listening to the F-16s. This was different, he said: "My first reaction was like, Wow, I get what all the push-back was about."
The sentiment was not confined to Winooski. Joanna Rankin, a University of Vermont physics and astronomy professor, was awakened by the F-35s at her Burlington Co-housing residence off East Avenue. "They were just appalling," Rankin said.
And in South Burlington, a block from the airport, "It was like a thundering," said Logwood Street resident Stefani Us.
Hundreds of people attended two open houses last week about the new map, at the airport and at Winooski's O'Brien Community Center. The forecasts show that the number of dwelling units affected by high noise will nearly triple, to 2,640, by 2023. The number of people in the zone will rise to about 6,125. More than half of those — 3,113 — live in densely populated Winooski, which is one square mile in size and directly in the flight path. The new maps added chunks of the city, including the Catholic St. Francis Xavier School, to the high-noise area.
In South Burlington, an estimated 1,909 people will be in that zone.
Protesters at the open houses distributed fliers with illustrations showing a little girl plugging her ears and grimacing, a frightened infant wearing ear protectors and a dejected homeowner next to a real estate sign that said "still for sale."
"If property values drop even 10 percent or, God forbid, 20 percent, that's a big deal," said Winooski homeowner Severance, who also owns a rental property in the city.
At the airport, a throng of opponents crowded around a table questioning three Vermont Air National Guard representatives: Col. David Smith, commander of the 158th Fighter Wing; Col. David Shevchik, commander of the 158th Operations Group; and Lt. Chelsea Clark, public affairs officer. They defended the F-35 basing as critics peppered them with questions about the noise impact on children at nearby schools.
In addition to St. Francis Xavier, the public elementary Chamberlin School in South Burlington is in the high-noise zone.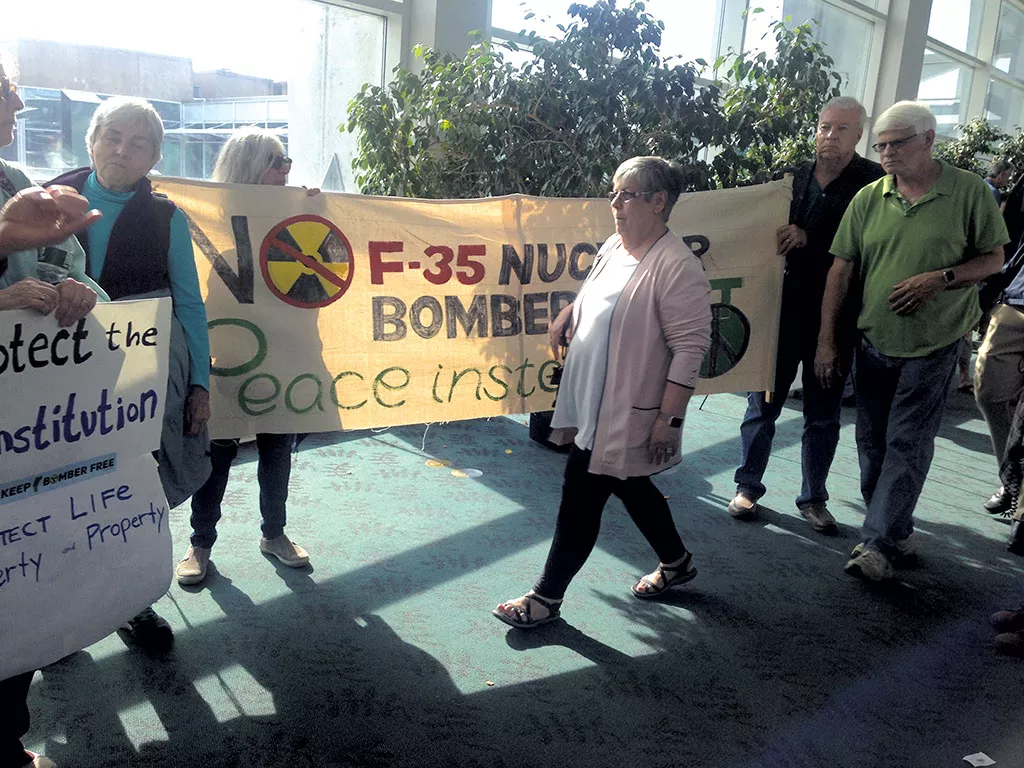 Molly Walsh
Noise map open house at Burlington International Airport
Critics at the airport also alleged the planes make Burlington a target. F-35s can be equipped to carry nuclear bombs, according to the U.S. Department of Defense. Vermont Guard officials have said repeatedly that the planes coming to Burlington will not be "nuclear capable," and officers at the open house reiterated that. Still, critics said such assurances were not comforting as the planes could be altered at any time, and such a move would likely be classified.
Defenders of the F-35 weighed in, too. Some suggested the new plane might not be dramatically louder than previous military aircraft that used the airport. At one point a man at the back of the throng shouted to the Air Guard officers: "I'm sorry you have to receive all this crap. Keep up the good work!"
The maps were drawn so BTV officials can tap an estimated $100 million in Federal Aviation Administration sound-mitigation grants for properties in the 65-decibel-or-higher zones. The airport plans to apply for grants to cover new sound-insulating doors and windows; to reimburse homeowners who lose money on a sale due to noise; and to allow the airport to purchase, soundproof and resell houses.
Distributing the funds could take 20 years, according to BTV director of aviation Gene Richards.
"I'm 70 years old," said Us. "By the time they get around to it, I'll be dead."
The officials who tried to reassure residents didn't offer much comfort, said Harold Skorstad, who lives close to the airport but just outside the high-noise zone.
"It's all lip service, to be honest with you," said Skorstad, who is "absolutely" convinced he will endure more noise from the F-35s, even though he's not within the redlines to qualify for a grant.
Organized jet opponents are focusing their efforts on Vermont's congressional delegation, which supported bringing the F-35s to the state. Protesters have vowed to continue their campaign with regular weekly protests at the office of Sen. Bernie Sanders (I-Vt.). They're targeting Sen. Patrick Leahy (D-Vt.) with letters, emails and phone calls.
Similarly, Winooski City Councilor Mike Myers is getting heat from unhappy constituents, but he has not changed his opinion about the jets.
"I'm for the F-35s. I think they pump a lot of money into the economy," Myers said, as he looked at the maps along with other city residents. He supports the guard's mission and said being inconvenienced by "five minutes" of noise a day is "well worth it."
Not for Hillary Gombar, a Winooski mother of two who says she got an "instant headache" after the F-35s flew over her city, which hosts a disproportionate number of low-income people and refugee families from Africa, East Asia and other parts of the world.
"This is environmental racism," Gombar charged. "The government allowed this to happen, saying, we don't actually care about poor people, people of color.''