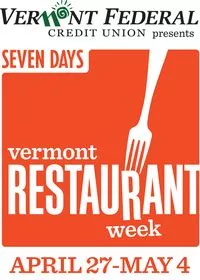 Today is the final day of Vermont Restaurant Week 2012 — at least officially. A number of restaurants are so excited about the promotion that they've decided to offer their prix-fixe menus through Saturday.
The following businesses will be serving their Vermont Restaurant Week menus on May 5, as well as tonight:
Arvad's Grill and Pub
Bar Antidote
Barkeaters Restaurant
The Belted Cow Bistro
The Black Door
Blue Paddle Bistro
Charlie's Rotisserie & Grill
Cosmic Bakery & Café
Das Bierhaus
Farah's Place
Hourglass at Stowe Mountain Lodge
Le Belvédère
Michael's on the Hill
Pie in the Sky
The Red Clover Inn & Restaurant
Tourterelle
Trader Duke's
Wooden Spoon Bistro
Don't forget, tonight is your last night to get your fixe at the 64 other participating restaurants. Make your reservations now, before it's too late!