Luke Awtry
Melanie Maria Goodreaux and Tim Fielder
Like millions of other New Yorkers, I was moving about our city like a fast-paced germ. Mid-March, days before the shutdown, we were elbow to elbow, cough to cough, sneezing and God-blessing each other in trepidation on stuffed trains that busily buzzed us back and forth. Gooey bulbs of snot shot through the noses of children at my day job as a teaching artist, making me uncomfortable. I got home ready to rest in my husband's arms. Then, as if he were reading a script from some apocalyptic flick, he declared: "We have to leave here tomorrow on a plane to Atlanta."
Tomorrow? My knees left first. Panic, fear and confusion seemed to be driving us both. Swiping the iPhone that day served up images of scared-looking people delayed at airports, packed body to body. I was unraveling. The unnerving plan developed. It meant we would be packing immediately to make it for the plane, managing my elderly in-laws, who were visiting New York City; my young niece and nephew; my cat, Mikey; and all of my fears.
Any of us could be incubating the virus. Couldn't we drive instead of fly? I don't want to inadvertently kill anyone or catch anything on the tiny enclosed monster of an airplane. Thoughts spun like the chamber of a gun. My husband needed to dutifully carry his folks back to their own home in Atlanta and, well, my mind collapsed at all that.
---
Hear Goodreaux read this essay:
The Uber taking him away was like a piece of the Earth cleaving itself from the mainland. I was left alone on the shore of a sci-fi movie, heading into a real dystopia, dealing with the haste of Zion. After landing down South, my husband urged me with new realities and geek wisdom: "During a zombie apocalypse, you must flee highly populated areas. If you get sick and they close the island's entry, no one will be able to come and get you."


* * *
Vermont was always a dream — a mysterious northern "kingdom" where my cousins, aunt and uncle lived, far away from New Orleans, where our people are from and where I was born and raised. In 1977, the year Star Wars came out, they moved to Vermont. Uncle Herbert and Aunt Lucille were a son and a daughter of the Deep South and also an ultramodern, brave-as-heck couple. They were primed, full of promise and nerve, Black and bold like Afros and Isley Brothers songs.
Uncle Herbert was emboldened by his PhD, his sweet love, and the bravery of conquering this new frontier. He worked as a polymer chemist at IBM in Essex Junction, manipulating molecular structures and inventing computing hardware. His world was hyper-alien compared to the stereotypical expectations of a southern Black man just 10 years past the civil rights movement.
Uncle Herbert might as well have been shot from a rocket ship onto some new moon. He was a real-life Lieutenant Uhura on the USS Enterprise, a lone Black person working on the precipice of technological and racial innovation. Unafraid of racial obscurity, he founded a new experience for his Black family on a hilltop in Vermont.
Courtesy
Dr. Herbert Leary Jr. at IBM
My aunt would call New Orleans on a clunky rotary phone to talk to my father, her brother, and report the new things she'd discovered about living in this predominantly white world. "There's not many Black people up here" was the common start of any explanation of Vermont to southern Black folks. It preceded talks about snow.
Both of my cousins went to boarding schools. As their southern family, we were befuddled by what northern Blacks were really like. Whenever they came down South, we noted their grade of manners and northern accents with profound awe and mystery.

* * *
After my father died, Aunt Lucille moved my grandmother from New Orleans to Essex Junction. My grandmother had raised her two kids on her own in the French Quarter, and she once worked as a maid for a wealthy white family in New Orleans. I came here, to Vermont, at the same time. Like my grandmother, I was swollen with grief over my father's death, but I still needed a college degree. It was a treasure and a passport not to be ignored, as my aunt and uncle reminded me. While attending Saint Michael's College, I lived at their home.
Aunt Lucille and Uncle Herbert had no hazmat suits to protect them from the missteps and misunderstandings that came from being the new and rare Black family in Vermont during the 1970s. But the fresh air, promise and neighborly kindnesses belonged to anyone who could find their way to the kingdom.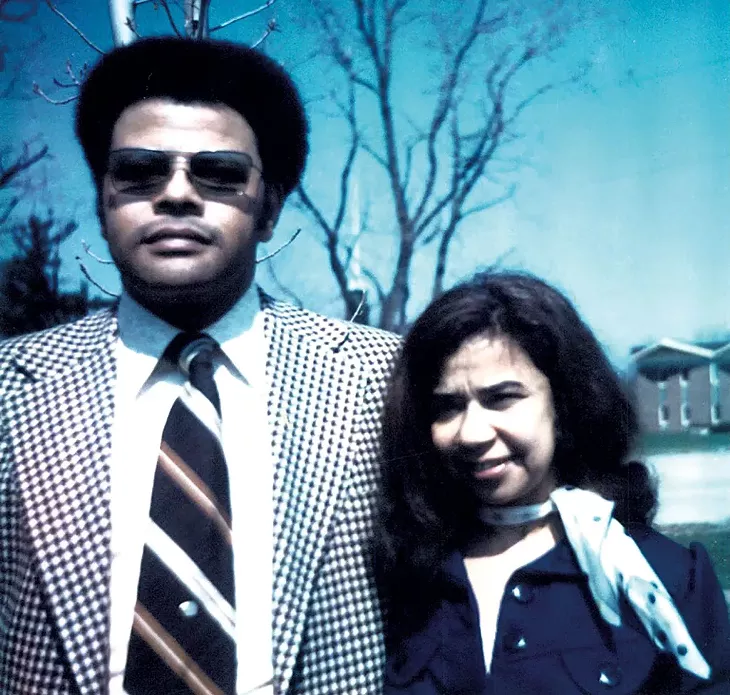 courtesy
Dr. Herbert Leary Jr. and Lucille Leary
They weren't the only Blacks escaping to this paradise, real or fictional. In I Am Legend, Will Smith plays a virologist in New York City fighting off nocturnal mutants when a virus wipes out mankind. The only people safe from its horrors live in Vermont. On Shonda Rhimes' TV series "Scandal," Kerry Washington's character, Olivia Pope, is the "fixer" for the president of the United States. The two of them are secret lovers and escape to a house in Vermont.
* * *
I was proud of my badassed escape from New York to Vermont. I was an artist with a working credit card with money enough to rent the last available car in the lot. Mine was a white Volkswagen Bug that zoomed along the highways, balancing my load of groceries and medical supplies.
Smooshed together in my harried packing were my coffee maker, $300 in cash, dumplings, three cartons of bodega eggs I wouldn't leave behind, and my 20-pound cat in a carry-on bag. Mikey was my lone copilot in the front seat. We were like Chewie and Han Solo in the Millennium Falcon, swerving northward through the hills.
I fell asleep on the road twice. Our getaway Beetle tilted with speed on the curves, balancing itself on two wheels and screeching, redeemed by the split-second moments of me waking up before running into an oncoming truck. I narrowly missed being that tragedy and was instead borne once more unto my aunt's house. Mikey threw up from car sickness but, other than that, was pretty chill.

* * *


Uncle Herbert died many years ago, and my glamorous Aunt Lucille, whom I loved so much, passed away a couple of years ago. Her house was supposed to be packed up and sold, but my cousins held off on the sale. "Go to Auntie's," my cousin Kim had offered. Left behind was a fully stocked
Enterprise-D
: a colony ship ready to receive its next generation of Black inhabitants.
I got in with the garage door opener that my aunt's friend had left on a doorknob in a plastic bag. The door cranked open to the ranch house that I had thought I would never see again. Grandmother's rocking chair from New Orleans was still there. There were photos of cousin Herbert riding his horse, Godfrey, leaping over a white fence, and cousin Kim and Auntie Lucille shaking hands with President Obama, smiling in perpetuity from picture frames on the mantel.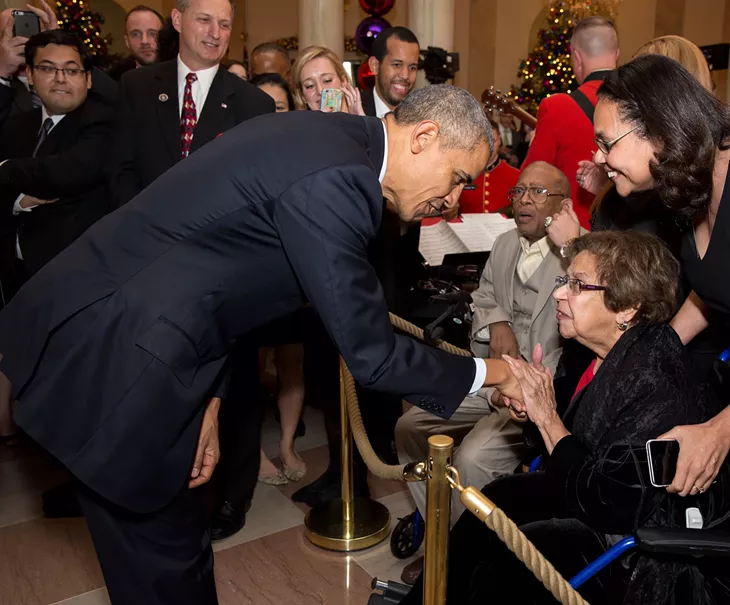 Courtesy
Lucille Leary meets President Obama at a White House Christmas party in 2015.
When I got to the kitchen, I dropped my purse and released the deepest breath I have ever been known to breathe. I sobbed and sobbed, freed now from all the buttons and business of New York, rescued by my aunt's beautiful bunker in Vermont. I heaved with relief and wailed in thanksgiving to the ancestors who granted me this safety and protection. And none of my eggs had cracked.
The next thing I spotted was a small, yellowing school photo of my sister in pigtails, which my mother had mailed here from New Orleans 40 years before. It had been left on the orange laminate kitchen counter that my aunt picked out with keen '70s groove and smooth taste. Surrounding me were vines of cornucopia that donned the kitchen walls, an orange and pea-green wallpaper harvest. It was a sight for sore eyes, a gift from my generous cousins, who unlocked this Essex Junction door for me to be safe. Just safe. I was home.
* * *
I did many things to survive this new isolation. I chopped chicken sausage and peeled shrimp I had carried from New York to make a gumbo. I poured out pralines on the foil my aunt never used before dying, mailing the candy to my husband, walking two miles to the post office because I didn't have access to a car anymore.
I sobbed on the mint-green velour chair and found comfort from the Douglas firs outside. A trio of them loomed over the house like three great-aunts standing tall, camouflaged as evergreens. I thought about how my grandmother had sat in this same chair and had probably found comfort from the same towering trees.
For a while, I wept each sunrise on that chair. I prayed the rosary every day with my mother on the phone in New Orleans. I did yoga on the deck beneath the sun. I grew tomatoes, basil and lettuce for the first time ever.
I fried chicken with my friend Shawn on Zoom. I bought an air fryer and stopped cooking with oil. I found a picture of myself at age 10 beneath the bed where I slept. I binged on Pop-Tarts delivered by my friend Marie who worked at Hannaford. I wept for my aunt many times, and for the company of my husband who was far away.
I found my auntie's old bike hung upside down in the garage — a rusty red Free Spirit bicycle from the Sears catalog. I had received the same model for Christmas when I was 10. I untangled my old bones and pushed the pedals with all the might of my fortysomething thighs. I rode the bike through Essex Junction, the wind blowing through my graying hair.
I felt 10 years old again, thrilled by speeding down the suburban hills, passing rows of houses and signs written by neighbors to cheer everyone up. One read: "Be Kind, Be Safe, Be Your Best." My favorite was the "BLACK LIVES MATTER" sign on the concrete wall of the highway, where a neighbor had outlined the statement in powdery blue chalk and restores it every time rain fades the words.
Although I made myself stronger through the loneliness, the house and its contents were my sanctity and my good friend. I was still somehow ashamed of being alone.
* * *
My aunt is not here. This is her fireplace, her carpet, her strands of red hair left behind in a comb in a drawer. These are her regal Black children forever painted in plaid outfits and left on the easel for a permanent showing. This is her painting of stylish Black couples dancing at a jazz party in the 1920s. This is her collection of Toni Morrison books. This is her road that once led to IBM. This is her house that sits above the Winooski River. But this has been my home during one of the most important transitions of my life.
My husband returned to me on the last day of July. He flew in on the plane wearing a respirator mask that made him look like Darth Vader. I sprayed him with alcohol right at the curb, and I kissed him after four and a half months. I rushed us to my aunt's house in a hooptie I'd finally bought to get around town, ready to make him feel at home with a dinner of crab cakes cooked in my new air fryer and with tomatoes I'd grown myself.
I marvel at this refuge and think Uncle Herbert would be impressed by today's inventions, employed in the mothership he founded with my aunt. All I have to do is say, "Hey, Google, play 'Voyage to Atlantis,'" and my love and I can enjoy the same soulful songs Uncle Herbert and Auntie jammed to in the '70s on the record player console downstairs.
Uncle Herbert would smile about my husband, a graphic novelist and visual Afrofuturist, who imagines Black people in new worlds. A man like himself. Auntie would be tickled by the pandemic love nest I've created, akin to Olivia Pope's Vermont dream. The difference is that mine is a real utopia in the midst of some actual cataclysm.
Sometimes I cry at the supermarket when I talk, muffled through a mask, to a sales clerk. I think of the people who have died alone, and of my empty apartment in New York City. With our refrigerator filled to the brim, I'm grounded by listening to the Isley Brothers with my husband. The uncertainty facing me, and so many others, is daunting. Where will I work next? How long will we have to dodge the virus? Will the sanctity of social order be preserved? Will our Black sons and daughters be able to walk down the block without getting shot?
I hope my husband and I can take root here, sturdy and new and growing like my tomato plants in good earth; steady in the serene scene of Kryptonian-colored mountains and facing the Afrofuture in Vermont.