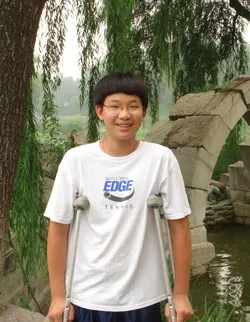 Aaron Xue in Beijing in 2007
A color photo of Aaron Bing Xue hangs above a shrine of personal mementos in his family's spacious home in Essex. Narrow strips of paper inscribed with Chinese calligraphy frame his young, smiling visage. They read: "His happiness and sadness are over now. But his voice, his look and his smile are in our hearts forever."
By outward appearances, Aaron was more happy than sad: a seemingly successful and well-adjusted 15-year-old who was a straight-A freshman at Essex High School, a star player on the varsity tennis team, an accomplished cellist in the Vermont Youth Philharmonia, an avid gamer with a diverse circle of friends, and a member of a loving and supportive family. The word his parents use most often to describe him is "gentle."
From his photo, it's hard to imagine this innocent-looking boy feeling much sadness. It's harder still to envision him being overwhelmed by suffering so profound it drove him to take his own life suddenly and violently four months ago.
Aaron's mother, Ge Wu, and his father, Shuwan Xue, have yet to make sense of his senseless death — their wound is still too new, too raw. They're plagued by many unanswered questions, some of which may never be answered, while others can't be.
But that hasn't stopped Wu and Xue (pronounced "Shway") from seeking answers anyway. Today, as they try to piece together the final hours of their son's life, they insist that some questions can and must be resolved if Aaron's death is to have any meaning, to them or their community.
Among those questions: Why didn't the police or the school district publicly disclose that Aaron's suicide was a gun-related death that occurred on school grounds? How did Aaron get the gun, and why did he have it? Was this weapon, and another one associated with the case, brought into the high school? If so, why hasn't that fact been made public? Finally, why doesn't Vermont have any laws governing the possession of handguns by minors?
"The biggest question we have and a lot of other parents have is, Why did this happen?" said Xue, Aaron's father. "This was a surprise to everyone. Aaron wasn't depressed or anything. Aaron was healthy, he was engaged, and he had a lot of things going for him."
Such queries resonate in a community that has, in recent years, experienced more than its share of violent deaths involving the public schools. They include the October 2003 suicide of 13-year-old Ryan Patrick Halligan, who killed himself after being repeatedly bullied, both in person and online. Then there were the August 2006 shootings at Essex Elementary School that left two people dead and three others wounded.
The Essex police and medical examiner have ruled Aaron's death a suicide and report no criminal wrongdoing or foul play. Although there's no active or ongoing investigation, the police say the case will be kept open indefinitely. The reason: It was an "unwitnessed death" that occurred in public, and someone could come forward months or even years later with new details.
As a result, Aaron's family has not been allowed to see the police report. "We pushed real hard," said Wu. "We pleaded, we begged. We said, 'We need details.'"
However, the Essex Police maintain they have given the family all the facts they can and have withheld only details directly related to the forensic evidence. Most of the facts of the case, which the family now wants made public, are undisputed: At approximately 5:30 a.m. on Saturday, April 18, Wu and Xue found their son lying dead outside the library building at Essex High School, the victim of a self-inflicted gunshot wound. The family didn't own a gun, and, to their knowledge, Aaron had never fired one before. Just before his death, Aaron scrawled a message on a nearby tennis court with the tip of a bullet. It read, "I [heart] my family."
The previous evening, according to his parents, Aaron and a couple of his friends had met after school at the Essex Outlets shopping center. (Because they are minors, the boys' names are being kept confidential by the police, the school district and Seven Days.) There they ate Chinese food, then went to the Hannaford supermarket, where Aaron was caught shoplifting a bag of gummy bears that cost $2.73. According to his parents, this was the first time he'd been known to commit a crime.
Aaron was taken into police custody but not charged. Instead, he was issued a one-year no-trespass citation and driven home, where a police officer handed him over to his mother. (His father, who works in Boston on weekdays, was still en route.) After a brief lecture from his mother, during which she confiscated his cellphone, Aaron grabbed a flashlight and bolted from the house.
Wu recalled that she searched the neighborhood in vain for her son, then called 911. The police officer who initially brought Aaron home responded to the call. However, the boy's disappearance was not considered an emergency, as there was no reason to suspect he was in any imminent danger.
A videotape from a surveillance camera inside the high school later showed Aaron entering the building at approximately 9:25 p.m. without the gun, or so his parents claimed. (They admitted they haven't seen the footage themselves.) There he used a public phone to call his sister, Emily, at college. He left a voice message on her cellphone that said, "You're a good sister. Don't blame yourself for this." Aaron Xue was never seen alive again.
On a recent rainy Saturday, I sat down with Wu and Xue in their house in a tony neighborhood not far from The Essex. The couple seemed neither stoic nor overwrought, but their grief and frustration were visible. They're hoping that by going public now, they can get some of their questions answered.
Wu is a professor of physical therapy and biomechanics at the University of Vermont; Xue works for a small startup company in Boston as a neuroscience researcher. Both came to the United States from China in the mid-1980s and speak English with moderate accents.
Xue quickly addressed an idea that appears to have been broached or intimated to them several times already — namely, that this was "an Asian thing," that Chinese parents push their children too hard and expect them to be overachievers. (Aaron's sister graduated as valedictorian of Essex High School several years ago.)
Both Wu and Xue find such suggestions insulting, even racist.
"Aaron grew up in this community," Xue said. "We're not isolated, and this was not 'an Asian thing.'"
"He was like any boy," Wu added. "He wasn't pressured to do well and he wasn't a perfectionist."
Since Aaron's death, the couple has spoken to many of his teachers and friends. None reported noticing anything out of the ordinary about him that day. By all accounts, the Friday before spring break didn't find Aaron acting distracted, depressed or "somewhere else." Xue was told that his son was "quite cheerful" and even joked around with his tennis coach, a detail both the coach and the school principal relayed.
Other facts about Aaron's last day are more difficult to nail down. Specifically, the family has made allegations about how and when Aaron got the gun that cannot be independently confirmed or refuted, given that the police and the school district are not at liberty to discuss them.
But Xue said police have told him that, on the afternoon Aaron met the two boys at the shopping center, one of them had a duffle bag containing two handguns that had been removed from his home. According to Xue, that boy's father was a Vermont police officer, a detail that was independently confirmed.
Xue claimed he was told by one of the youths that the guns were not with the boy when he was dropped off at the shopping center, but rather were removed from the house earlier that day and — perhaps — brought to school. Representatives of both the police and the school district say there's no evidence to support that claim.
Wherever the duffle bag of guns spent the day, it appears later to have been left in some woods near the Xue house. At some point after Aaron ran away from home, he retrieved one or both weapons — one later turned up in a nearby homeowner's mailbox. The other, a .44 Magnum, was the one Aaron used on himself.
Xue and Wu said they cannot understand why the guns were left near their house, especially since the other boys don't live in the immediate area. Wu, who called one of the boys with Aaron's cellphone the night he disappeared, said the boy never mentioned to her that guns might have been involved. If he had, Wu suggested, that critical detail might have changed the police response, and the ultimate outcome.
Both Wu and Xue are also suspicious about the timing of Aaron's death. Conversing with his friends, they heard several references to "4-20," which is not just a popular shorthand for pot smoking but also the date of the Columbine shootings. Wu claimed she'd heard Aaron mention a party scheduled for 4/20, which was the 10th anniversary of Columbine.
Aaron's parents also claimed that the reason the police haven't spoken more openly about this case is the other boy's connection to law enforcement. As Xue put it, "They didn't want to talk about it too much. Hush-hush was really the policy."
Captain Brad LaRose is the Essex police officer who oversaw the investigation into Aaron Xue's death. Although he's not at liberty to disclose details of the case, LaRose was very forthcoming with this reporter about how the investigation unfolded and how the facts about Xue's death were made public.
According to LaRose, the Essex PD conducted a "very lengthy investigation" that eventually reached the conclusion that no criminal wrongdoing had occurred. He expressed his "deepest sympathy" for the family's loss and insisted he's been as honest and open with them as the law allows, while also striving to protect the confidentiality of the other minors involved.
"We're not holding anything back," LaRose said. "The state's attorney's office knows about this [case] from top to bottom. They know all the details and everything that was done."
Specifically, LaRose said his department followed every lead it received and had no reason to conclude other students or the general public were ever in danger.
"We have absolutely no evidence whatsoever that a gun was brought to school. None," he said. Moreover, LaRose said his department has never tried to conceal the fact that this was a gun-related death. He pointed out that all the language used in the press release, which was issued jointly by the Essex PD and the school district the Monday following Aaron's death, was discussed with the family in advance and received their approval. That release, which indicated Aaron had died "unexpectedly of a self-inflicted wound," omitted any reference to the gun to "protect the family's privacy."
Essex High School Principal Rob Reardon echoed that sentiment. One of the things he remembers "all too well" from that fateful week is his desire to give the family some contol over what was reported to the press. Since school was closed for vacation the following week, he said, he was particularly concerned about quelling any possible rumors.
"The wording was 'self-inflicted wound,' and that's how they wanted it," Reardon said. "In a situation where there's absolutely no control, rational explanation or logic, I thought that the least I could do was let [the family] have some input into how the message would go out."
Initially, Reardon acknowledged, there was speculation about whether one or several guns had been brought into the school, especially while other students were present. However, based on a subsequent review of video footage from inside the school building and police interviews with the boys, he was told there was never any indication that guns were present or that other students were at risk.
Reardon, who's been at Essex High for 24 years, including six as principal, called this episode "horrific and tremendously sad" and said he understands why the family may still have questions.
"Sometimes when you have some answers, it just spurs more questions," he said. "But there's only one person who has all the answers, and, unfortunately, he's not around."
For their part, Wu and Xue said they'll keep pressing for answers. Already they've been meeting with a group of other parents and neighbors who intend to press for stricter handgun laws for minors. The couple plan to hold a public forum later this month.
Currently, there is no minimum age in Vermont for possessing a handgun. Under federal law, no one under 21 may purchase a handgun or ammunition, but it's legal for minors to possess one with a parent's permission.
One police officer explained that, if he saw a 10-year-old child walking down the street with a handgun, he could confiscate it and, in the interest of public safety, bring that child back to his or her parents to determine whether they knew about the gun. However, if that parent later decided to return the gun to the child, neither the parent nor the child could be charged with any crime. Simply put, unless a person is a convicted felon, is restricted by a protective order, or is carrying a handgun "with the intent or purpose of injuring another," no laws whatsoever regulate their possession of a handgun in Vermont.
Xue and Wu said they're not looking to punish the families of the other boys involved in their son's death. And, while Xue admitted "the potential for a lawsuit is always there," he said his family's goal is simply to talk with the other boys and their families so they can understand the details surrounding Aaron's death and "get some closure." Thus far, Wu claimed, that hasn't happened, despite repeated requests for a meeting.
"Aaron's gone, and we can't bring him back," Xue said. "But we want to do anything possible to prevent this from happening again."