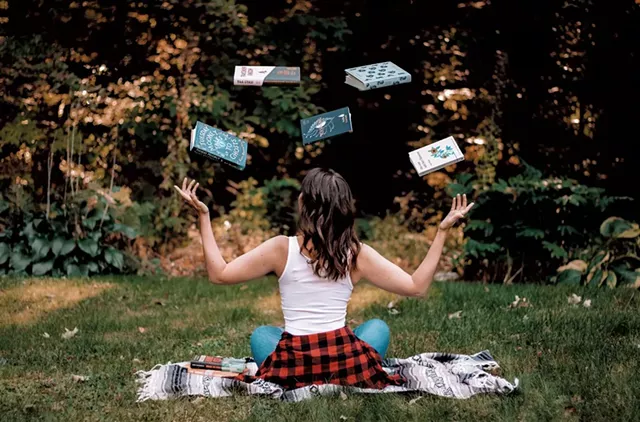 Last month, I shared some of the surrealist art projects I do with my students and described the strange, bizarre and often symbolic qualities of surrealism. Now, we will venture into the similar — but slightly more restrained — realm of magical realism.
While surrealism pulls from the depths of the unconscious mind — with paintings of wildly irrational, even disturbing scenes and juxtaposing random imagery — magical realism grounds itself in the real world. Art belonging to this category bases much of its subject matter in reality, with mostly believable settings and subjects infused with a little bit of magic.
For example, in an otherwise normal drawing or painting of a quiet room, a vase might hover above a table rather than rest on its surface. Or, perhaps, in a realistic portrait of a young boy, we might see wings sprouting from his shoulders.
You can explore magical realism with your young artist by encouraging them to draw a realistic scene — a portrait, landscape or still life (an image of still, everyday objects) — and then intentionally transform it by adding one or more small elements of fantasy. They might add a magical or impossible trait to a portrait, such as gossamer wings or hair made of fire; add a dragon or a fairy to a realistic landscape; or portray particular objects as if they were floating, defying the laws of gravity.
For those interested in practicing digital art making and photo editing, the possibilities for adding magic to digital photographs are endless! A number of free photo-editing apps available for smartphones allow the user to combine and layer parts of images to make objects appear to float or fly. My personal favorite tool for this process is Adobe Photoshop Mix, which is free to download and use (with the option to purchase additional features within the app). By selecting an individual base image, adding layers of additional images, and then using the cut tool to isolate only specific objects from the added layers, one can superimpose objects and move them around the base image so that they appear to levitate.
My personal favorite object for this type of photo happens to be books — as reading is one of my favorite hobbies — and I prefer to include my hands or arms in the photos, suggesting that I am using magical powers to levitate the books.
Use the directions at right to guide you through this process. What will you and your young artists do with your magic?
Getting Started with Adobe Photoshop Mix
Shoot a base image photograph, perhaps of a blank landscape or with the subject holding out their hands as though levitating an (as of yet invisible) object.
Hold the object you want to "levitate" up against the same backdrop, so that the lighting is the same, and photograph the object.

Pro Tip: Hold the object you plan to "levitate" at the angle you want it to appear in the final image, so that the lighting and shadows on the object are consistent.

Shoot multiple object photographs if you plan to "levitate" more than one object in your final image.
On your smartphone, download the Adobe Photoshop Mix app from the Apple or Android app store. Open the app and allow access to your photos.
Select a base image from your photos.
To add a layer, tap the + symbol and select one of your object photographs. (Tap Cancel when asked if you would like to resize the canvas. You want to keep the canvas dimensions aligned with your base image.)
Use the Cut Out tool to select and isolate the specific object you plan to "levitate" and hit the check box symbol when the object has been cleanly selected in its entirety. Be careful not to accidentally select bits of the background!

Pro Tip: the Smart setting on the Cut Out tool is helpful for quickly isolating an image according to its color and edges.

Tap and drag the object to move it into the desired position, and adjust the scale of the layered object as necessary by dragging the corners.
Repeat this process for any additional objects/layers, and save the final image to your camera roll when complete.

Pro Tip: Add a filter to your finished photo using your preferred photo-editing app to give the final image a more cohesive look.
Additional Resources: