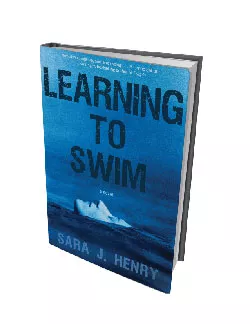 Congratulations are in order for South Burlington thriller writer Jack Du Brul. He's on the latest New York Times best-seller list for two international-intrigue novels he authored with Clive Cussler. If you love the genre, you're probably already reading him. What follows are reviews of two other local books that aren't quite as successful but are nonetheless noteworthy — one a memoir, the other fiction.
Recent years have given us dozens of memoirs and documentaries about living with autism. Allen Shawn's Twin is, for the most part, a memoir of not living with autism.
Shawn, a composer and longtime music professor at Bennington College, was born in 1948 with a fraternal twin, Mary. At the age of 9, Mary was sent to "camp" and never returned. Currently diagnosed as "mildly retarded with features of autism and schizo-affective disorder," she has spent her life in private institutions.
In the highly civilized and cerebral Shawn family — Allen's father, William, was the famous New Yorker editor — Mary's disturbing behavior, and her abrupt disappearance, were discussed as little as possible. She wasn't the only family secret: Toward the end of their father's life, Allen and his brother, playwright and actor Wallace Shawn, would learn that William had had a lover and "second family" for decades.
Twin, Shawn's second memoir, isn't an angry tell-all about his late parents. It's the author's earnest, thoughtful attempt to understand how his life was shaped by an event — Mary's departure — that he would come to understand as a trauma only long afterward. To him, he writes, her disappearance "never seemed like a rescue but only a punishment: an expulsion, an exile."
For his parents, Shawn acknowledges, "given their own psychological frailty," removing Mary from the family must have felt like a necessity. Perhaps, he allows, it was also the best choice for Mary herself. (She was consigned to a sympathetic teacher at a small seaside home, not to a snake pit.) But to a 9-year-old whose twin was suddenly gone, the loss was a disaster.
"To me there was nothing wrong with Mary," Shawn writes. "She was simply herself, an inextricable part of the world I knew." As he grew to understand what others saw wrong with her, their twinship became "an almost taboo subject," because his genetic closeness to Mary posed the possibility that "the magic glue that held my brain together would lose its adhesive properties."
Shawn paints a moving portrait of what it means to deny essential parts of one's childhood; he shows how his repressed fears (of losing Mary, of becoming her) influenced his art and emerged throughout his life in seemingly groundless panics and phobias. He also documents his efforts, as an adult, to spend time with Mary and get to know the woman she became — not always communicative but, in her own way, engaged.
The book has a circular, meditative quality; there's powerful prose painting but little narrative momentum. Some readers may fault Shawn for spending more time analyzing himself than Mary; for admitting that, in many ways, she remains opaque to him. While he does survey the literature of autism, it isn't the book's primary focus.
Instead, Shawn explores the shadowy boundaries of what we now call the "autism spectrum," where there is "no sharp drop-off point between what we deem normal in people and what we do not." With their artistic sensitivities and their private routines and rituals, he suggests, the other Shawns were more like Mary than they could admit.
And that, perhaps, was the real reason they couldn't live with autism — because they couldn't live without it. "In order for us to have remained intact as a family of five...," writes Shawn, "we would have had to become even more like [Mary] than we already were, and to recognize her in ourselves..." That recognition, belated but genuine, is what he puts on these pages.
Some novels, you just know, sold on the basis of their first chapters. Learning to Swim, the debut from Vermont transplant Sara J. Henry — who blogs at Sara in Vermont — is one of them. Unfortunately, after a masterful, tantalizing start, the book gradually becomes about as suspenseful as a Lifetime movie.
Champlain Valley readers will love the familiar setting of that opening scene. Narrator Troy Chance is a young freelance writer living in Lake Placid, N.Y. Crossing the lake to visit her boyfriend in Burlington, she sees what looks like a child being tossed from the ferry in the opposite direction. Before she can have second thoughts — or do something sensible, such as alert the crew or grab a life preserver — she's in the water.
Troy thinks of herself as an independent loner, the opposite of a maternal type. But by the time she wades to shore on the New York side of the lake, trawling a small, Francophone boy named Paul, the two have forged an impregnable bond. Paul initially won't say who orchestrated his attempted drowning. Fearing the villain was a parent, Troy decides to do her own investigation and postpone contacting the authorities.
Sounds like a recipe for a cause célèbre on "Nancy Grace" — or a compelling psychological whodunit. But first-time novelist Henry doesn't give many layers to the characters, beyond Troy herself. Paul is endearing pretty much nonstop; he doesn't have a real kid's moments of being bratty, feral or weird. After Troy meets Paul's dark, handsome, faintly sinister father, Philippe, and agrees to become an unofficial member of their family while the child readjusts, the novel enters a Rebecca-like stagnation from which it never recovers. Learning to Swim isn't exciting, twisty or plausible enough for a good mystery, nor is it sexy enough for a good romance. The generic descriptions — Lake Placid gets some color, but Burlington and Ottawa might as well be the same city — don't help.
Still, the novel's mix of suspense and sentiment is sure to satisfy some readers; it got a thumbs-up from Marilyn Stasio of the New York Times. And Henry can write a killer first scene. We look forward to reading her next novel, and hope the rest will be as good.