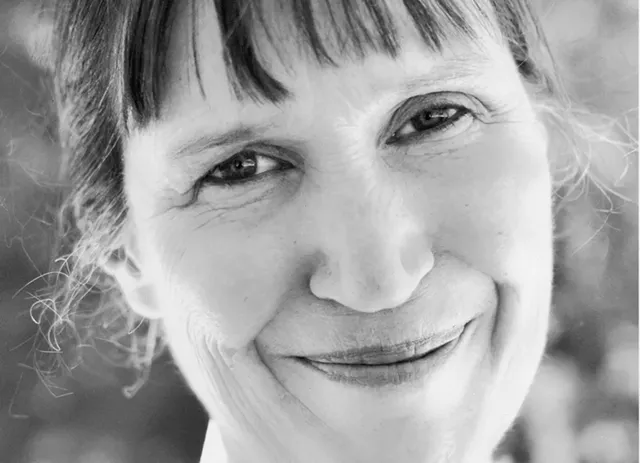 Courtesy Of Rebecca Bailey
Rebecca Bailey
Here at Seven Days, we get a lot of press releases. You name it, we've gotten a press release about it, whether "it" is housing, art, music, law enforcement, politics or "exciting new partnerships." Some of these press releases are good tips that help us discover and write about the cool stuff going on in Vermont. But some of them are not so good. They don't tell us anything concrete, or they rely on so much insider jargon we can't tell what they're about. Or they spell our names wrong or call us "Dear Sirs."
So, what makes a press release great? To find out, we turned to Rebecca Bailey, who's been the chief writer and publicity coordinator at the Hopkins Center for the Arts at Dartmouth College for 10 years. A former journalist, Bailey, 61, is also a singer who has performed in theaters and choral groups; she's currently a member of Montpelier's Counterpoint Chorus. She writes clearly and beautifully about the artists and performers who visit the Hop, and she has advice for Vermonters who want to promote their own work — or that of others — to the media and the world.
SEVEN DAYS: What was your path to public relations and your current job?
REBECCA BAILEY: I got a BA in journalism from San Francisco State University. I worked for a year in California, and then I moved back to New England, where I'm from, to take a job with the Valley News and worked there for four years. I've spent some time doing work in the arts throughout the years, semiprofessionally as a singer and in theater. I had a foot in the world of journalism and the arts all before coming to the Hopkins Center.
SD: When you worked for the Valley News, what kind of subjects did you cover?
RB: They quickly moved me out of hard news to features. That's probably what my work now most resembles. In features, you need to dive into a topic and get to know it really well, and then deliver your own take on it with the confidence that you aren't going to make an absolute hash of it.
That's really the first thing I would say that is important to writing good press releases: Know your subject. If you can't experience it firsthand, do the best you can to see videos, listen, get your own take on it. Don't regurgitate somebody else's words about it. Out of your own connection to it, or your appreciation, make your own meaningful statement about it.
SD: How does your experience as a journalist, probably being on the receiving end of a fair number of press releases and media inquiries, shape your approach to PR and communications?
RB: No. 1, I just don't like reading hyperbole. There's a lot of empty words, you know. Sometimes they do sneak into my own work. You know — "acclaimed," "superb," "fabulous." Those words that don't tell you what something really is.
No. 2, I know there's so many competing stories out there that a journalist has to be responsible to their audience, and to their sense of what that audience needs to know. So I need to speak to that when I address them. I need to be aware of their interests as a journalist, their past work as a journalist, but also how they're trying to speak to their audience.
SD: Has your approach toward media relations changed in the 10 years that you've had this job?
RB: More and more, artists are doing their own work. They're arranging their own tours in many cases; they're doing their own publicity. They're wearing so many different hats. Part of my job is to take care of them through that process. I think one of the things that's been reinforced over time is that we just have to approach an artist, do our own dive into what that art is about and come out with our own understanding.
SD: What do you think artists struggle with when acting as their own publicists?
RB: I think they're very deep into the material, splitting particular hairs. They don't know what it will look like to an audience that's maybe not urban, or not familiar with them. They don't know our audiences; they know their work. And that's what they need help with — talking to our audiences.
SD: Say you're an artist or a musician or an organizer and you've made something, be it a painting or an album or an event. You want to promote it. What's step one?
RB: Try to get the best video representation you can of it, because that's really worthwhile. One thing I have learned in the past 10 years is, whenever possible, find good video and get that out. That's the most telling piece of it all.
Then try to put together a nice, clean, easy-to-manage website that represents your work and yourself. Have a sense of humor about it, but don't be too cute.
And then look at the people who are key in the media that talk to the audiences that you want to talk to, and start building a relationship with them. Get to know them, see what they're interested in and speak to that when you communicate with them.
SD: What makes a good press release? How do you use it to develop personal relationships with media outlets?
RB: Think about what's likely to seem unique and appealing about the event and put that in the first paragraph — the so-called "elevator speech" — along with the essential information. Follow that with more detailed bios or background information. You can include a good quote or two, either from the artist or from third-party media or a local expert. It's always good to have some other voices in a press release.
In sending it to the media, it's worth sending individual emails containing the press release as text. When I send them to particular outlets, I'll add a little something at the top that calls out things I think are particularly interesting to that outlet.
Send your releases early-ish in the week. Know what their production cycle is. And send them early in the morning.