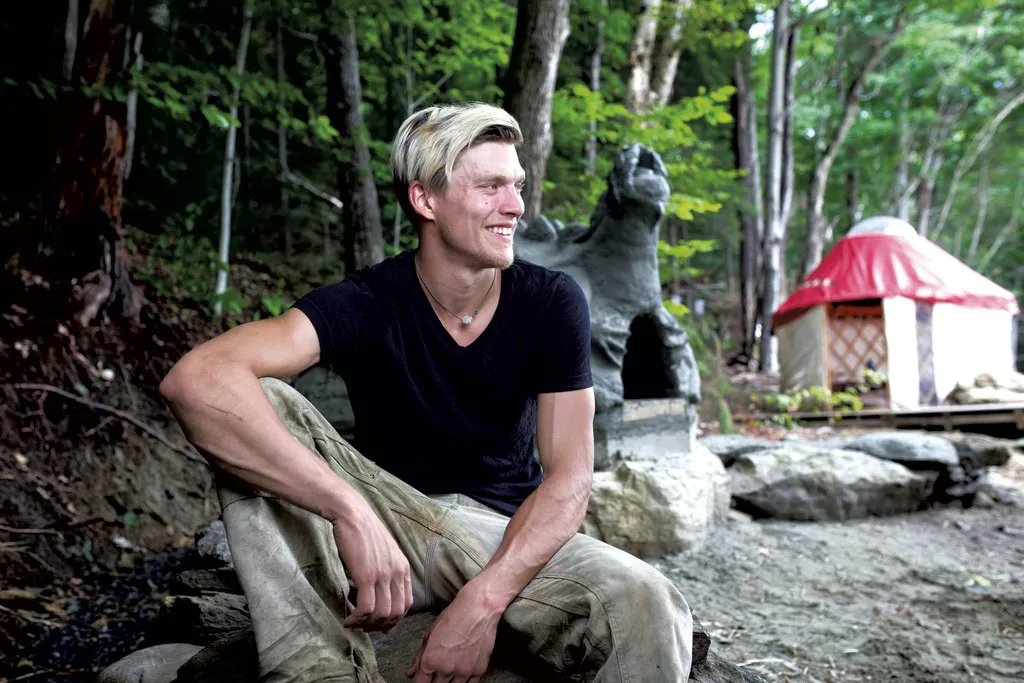 Ben Deflorio
Otto Pierce on his property in Stockbridge
An hour and a half southeast of Burlington, in search of a group of millennial artists living off the grid, I stop at a bookstore in Rochester to ask for directions. I'm headed to the Sable Project, a new summerlong artist-residency program on a rural property in Stockbridge, and I'm relieved when a local's face lights up in recognition.
"They're doing all sorts of things up there," she tells me, pulling out a map book and tapping her finger on the twisting line marked Taggart Hill Road. "That dotted line means the road's not finished," she explains. "When it's that far up, you don't know what condition it's going to be in."
Two houses past the first downed power line and right before the bright-orange road-closure sign, I pull into a residential driveway. A teenager clutching a lighter emerges from the garage, eyeing my city garb dubiously. I ask again for the Sable Project and his expression changes. "Oh, yeah," he says knowingly, pointing me in the right direction.
Ten minutes later, I arrive on the Sable Project's grounds — a 15-and-a-half-acre swath of forest with one very recently cleared field. The 23-year-old model who owns it ambles down the hill to greet me, brushing back a shock of platinum-blond hair. Muddy clay and bits of straw cake his arms up to his biceps. I shake his hand anyway.
Ben Deflorio
Artists and attendees at the Sable Project midterm showcase
"I'm building a dragon oven," he says, launching my tour of the property. "It's an earth oven with a dragon sculpture on top of it. Smoke comes out of the mouth."
Otto Pierce is a Royalton native, a Stockbridge Central School and Sharon Academy graduate, and a not-currently-enrolled Middlebury College student. He's also an aspiring contemporary dancer and Ford model who's walked the runways at Calvin Klein and Louis Vuitton, landed a major campaign with French Connection, and appeared in the pages of Vogue and GQ. When I ask what those names in fashion meant to him as a kid growing up in central Vermont, Pierce lets out a slightly hysterical laugh.
"I knew Calvin Klein," he says. "Everyone knows Calvin Klein. That's the only one I can tell people around here and they'll be, like, Oh, wow."
Pierce bought the land in Stockbridge on impulse last year when he noticed it was for sale. Initially he simply saw it as an investment for the future and a foothold in the area where he'd grown up, close to family — his mom owns the adjacent property. "It just seemed like a smart thing to do," Pierce reflects.
We've clambered up a handmade wooden ladder to the tree house he shares with two other artists. "Plus, it's a beautiful part of the world," he adds, gesturing at the view.
Once Pierce owned the land, he says, it became a "vacuum for ideas" and potential uses. Plans got under way earlier than expected last September, when Pierce held a birthday party on the property just before leaving for four months in Paris. "We had a potluck and stayed up singing and reciting poetry, and it just felt really great to have a lot of creative people in the space," he remembers.
Pierce had long been attracted to artistic environments where he could collaborate with people he trusted, something he'd had for a time in Middlebury College's dance department. There, he "found a place," he says, among creative professors and peers in an academic environment where he was otherwise disinclined to stay. He took time off to study hip-hop dance in New York City and was scouted by a modeling agent his first weekend there. His career took off quickly.
Though Pierce enjoys and appreciates modeling, he says it's "not really the most rewarding or intellectually stimulating" job. He's still working consistently; since the Sable Project began in June, he's made three trips to New York for shoots.
Unlike most early-twenties guys who haven't quite found their place in the world, Pierce now had the means to make his own. So he reached out to friends from various areas of his life — Middlebury dance students, high school friends, people he liked from the fashion industry — to gauge interest in the idea of gathering a group for an off-the-grid, no-structure (literally and figuratively) summer of art making. He got several enthusiastic responses.
Upon returning from Paris in February, Pierce enlisted his friend Anna Ready-Campbell as codirector, and the two began soliciting applications via word-of-mouth and social-media channels.
The founding idea of the Sable Project was simple: Gather a group of artists, put them in a living situation that's out of their comfort zone and remove the barriers to making art — as well as the costs. The summer was bankrolled by a successful $10,000 crowdfunding campaign. That sum pays for art supplies and frees up the artists to focus on their work.
Pierce and Ready-Campbell kept the living environment rustic to encourage participants to approach their art in new ways. "It's been really cool to not have a studio and to be forced to dance outside, in the rocks and the roots and the grass, and see how that influences the movement," says dancer Jessica Lee, 23. She grew up in Fairfield, Conn., and worked in New York City after college.
Pierce and Ready-Campbell selected a dozen artists for the Sable Project's first group, mostly graduates of liberal-arts colleges such as Middlebury and Bard, or of art schools such as Cooper Union in New York. Their art forms are diverse: contemporary dance, puppetry, painting, multimedia sculpture. Eight of the residents arrived on the "Sable Land," as they call it, in early June. Four more are scheduled to arrive in the first week of August.
Though Pierce and Ready-Campbell came early to oversee the clearing of the field and plant the garden, there was essentially no infrastructure on the property when the others got there. "The first thing everyone did when they arrived was build their tent platforms," says Pierce.
And they've all clearly been hard at work. The field is now dotted with quirky structures. Common areas — such as the covered, open-walled kitchen, an outdoor shower rigged to a hand-dug well and a wooden stage with a sprung floor — were made collaboratively. For sleeping quarters, three artists share the airy, circular tree house, two built a cozy yurt and a few tents are still pitched on the platforms.
Some of the living spaces have strong sculptural elements, particularly "Rapunzel's Tower," a wooden platform set back in the woods with a broad view of the cleared field. It's the work of resident Emma Gohlke, a 26-year-old multimedia artist most recently from Tucson, Ariz. She uses her platform as a studio, retreat and bedroom — unless it's raining. It is also a functional piece of art, inspired by the group's conversations about magic and fairy tales. When I stop by the tower, Gohlke is putting finishing touches on a bright-blue dress that hangs suspended from the branches, along with a whimsical curtain of fresh pea shoots.
Having built the main structures, the artists have turned their focus to individual art projects. On the afternoon I visit — before they gather for dinner, the one communal meal of the day — the artists mostly paint, dance, do yoga and make sculptures on their own. Gohlke is in her tower; Pierce and Lee are eager to rehearse a dance duet; artist Ella Belenky, a young Bread and Puppet alumna, sits on a patch of grass near the kitchen making prints. Much of the art is quite good; even a few abandoned projects scattered in the field seem, to my layperson's eye, like promising starts.
I come across Ready-Campbell painting on a large canvas made out of a bedsheet. She tells me her days pass in alternating spurts of creativity, conversation and idleness.
"I wouldn't say we're always working hard," she admits. "There are definitely days where you're like, Oh, my God, I can't get out of the hammock. But I definitely think we feed off of each other ... The biggest challenge, I would say, is finding time and space for myself. It's just challenging being in a group of eight people all the time."
Though the group is isolated, word has gotten out about the Sable Project in surrounding communities; apparently the idea of creatively inclined kids going back to the land still piques interest. Following the model of other residency programs, Pierce and Ready-Campbell are inviting locals in for events or as visiting artists. They plan to continue the Sable Project into the future. "I'd like to see larger collaborative projects happening," Pierce says. "Instead of individual work, more work that includes three, four or 14 artists."
On the Sunday after my visit, the Sable Project held its first public event, a "midterm showcase" of work created over the past eight weeks. It drew more than 50 people despite looming thunderclouds.
"We thought about calling the rain date, but at the last second we decided to go with it," Pierce tells me on the phone afterward. "As soon as we made the decision, the skies cleared, and we were able to get everything ready in time. Then, literally as soon as the last showcase ended, there was this huge cloud ... [and once everyone left,] it rained biblically on us."
INFO
Studio Raising Work Party, Saturday, August 9, times TBD. The Sable Project final showcase, Saturday, August 30, and Sunday, August 31, times TBD. Both free. Taggart Hill Road in Stockbridge. thesableproject.tumblr.com
The original print version of this article was headlined "Into the Wild"