Jocelyn Woods is having a love affair with the divine — and wants to share her spiritual ecstasy with the world through her art.
On the surface, it would be easy to assume that her "lover" has not been particularly kind or generous to her. Woods, 27, was born with a rare degenerative neuromuscular disease that is so "diagnostically anomalous," she says, her doctors can't even agree what it is. Unable to walk since the age of 12, Woods can sit upright for only two-hour increments before she has to lie down and regain her strength. Her compromised immune system and weakened chest muscles leave her vulnerable to frequent respiratory ailments.
Yet, for all her physical limitations, Woods seems to have boundless energy and creativity for producing music, poetry and art. In the past year she's created a series of art photos, including a project provocatively titled "Ecstasy of a Cripple: The Resurrection of Passion." In it, she used her own body as her canvas for expressing her visions of spirituality, sexuality and the "malleable" nature of her bodily existence. Now she's raising money for its sequel, titled "Ecstasy of a Cripple: We Are the Cure."
I first learned of Woods several months ago, after she placed an employment ad in Seven Days looking for an exercise/wellness assistant to join "Team Jocelyn" — her name for the assistants she depends on to feed, bathe, dress and care for her. Despite her impaired mobility, she wrote, "I bask in the glorious feeling that awakens in the body as a result of empowered living."
Woods lives in a house in Cambridge she shares with her mother on the edge of a forested hillside. For years, Woods was seldom able to leave her second-floor bedroom. But in 2005, after a story about her aired on Vermont Public Radio, a wealthy listener funded the building of a first-floor addition. For the first time, Woods had her own wheelchair-accessible bathroom, bedroom, front porch and entrance ramp, as well as numerous windows for taking in her surroundings.
On the day I visited, Woods was seated in a straight-back chair with her pale, thin arms resting on a hospital-bed table before her. Dressed in a loose cotton blouse and skirt falling to her toes, she appeared even smaller and more waiflike than her photos suggest. As she spoke, her delicate, spindly fingers danced like a spider weaving its web.
Woods was born in Florida but moved to Vermont at age 10. An only child, she was homeschooled by her mom through high school, which she completed at 16. Woods traces her spiritual awakening to an existential crisis she had at age 4, when she brought her mother into the bathroom and stood there crying because she didn't believe the little girl in the mirror reflected her true, infinite nature.
"I felt like I was sitting on the edge of this vast eternity," she recalls, "and didn't know how to process that as a child."
Woods' creativity also blossomed early. At 3, she asked her mother for piano lessons, and was playing by age 5. At 15 she was composing and performing her own classical pieces, and at age 16 Woods recorded a solo album titled A River's Journey at Charles Eller's studio in Charlotte. She expected to pursue a career as a concert pianist until her poor health intervened.
A severe bout of influenza when she was 18 robbed Woods of mobility and dexterity, including her ability to play the piano. She was left semi-bedridden and took years to recover. Today, her health has stabilized, but she undergoes daily physical therapy and Pilates sessions to maintain her strength and muscle tone. She also experiments with alternative therapies and takes singing lessons to strengthen her diaphragm.
"Revelation" by Thomas Dodd
In June 2012, Woods contracted a severe respiratory illness that nearly claimed her life. This time, it triggered what she calls a "shamanic experience" that inspired much of her recent work.
"It was quite frightening, and I wasn't quite sure how I would emerge from that," she recalls, "because I felt as though I were suspended between the two worlds of life and death, the soul realm and the physical realm."
Woods, whose self-directed studies were already steeped in mystical and philosophical traditions, no longer saw her physical reality as immutable but as a "living, breathing work" that she could shift according to her own mental focus.
That near-death experience, which she describes as a "resurrection," inspired Woods to approach Thomas Dodd, a renowned Atlanta-based art photographer whose work she'd been following online.
Dodd seemed like an ideal collaborator. His post-production digital work creates images that are more like oil paintings than photos. Dodd was also comfortable with mythological and psychological themes, Woods says, and could represent her visions of an "erotic and sexually charged union with the divine." So she sent him a Facebook message to gauge his interest.
Dodd, 52, recalls receiving Woods' lengthy note, with its many literary and spiritual references, and immediately recognizing something special in the young woman.
"I get approached by a lot of people who want to model for me," Dodd says. "But Jocelyn is an artist who has very clearly defined visions about what she wants to create. Her concepts are very unique."
Because Woods could neither travel to Georgia nor pay Dodd's way to Vermont, she launched an online fundraiser through Indiegogo.com and raised nearly all of her $5639 goal in a few months.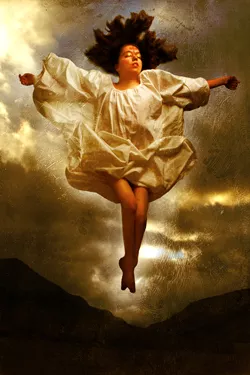 "Ascension" by Thomas Dodd
Dodd arrived in Vermont shortly after Thanksgiving 2012 and spent three days shooting pictures of Woods. Most, he explains, were taken from above to create that sense of ethereal weightlessness. Woods had already arranged for all the props and wardrobe they needed and had assistants to position her body in the poses she desired.
Though this was Dodd's first time working with a model who had a severe disability, it was not his first experience with disability. Woods didn't know it beforehand, but Dodd's day job until last year was working as an in-home caregiver for people with disabilities. They included a quadriplegic street photographer, who had rigged a way of tripping his camera shutter with the heel of his hand.
Both the images and titles in "Ecstasy of a Cripple" — including "Rapture," "Ascension" and "Maiden of the Apocalypse" — seem heavily influenced by early Christian mystics, as well as by portrayals of crucifixion, resurrection, passion and ecstasy. But Woods insists she doesn't subscribe to a Judeo-Christian theology and avoids labeling her spirituality. Even her use of the word "apocalypse," she explains, harks back to its Greek etymology, meaning "to disrobe or unveil that which has been hidden."
Indeed, Woods is deliberate in her choice of words and imagery, even when they have strong or negative connotations. Chief among these potential provocations is her use of the word "cripple." According to both Woods and Dodd, that word is the only aspect of their work that has received negative feedback.
Woods says her use of the word is "a poetic metaphor" that "presents something to the mind that is hard to grasp and hard to conceive." Its purpose, she explains, is "basically to bust away the barriers of conception and perception" of human sexuality, spirituality and disability, all of which, she believes, have become too rigid and solidified in our society.
This is particularly true, she says, for those in the disability community who feel disenfranchised from their own sexuality and are viewed by the able-bodied as incapable of experiencing sexual pleasure.
"For me and for my peers with neuromuscular disabilities," Woods adds, "showing that we are just as sexual as anyone else has been a very groundbreaking and well-supported effort."
That said, Woods dismisses any suggestion that her work is activist. In fact, she's critical of what she calls "the tribe of gimpism," which she defines as the marginalized population's attempt to "reclaim that which has been pitied" and "make disability cool."
While she understands the desire to move away from being a pitied culture and reclaim the term "gimp," Woods says, "For me, it's not about making trends. It's about bursting through those membranes of belief that have become just as solidified as what we think our bodies are."
If Woods has riled any feathers in Vermont's disability community, she hasn't heard about it yet. Several local advocates for disability rights contacted for this story either declined to comment on her work or hadn't seen it yet.
To some, Woods' prose, heavily laden with psychospiritual jargon, can seem a bit abstruse and overblown. That's understandable, given how much time she must spend in her own head and searching her soul for the meaning of life.
"Unhindered by the heavy chains of belief systems which deny and condemn the body as a corrupt condition of sin allows one to enter a rapture beyond the iconic saintly portrayals eulogized in history," she writes for her latest Indigogo fundraiser. "To realize the body and soul are but inseparable components, facilitates the alchemical recipe of resurrected immortal flesh."
Woods' words and images were inspiring enough to another visual artist — Michael V. Messina, an art photographer from Atascadero, Calif. — who traveled to Vermont at his own expense just to photograph her.
"I saw her work and said, 'My God! Her work is beautiful!'" Messina says. "Then I read her story and thought, What a fascinating young woman."
"Ecstasy" by Thomas Dodd
Messina arrived in June for the three-day shoot, which included an image from Shakespeare's King Lear. Because Woods loves Shakespeare, she asked Messina, 60, to portray Lear while she embodied his daughter, Cordelia. Due to her physical limitations, Messina says, just positioning Woods on his lap was a time- and labor-intensive process. Nevertheless, he says it was worth it.
"I have shot many, many people over the years, including [in my time] as a journalist," Messina says. "But I have to say that photographing Jocelyn was, for me, one of the most emotionally and spiritually moving experiences I've ever had as a photographer."
Woods is now trying to raise money to begin work on her follow-up collaboration with Dodd. This fundraiser, which ends on July 25, aims to raise $7695 to bring Dodd back to Vermont. Woods even talks about producing and starring in a mixed-media theater production, also of her own creation.
One might assume that Woods would feel vulnerable after exposing not only her body but her controversial views. Not so, she says.
"I felt far more vulnerable when I was suspended between life and death," she explains, referring to last year's illness. "So, compared to that, nothing else feels the least bit daunting."
The original print version of this article was headlined "Field of Visions."