Luke Awtry
Gina Carrera standing in front of her mural on South Champlain Street
When the Burlington City Council voted in May to remove the "Everyone Loves a Parade!" mural by August 31, it seemed the controversy surrounding the public artwork was finally over.
Commissioned in 2009 to commemorate the 400th anniversary of explorer Samuel de Champlain's arrival in Vermont, the painting on the side of a Church Street building depicts the smiling faces of dozens of notable Vermonters — nearly all of whom are white. Activists have called the piece racist for failing to represent the state's Abenaki heritage. They defaced it more than once.
"It has divided us and caused pain in our community," Councilor Brian Pine (P-Ward 3) said as the council voted 11-1 to remove or cover the painting two years earlier than planned.
But just as one mural controversy is ending, another is beginning.
Underneath the parade piece — which is painted on panels and attached to a wall in an alley known as Leahy Way — is a rain forest scene created by Gina Carrera in 1992. Carrera contends that she still holds the rights to the space and wants to use it to create an entirely new mural that's inclusive of all Vermonters — the very antithesis, she says, of the parade scene.
Two days after the city council vote, Carrera emailed councilors to say her rights are protected by an obscure copyright law known as the Visual Artists Rights Act. The federal law protects works of "recognized stature" from damage or destruction.
Carrera says the city violated the statute when it installed the parade mural in 2012. She says she never waived her rights to her painting in writing, a requirement of the law.
Officials have a different interpretation. City attorneys told Carrera in a July 6 letter that the city controls what goes on the wall, and it has not decided what will replace the parade mural. The attorneys told Carrera she is welcome to participate in future public discussions about a new painting.
With a group of activists on her side, Carrera has hired an attorney and said she is prepared to sue to protect her rights.
Carrera, a woman of color, argues that a multicultural scene that better reflects Vermont and its history would benefit the community more than the "billboard" parade mural. Businesses paid thousands of dollars to be painted into the piece, which also features Vermont celebrities and politicians past and present.
A proposal such as Carrera's, her advocates say, could begin to repair the harm done by "Everyone Loves a Parade!"
"The city has the opportunity to make it right, but they also have the potential to get it wrong again," said Kesha Ram, a racial justice advocate, Vermont state Senate candidate and one of Carrera's supporters. "[It's] better to make it right by giving the power back to the people."
Carrera, a lifelong artist, grew up in New York City and moved to Burlington in 1981 at age 18. In 1992, she approached Myer Dana about painting a mural in the alley beside his building, which now houses a Banana Republic. He agreed, and she created the 124-foot-long piece of artwork, using $3,000 worth of donated paint.
Carrera worked without pay, spending 65 hours to paint a lush tropical rain forest scene dotted with tigers, parrots and elephants.
"People would come and bring me lunch and iced tea," recalled Carrera, who is now 57. "Little kids would pull on my shirt and ask if they could hold the paintbrush."
Carrera delighted in watching people discover the creatures hidden in the foliage and loved it when children, arms outstretched, hugged their favorite animals on the wall. In September of 1993, the rain forest mural and another of Carrera's works — an ocean scene in the stairwell of the Marketplace Garage — won an international visual art award. The city later painted over the ocean scene without giving her notice, Carrera said.
At one time, Carrera had more than a dozen murals around the Queen City, though only one is still visible: a large garden mural on South Champlain Street.
In 2008, Carrera approached then- Church Street Marketplace executive director Ron Redmond about refreshing her rain forest mural with a new coat of paint. He told her the touch-up wasn't needed since the city would be moving forward with a new mural.
That year, Dana granted the city an easement allowing it to "replace and remove" any fixtures from his building. The easement supersedes Carrera's verbal agreement with the building owner and "grants the city the right to determine how the space where the current mural is placed will be used," the attorneys' recent letter says.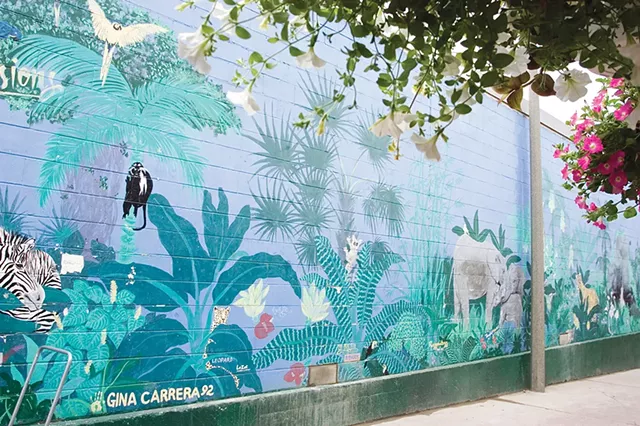 File: Matthew Thorsen
Gina Carrera's rain forest scene in 2007
"Because of the amount of time that has elapsed, and the possible deterioration of the mural due to the passage of time, and the installation of ELAP, the City believes it can [cover] that mural, once ELAP is removed," it continues, using the shorthand acronym for the mural.
City Attorney Eileen Blackwood declined to answer questions about the fresh controversy, saying she had no further statement beyond the city's letter to Carrera. Dana did not return multiple interview requests.
Carrera said she was overwhelmed in 2008 by her responsibilities as a single mom caring for two children with learning and physical disabilities, some of which required multiple surgeries. She and the kids have Ehlers-Danlos syndrome, a rare connective tissue disorder, and were seeing dozens of doctors in Vermont and Boston.
"I got bumped off the train, right from the get, and there was no getting back," Carrera said. "I'm starting to see it's happening again."
With another chance, Carrera said, "I'm definitely not going to roll on my back this time."
Burlington attorney Jared Carter, who previously consulted with Carrera about her rights regarding the mural, disagrees with the city's interpretation of the Visual Artists Rights Act. Carrera had permission to paint on the wall, and the city's easement doesn't change that, Carter said. The visual artist's rights last their lifetime, he contended.
"I don't know of any case law or [other] exceptions that say that the property owner can extinguish [the artist's] rights simply by making an agreement with a third party, whether it's the city or anyone else," he said.
Enacted in 1990, the Visual Artists Rights Act protects unique artworks, specifically single copies or limited editions of paintings, drawings or sculptures. It does not cover works for hire, though the city has previously argued that the parade mural is afforded protection under the law.
In a 2018 memo to the city council, Blackwood wrote that the "works for hire" provision traditionally applies in cases in which an employer owns the copyright of an employee's work, but that "Hardy did not give up his copyrights." The memo presented the federal law as a possible barrier to removing the parade mural, but the city isn't affording Carrera the same protections, Carter said.
"That doesn't strike me as particularly consistent," he said.
The visual art law has rarely been tested in courts but has led to some notable victories. In February 2018, a federal judge in Brooklyn awarded $6.7 million to 21 graffiti artists whose artwork at the 5Pointz complex in Queens was painted over without warning. Just last week, the company that owns the building appealed the ruling to the U.S. Supreme Court.
Lea Terhune, a longtime critic of the parade mural, connected Carrera with Ram, who works for an organization that is researching the pandemic's effect on rural communities. Ram wants her work to culminate with a mural and is considering collaborating with Carrera on the Leahy Way space. She took Carrera's idea to Burlington City Arts executive director Doreen Kraft, who told her the city had other ideas in mind.
"It feels like they are reasserting themselves over a partnership that had existed between a woman of color, who is perfectly talented and capable of putting up a new mural, and a business that has the rights to that wall," Ram said.
Kraft did not return multiple interview requests. Church Street Marketplace executive director Kara Alnasrawi said in an email that the city has had "multiple internal meetings" about the mural space; she did not respond to further questions posed by Seven Days.
In a statement on Monday, Mayor Miro Weinberger, who himself was painted into the parade scene, said his administration will present "a plan for implementing the Council resolution" at the next Parks, Arts and Culture Committee meeting. The mayor, who is on vacation, declined to answer Seven Days' other questions until after that meeting, which has yet to be scheduled.
The council resolution orders the city to take down the parade mural by the end of August and directs a council subcommittee to find a place for the artwork, or dispose of it, by September 30.
The mural's creator, Canadian artist Pierre Hardy, said in an email that he accepts the decision and is "supportive and available to those who will want to preserve" the artwork.
The resolution says nothing about the future of the space in Leahy Way.
Terhune thinks the city could right its wrongs by patching the holes in Carrera's mural and letting her start over. Doing anything else "just creates more bad karma," Terhune said. "It makes people have to choose sides."
That's the last thing Carrera wants. She said she paints murals to bring people together — a theme that would be reflected in her new concept, "We Are Vermont." Carrera envisions a scene depicting people of all races, ethnicities and physical abilities, a more accurate representation of the state. She would rather not sue to make it happen.
"My point of this whole thing is to make people smile for a few minutes," Carrera said.
"My hands are not going to be able to do this much longer," she continued. "I just want to do one more."