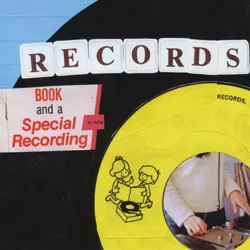 The word "record" has multiple meanings: As a noun, it's a written document of facts, relationships or agreements, kept for important legal or sentimental reasons. A record is also an organized collection of sounds — say, the Beatles' first LP or the latest Radiohead CD. As a verb, record is the act of making one of these things. The word is so versatile that it doesn't have a good synonym.
Rebecca Mack may or may not have thought through these semantics when she chose the word Records as the title of her new "concept piece," but its subtitle describes the work plainly: Book and a Special Recording. And there's no doubt that Mack, a 35-year-old Burlington DJ (Mothertrucker), sound and visual artist, preschool teacher, and mother of 5-year-old twins, paid close attention to every detail of her unusual book — an undertaking that she says took her 10 years to complete. Records is an 8-inch-square, 24-page book on heavy, coated paper, with a 7-inch 45- rpm record tucked inside a sleeve at the end.
Records' colorful pages are filled with photographs — most taken by Mack — and a snippets of text, handwritten or typed by the author. While there are references to Mack's own life — such as pictures of her children — her book intentionally lacks a narrative. Each "reader" can have a unique experience depending on how he or she responds to the images — including photos of rooftops in Sicily, the innards of a piano, a pair of bare feet. Many of the pages contain multiple images with no apparent connections. As she does in DJ mode, Mack samples and stitches, evoking myriad reactions to their combinations.
And then there is the soundtrack.
Why the 45 format? "It was my explicit choice to put it on 7-inch vinyl — it's still the preferred format for a lot of people," Mack declares. Easy for her to say, being a DJ. Mack, who used to work at Pure Pop Records, says there is a clientele for new vinyl, not just vintage. Potential listeners who have put away their turntables may find looking through these pages engaging enough.
Mack intends, however, for the reader to experience visual and auditory stimuli together, remaining on each spread as long as she instructs — a soft "ding" on the soundtrack signals it's time to turn the page.
The sounds, taken primarily from her field recordings, are diverse. Mack singing from her own composition, Requiem. A choir in Madurai, India. One of Mack's twins singing "Twinkle, Twinkle, Little Star." Samples from DJ Mothertrucker. These form an aural tapestry with the nonmusical sounds: a creaking door, squawking seagulls, the repetitive crackle of a needle in the final grooves of an LP. Mack's musical influences could not be broader: from hip-hop to 12th-century abbess/composer Hildegard of Bingen.
How does she hope people will experience the book? "It's 10 and a half minutes of reflective time," Mack suggests. "It's going to be different for each person — and that's exactly right." The interval before each "ding" varies; in this way, Mack forces lookers/listeners to slow down, or perhaps to move along before they're ready to turn the page. Through the simple act of controlling time, she plays with a theme of evanescence.
Like most handcrafted books, Records is a labor of love that is scarcely compensated by its $20 price. Though Mack is happy to sell copies to individuals, "I want to get it into libraries and artists' books collections," she says. She already has some fans at the University of Vermont. "It's one of the most interesting and engaging pieces of art I've seen in a while, and we were inspired to think about programming that would feature Becca and her work," says Selene Colburn, assistant to the dean of libraries for external relations at UVM. "We were really blown away."
Mack aims to hold listening parties, to which she'll bring her turntable and up to six sets of headphones for attendees. "It's very reminiscent of being a kid, when there were records and books to go with them," Colburn notes.
Mack herself compares her Records project to the current craze for scrapbooking, another example of the "completely human drive to preserve your experience," she says. "I have outlined my next 10-year project," Mack adds, revealing only this: "It will involve sound, turntables and orchestral arrangements."
"Records: Book and a Special Recording by Rebecca Mack." Self-published, 24 pages. $20. Mack will release "Records" with a listening party on Friday, June 22, 7 p.m. at Pure Pop in Burlington. recordsbookwithsound.wordpress.com