Courtesy Of Shelburne Museum
Wilson "Snowflake" Bentley's glass plate lantern slides
Curating an exhibition around something as broad as a season is not an easy task. It's one thing to categorize, but it's much harder to weave together many threads with a common theme into a harmonious whole, and to succeed in making the familiar exciting without becoming didactic. Shelburne Museum curator Carolyn Bauer approaches such success with "32 Degrees: The Art of Winter," the first show she has undertaken as lead curator since she joined the museum last year.
Early on, Bauer chose to narrow the exhibition's scope to the substance that typifies winter: frozen water. Works from 20 artists, dating from the 1800s to the present, have been assembled like puzzle pieces to address the questions that define this season: What do freezing and unfreezing look — and sound — like? Besides white, which colors emerge in winter? How does winter blend the physical realities of isolation with our emotional landscapes? What continues to move, and what becomes still?
Visitors to the Pizzagalli Center for Art and Education gallery may feel like they've stepped into a laboratory or a winter think tank. Bauer notes that her curation "speaks to visual studies" in its interdisciplinary and transhistorical approach. The work-in-progress element seems deliberate, and it's invigorating — an elegant invitation to viewers to draw their own conclusions using the evidence at hand.
The exhibit is divided into three thematic subsections: Aesthetics, Physicality and Associations. Visitors may enjoy guessing at the logic behind certain decisions: Why, for example, are famed Vermonter Wilson "Snowflake" Bentley's exquisite glass negatives of snowflakes placed in Aesthetics, rather than Physicality? Of course, the exhibition text provides clues.
Courtesy Of Andy Duback/ Shelburne Museum
"Igloo a Go-Go" by Benjamin Wright
Works by Asa Cheffetz, Scott Peterman and Monet offer aesthetic macro views to compare with the micro view of Bentley's lantern slides. Peterman's large-scale digital photographs feature ice-fishing shanties emerging tentatively from a haze of snow. Each structure is centered, the only point of focus in the frame. But the shanties seem about to be swallowed up by whiteness. Two images show the shed reflected in the glassy ice, hinting at its precariousness. The structural gridwork of the "Naples" shanty makes it look like a Mondrian lost at sea.
Cheffetz's engravings of winter snowscapes are much smaller in scale than Peterman's photos — sometimes a mere few inches. They are framed, however, in a manner that mimics Peterman's placement of his shanties, as small objects in much larger and mostly blank fields. Cheffetz's wood carving is intricate and skillful, giving detailed texture to his nostalgic New England scenes.
Monet's "Grainstacks, Snow Effect," from the museum's collection, rounds out the Aesthetics grouping, offering yet another take on snow's properties — this one neither contemporary nor particularly sentimental. As its title hints, the work belongs to Monet's signature study of Giverny's haystacks at different times of year — a study of light, true to impressionist form. Here, the cold and dreariness are palpable, but Monet also manages to indicate the clash of winter's darkness and snow's whiteness.
Introducing the Physicality subgroup, Bauer describes our sensory responses to snow and ice as "frigid, symphonic, erratic and ephemeral." She elaborates on this last quality as it relates to global warming and climate change: The works here move toward "unveiling the effects of human connections and interventions on these fragile places [and] dissolving environments."
The flashiest work — literally — in this group is Brooklyn artist Benjamin Wright's "Igloo a Gogo," in which a glass model of an igloo sits in the bed of a toy wheelbarrow. Tacky disco lights blink inside the structure, a miniature proxy for the aurora borealis.
Georgie Friedman's video "Ice Study I (Iceland)" addresses similar subject matter but replaces humor with a meditative approach. Over five days, Friedman captured footage of glaciers melting and calving — breaking off into icebergs. Distilled to a 38-minute loop, the video is addictive; you could watch it for hours. Scale is uncertain at times, shifting between minute and grandiose. As Bauer notes, water acts as master choreographer to the constantly fluctuating, sculptural ice forms. The viewer's absorption in the video's hypnotic movements is periodically punctured by the realization: I'm watching glaciers melt.
The subgroup Associations includes a similarly diverse array of works, from mid-19th-century Americana paintings to "January," an 8-bit video game by Richard Vreeland, aka Disasterpeace. In the game, participants can manipulate an avatar to "compose" music by catching variously sized snowflakes on its tongue. (Vreeland scored the celebrated 2014 indie horror flick It Follows.)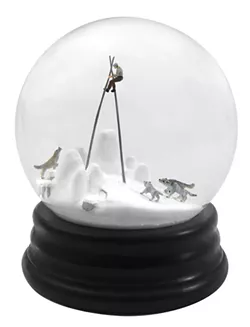 Courtesy Of Shelburne Museum
"Traveler" by Walter Martin and Paloma Muñoz
Mirroring the fantasy of Vreeland's techno-scape is the "Travelers" series of snow globes by Walter Martin and Paloma Muñoz. In a highly clever riff on the strange but strong link between winter and kitsch décor, each globe depicts a surreal wintry scene in which action is unfolding. In one, a man's stilts are all that keeps circling wolves at bay.
Shelley Jackson's work "Snow" was started in 2013 and remains in progress. The artist uses snowy surfaces in Brooklyn — such as car windows and sidewalks — as blank canvases to tell a story about snow, one word at a time. Jackson then documents her temporary works on Instagram. As of February 15, she had posted 345 images of individual words painstakingly drawn in snow, all in lowercase serif letters. The last dispatch shown here is the word "seek." (Instagrammers can check out @snowshelleyjackson for more.)
Despite the vast ground covered by the works in "32 Degrees," Bauer's selections remain overwhelmingly focused on a literal interpretation of snow and ice. Some viewers might wish for more works that fall closer to the "winter of the soul" category. But Eric Aho's oils, Martin and Muñoz's vaguely sinister snow globes, and even George Henry Durrie's "Gathering Wood" — an 1859 oil featuring two figures carrying firewood from a forest — help satisfy hunger for psychological darkness.
Presumably as a result of Bauer's choice of focus, animals other than humans are notably absent from the show. While a lone polar bear on an ice floe isn't necessary, it could be interesting to consider where and how other species survive the cold season. But perhaps that's a show for next winter.