Margaret Grayson ©️ Seven Days
Heidi LeVell
The Craigslist posting was unusual, to say the least: "Entire 1900s Doctor's Office Contents," read the title. The description detailed antique medicine bottles, a variety of bizarre metal tools and devices, logbooks, journals, and a 19th-century reclining chair for patients.
"The doctor's office closed in 1958, and it has literally been a time capsule since then," Heidi LeVell, the seller, told Seven Days. LeVell recently purchased Pigeon Hill Farm, a teardrop-shaped 15-acre property on Montgomery Road in East Berkshire. That's where the doctor's office has sat, largely untouched.
The doctor in question was named William Brown Hyde. According to a schedule posted in the office, he performed house calls, tended to ear and eye ailments, and engaged in quite a bit of dentistry. His office was tucked into the corner of a general store, right next to the sugar bins, meaning patients could potentially make eye contact with their neighbors as they had teeth extracted.
The general store was built in 1872. For decades, Herbert Addison Pond and his descendants owned the property — which also includes a feed store, two barns and a 4,000-square-foot house. It was sold in 1998 to a couple who transformed it into a wedding venue called Pigeon Hill Farm. Two months ago, after living on and caring for the property for more than three years, LeVell became the official owner.
Margaret Grayson ©️ Seven Days
Remedies
LeVell, who moved to Vermont from California with her husband and four kids, might be the perfect person to stumble upon a vintage treasure trove. An art history major in college, she has appraised and sold antiques and vintage collectibles professionally for the past 25 years. It started when her grandmother died and LeVell and her brother inherited a houseful of midcentury wares.
"A few years later, eBay was born, and I started learning the value of things," LeVell said. "I started going to yard sales, and then I started going to auctions, and all of a sudden I realized I had a full-blown business on my hands."
She made an appearance as a seller on the History channel's reality show "Pawn Stars." Once, at an auction in the 1990s, she bid $1,000 on a couple dozen boxes of Legos, and everyone thought she was nuts. LeVell went on to sell the pieces individually online and made $28,000.
When she tired of appraising and selling by computer, LeVell put together a crew and started restoring houses in San Jose, Calif., saving old Victorians from demolition. She wants to use that experience to restore the general store into a bakery and café. It will require updating the electrical wiring, which dates back to 1903; installing a heating and cooling system; and restoring the original flooring and wide wooden countertop. She plans to start construction in a few weeks.
LeVell said it's rare to find a time capsule like the Berkshire property. She's surprised that "no one messed with it in the '70s," she said. "They tore so many Victorians down in the '70s. It was crazy."
Margaret Grayson ©️ Seven Days
Chewing gum dispenser
She even found the original sign for the "H.A. Pond Store" at an auction in Franklin.
"Locals remember coming to the store to get ice cream when they were little," LeVell said. "Occasionally old people will come by, like, 'My mom used to give me five cents to go get ice cream for the whole family.'"
The doctor's office is for sale for $5,800. LeVell thinks someone could double their investment just by selling the bottles individually, but she hopes to find a buyer that will keep the office's contents together as a collection. The shelves are lined with bottles and tins, ranging from the size of a postage stamp to a quart. The labels advertise a variety of remedies: "Blackberry Balsam," "Prickly Ash Bark" and, most cryptically, "Brown Mixture without Opium."
Some people have suggested she keep the doctor's office, but LeVell said she needs the square footage for her café, and she's concerned about the liability of having old medicines around. She plans to continue hosting weddings and events at Pigeon Hill Farm when it's safe to do so again, as well as transform it into a working farm. The pandemic has given her the opportunity to get a lot of work done that wouldn't be possible during a normal wedding season.
"You know, tearing up yards, cutting down bushes, digging trenches — all that kind of unsexy stuff," LeVell said.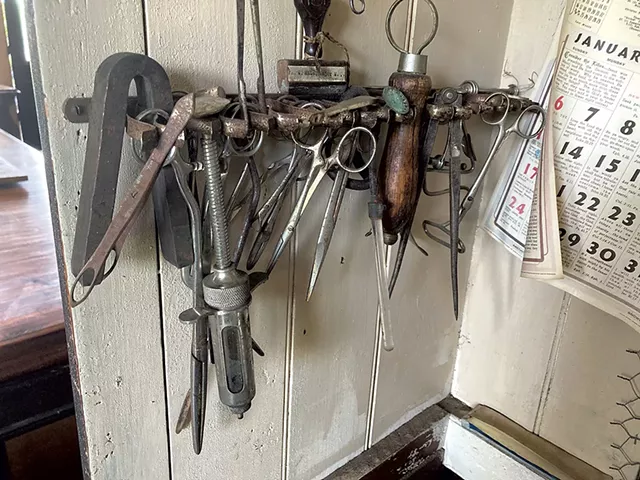 Margaret Grayson ©️ Seven Days
Medical equipment
As with any historic building, it's easy to fall down a rabbit hole of newspaper archives regarding the general store's owners and occupants. Pond, the store's longtime owner and merchant, served in the Vermont legislature and as a delegate to the 1912 Democratic National Convention, according to an article in the Barre Daily Times after his death in 1932.
As for the doctor, an obituary in the St. Albans Daily Messenger reported that Hyde was a superintendent of schools in nearby Bakersfield and a member of the Vermont legislature in 1902. He once misplaced a tin can full of human bones, which caused a town kerfuffle when it turned up in a meadow in 1901. Hyde died in 1941.
His son, Robert W. Hyde, would go on to leave a darker legacy. In 2008, the Rutland Herald reported that a Vermont woman alleged the younger Hyde had conducted psychological experiments on her in the 1960s on behalf of the Central Intelligence Agency during his tenure as director of research at the Vermont State Hospital in Waterbury. Robert Hyde was an early experimenter with mind-altering drugs, the article reported, and some believe he was the first American to try LSD. He died in Vermont in 1976 and had no children.
LeVell is still searching for the right buyer for the doctor's office contents.
"This is a museum-quality set, and I don't really want to just have it be taken out in dribs and drabs," LeVell said. "That just sounds depressing to me. I feel like it's a piece of Vermont history that should be kept together."