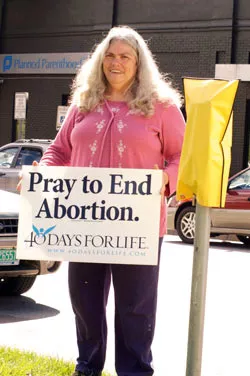 Matthew Thorsen
Agnes Clift
A worker at Burlington's Planned Parenthood called the police on the morning of August 15 to report an anti-abortion demonstrator who had reportedly gotten too close to the health clinic.
The cops came to inform Jean Osborne, a 53-year-old mother of two from Colchester, that she had violated a newly created city ordinance by stepping inside the 35-foot "buffer zone" to offer pro-life literature to a couple heading into the St. Paul Street building.
Later that morning, police returned to Planned Parenthood when another demonstrator — Amy Cochran, a 59-year-old grandmother from Richford — knelt on a grass strip outside the clinic to read her Bible and pray. The police officer issued Cochran a written warning for breaching the buffer zone, a fixed perimeter created this summer by the Burlington City Council to protect patients and staff at reproductive health centers from harassment.
The police response was quite different on September 11 when abortion-rights demonstrators descended on Care Net, a Christian pregnancy-counseling center on Colchester Avenue. Care Net executive director Deb Couture called the police to complain about the demonstrators outside her front door, who were closer than 35 feet and held signs with slogans such as "Expose Care Net" and "Stop Lying to Women." The responding officer watched the protest for more than 40 minutes but did not issue warnings nor tell the protesters to move away from the building.
Why not? Because demonstrators told him that Care Net — an anti-abortion organization that provides free pregnancy testing and ultrasounds — didn't qualify as a reproductive health center under the city's new ordinance.
The demonstrators were mistaken. Police Chief Michael Schirling says city attorneys have since clarified that Care Net should have received the same protections as Planned Parenthood.
That unequal treatment is one of five "causes of action" in a federal lawsuit challenging the constitutionality of Burlington's fledgling no-protest-zone ordinance. Six anti-abortion women from around Vermont filed suit in U.S. District Court last week, claiming an ordinance banning protests within 35 feet of Planned Parenthood and other reproductive health centers is an unconstitutional violation of free speech.
Their attorney is Michael DePrimo, a First Amendment lawyer based in Hamden, Conn. He formerly worked as special assistant to the president of the American Family Association, a Christian group that rails against abortion, pornography and same-sex marriage. In a 2004 article for American Family Association Journal, DePrimo wrote that acceptance of same-sex marriage "may well signal the beginning of the end of Western civilization."
In 2006, DePrimo won a lawsuit against the city of West Palm Beach, Fla., when a federal judge ruled the municipality's 20-foot buffer zone around reproductive health centers violated free-speech rights. He also litigated a lawsuit challenging Massachusetts' 35-foot buffer-zone law, which he lost in round one and is now appealing.
DePrimo fought the Massachusetts case with financial backing from the Alliance Defense Fund, an Arizona-based Christian legal firm dedicated to defending "family values." He's taken the Burlington case pro bono and wouldn't speculate about whether the ADF, now called the Alliance Defending Freedom, might bankroll it.
DePrimo says his clients are peaceful people who have the right to engage in "sidewalk counseling" with women and couples entering Planned Parenthood.
"Planned Parenthood does not want pro-life speech to reach their patrons," DePrimo says by phone from Connecticut. "That's what this ordinance is really about. That's not what it says, but that's the real purpose behind it."
DePrimo argues the Burlington ordinance is written so broadly — applying to any place that provides health services or counseling "related to the human reproductive system" — that it could encompass not just health centers such as Planned Parenthood, but fertility clinics, hospitals, public schools, drug stores that dispense oral contraception and supermarkets with pharmacies inside them.
DePrimo also argues the sheer size of the buffer zone — extending 35 feet from the farthest edge of the clinic's parking lot — makes the no-protest zone along St. Paul Street effectively 228 feet in length.
Lastly, he blasts the ordinance as vague — not specifying what activities would constitute "patrolling," "congregating" or "demonstrating" and therefore be banned in the buffer zone.
The suit also provides another version of events on August 15: On the same day police warned Amy Cochran about praying on Planned Parenthood's greenbelt, Burlington city officials invited anti-abortion demonstrators to an "ordinance education meeting" inside city hall. According to the lawsuit, Deputy Police Chief Jennifer Morrison said in the meeting that distributing leaflets and reading the Bible inside the buffer zone would constitute "demonstrating" and thus be subject to a $50 to $500 fine. But she couldn't say whether praying would be permitted.
During the meeting, the lawsuit alleges, someone asked whether it would violate the ordinance to stand within a buffer zone at a hospital and hand out leaflets stating "tobacco kills," to which Assistant City Attorney Gene Bergman allegedly answered "yes."
Burlington City Attorney Eileen Blackwood says she disagrees with some of the lawsuit's characterizations of that August 15 meeting — and points out that determining whether praying is allowed in the buffer zone isn't as simple as it sounds.
"Are you screaming at the top of your lungs? Do you consider praying that you are exhorting someone to come down and strike this person dead because they are not obeying a commandment?" Blackwood says. "It's very difficult for anybody to say yes or no, you can do that, without knowing, what does that entail?"
It's worth noting that another anti-abortion protester, sidewalk preacher William Ray Costello of Milton, lost a federal free-speech lawsuit against the City of Burlington in 2010, after police ticketed him for shouting gospel verses on Church Street. The judge upheld Burlington's noise ordinance, saying the constitution didn't give Costello the right to preach at top volume in a public space.
Blackwood became city attorney on September 4 — after the buffer-zone ordinance was enacted — and wasn't involved in its crafting. But she believes it is constitutional and strikes a careful balance between the rights of protesters and the safety of patients using Planned Parenthood and other facilities.
"It's not as if Burlington is inventing something that hasn't been tried in other jurisdictions and upheld by the courts," Blackwood says. "It's putting some regulation on where and when and how you can speak about it — not whether you can or can't."
The six co-plaintiffs — all Catholic women — convene outside Planned Parenthood every Wednesday, when abortions are performed, and occasionally on other days, to pray, hold signs and offer anti-abortion literature. In the lawsuit, the women complain that the buffer zone requires them to stand across St. Paul Street, a distance from which people entering the clinic can't read their signs or take their brochures.
"We're not there to make life difficult on any woman," insists co-plaintiff Agnes Clift, a 57-year-old mother of three from South Burlington, who says she attended a "sidewalk counseling symposium" in Minnesota this summer sponsored by Pro-Life Action Ministries. "I can understand why they don't want us there, but I don't think our presence is what's causing them grief."
Jill Krowinski, Planned Parenthood's director of Vermont public affairs, says patients routinely complain of feeling "harassed and bullied" by the demonstrators. "They want the privacy of walking into that building without being photographed or videotaped or being told what they should do with their own bodies," Krowinski says.
She says the buffer zone has improved the situation greatly, allowing most patients to enter the building — often accompanied by a volunteer escort — without having to speak to anyone. Planned Parenthood has called police at least four times to enforce the new ordinance since it was established.
The "other side" has dialed but once. Care Net blew the whistle on FED UP Vermont, which describes itself as a "radical grassroots women's rights coalition," at a September 11 protest outside its Burlington office. A poster for the rally declared, "Defend abortion rights! Stop the lies against women!" The poster called Care Net an "anti-woman, religious fundamentalist organization masquerading as a women's health clinic" that uses "lies, intimidation, and manipulation to deny women access to their reproductive health choices."
Schirling, the police chief, says his officers didn't enforce the buffer zone in regard to the eight demonstrators because a FED UP protester told police the ordinance didn't apply to Care Net. "It wasn't clear they met the definition of a reproductive health care facility. It turns out they do," he says.
Couture of Care Net says her office serves around 200 women a year and has an OB-GYN and registered nurse on staff — and many more RNs who volunteer. "We should be entitled to the same protections if there is an ordinance," Couture says. "I believe that if this same group of people had been at Planned Parenthood, it would have had a different outcome."
In the weeks ahead, Planned Parenthood patients and staff will be seeing more of Clift and her cohorts. Wednesday, September 26, is the scheduled start of "40 Days for Life," a 40-day prayer vigil held outside Planned Parenthood's office twice a year. Clift says her group will have anti-abortion demonstrators posted outside the clinic from sun up to sun down.
"We've already told all our people," Clift adds, "we will be doing the vigil across the street."