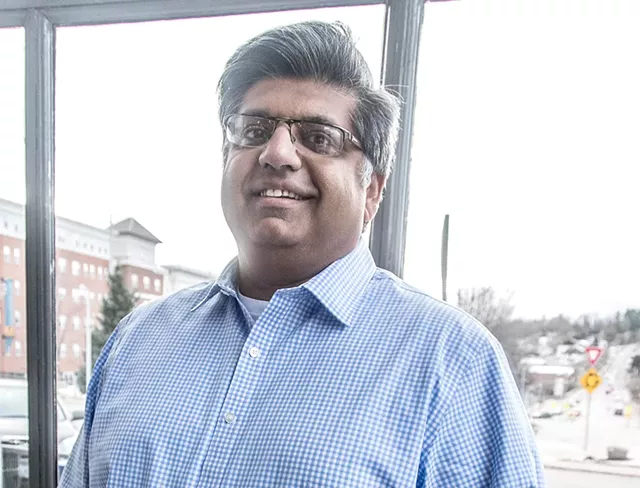 Robin Katrick
Faisal Gill
Only a few people turned out last month to hear Winooski city councilors debate whether to pursue "sanctuary city" status for their burg. Faisal Gill was one of them. His take? By pledging not to question people about their immigration status, Winooski could draw the unwelcome attention of federal law enforcement, he said, while offering undocumented immigrants no real protection.
Gill knows of what he speaks. As he's pursued a career in politics, from Virginia to Vermont, the Pakistani-born Muslim has been targeted by surveillance and dogged by allegations that he has terrorist connections.
He's puzzled political party loyalists, too. Since moving to Vermont in 2012, Gill has made himself a player in state Democratic politics — networking, cutting campaign checks and volunteering for any government gig that comes along. That's after he ran unsuccessfully for the Virginia House of Delegates — as a Republican.
In August, Gill lost a Democratic primary bid for a state Senate seat representing Chittenden County. As a consolation prize, he was elected December 1 as chair of the Chittenden County Democratic Party. While he gamely offers the usual pabulum about tending to the grassroots, he is forthcoming about his goal of winning a seat in the state legislature as soon as possible.
"Of course I'm going to run again," Gill said during a recent interview in Winooski's downtown Scout & Co. café, where he exchanged waves and familiar glances with many customers. "I'm not going to say, 'Oh, if the opportunity is there...' I'm not going to insult your intelligence."
Gill is a self-employed lawyer who represents government contractors, mostly in the D.C. area, from his home in downtown Winooski. His clients have included Swiftships, an international defense contractor. He also runs Gill Investment Group, which he says has interests in real estate ventures and companies with government contracts.
His first name, Faisal, rhymes with "castle," but the 44-year-old man with dark, neatly parted hair never corrects the many people who butcher it. He wears crisp collared shirts that fit snugly over his middle-age paunch.
Gill was born into a middle-class family in Karachi. When he was 8 years old, his parents immigrated to the United States, settling in northern Virginia.
They both worked long hours — his father drove a cab, and his mother worked as a department store cashier — so Gill and his younger brother, Kaiser, were often left to their own devices. Gill said he got into a lot of trouble in and out of school and barely graduated from Annandale High School.
In an anecdote he shared on the campaign trail, Gill recalled his father making him and Kaiser ride along during a lengthy shift in their dad's cab. At day's end, the father told his weary boys: "Now you have a choice: You can be in the front seat of the cab or the backseat of the cab."
"That was our scared-straight moment," Gill said.
Another came soon after, when, at 17, he got his girlfriend pregnant. They later married.
Determined to make something of himself, Gill enrolled in community college, then D.C.'s American University, graduating with a degree in political science.
He stayed there to attend law school, after which he served five years in the U.S. Navy's Judge Advocate General's Corps — its legal shop. He eventually landed a senior position in George W. Bush's Department of Homeland Security, where, according to media reports, he had a hand in intelligence policy. He was friendly with conservative political kingmaker Grover Norquist.
Gill's career was moving right along until it was interrupted by allegations that could have come from a spy novel.
In 2004, Salon reported that Gill, still employed with Homeland Security, had previously worked with the then-defunct American Muslim Council — he served as its spokesman — and that he had failed to report that on a security clearance form. The council's former leader, Abdurahman Alamoudi, was under federal indictment for money laundering related to terrorism; he's currently serving time in prison.
Gill was briefly placed on leave and investigated after the report, but he maintained then and now that his work with the council had nothing to do with terrorism. A DHS inspector general's investigation cleared him of any wrongdoing. But he left the agency in January 2005 because, he said, he no longer felt comfortable there.
He started a solo law practice and began to indulge his passion for politics. He became active in the GOP in D.C.'s northern Virginia suburbs and, in 2007, ran for a seat in Virginia's House of Delegates.
Attacks came from both ends of the political spectrum: His Democratic opponent accused him of helping illegal immigrants avoid deportation on the grounds that Gill took some immigration cases. Several Republican-leaning bloggers debated whether he was connected to terrorism. Even some of his friends failed to back him, he said. His loss was, he said, a brutal lesson in identity politics.
Smarting from his first electoral experience and fed up with D.C. life, Gill uprooted his family and moved to southern California, where he served as general counsel and, at one point, acting CEO of Apex Investment Group. U.S.-trained engineer Abdullah Al-Joaib and his brother founded the 17-year-old Portland, Ore.-based company that specializes in "expanding established business interests from the Middle East," according to its website.
While they were living in California, Gill and his wife divorced. He had vacationed in Stowe, and so was already familiar with Vermont when he decided to move northeast with two of his three children: son Kamran is now a senior at the University of Vermont; daughter Zara, 13, attends the Vermont Commons School. His oldest son stayed in California and is in law school there.
Gill rented a luxury apartment in the Riverhouse complex at Winooski Falls, he said, because of the city's diverse population and its plentiful bars and eateries. He's a regular at nearby Waterworks Food + Drink.
But old controversies followed him. In 2014, Gill was featured in a story written by journalist Glenn Greenwald, based on documents from National Security Agency leaker Edward Snowden. Greenwald revealed that the NSA covertly screened emails of a handful of influential Muslim Americans — including Gill, who was monitored from 2006 to 2008.
No evidence emerged that he had done anything wrong, but the news rekindled suspicions.
"I served my country in the U.S. Navy, worked as senior policy adviser in the Department of Homeland Security under President George W. Bush, was involved in my community and even ran for public office," Gill wrote in an op-ed for CNN in 2014. "There is not much more anyone can do to prove his or her complete loyalty to the United States. What's clear now is that the reason for spying on me is my religion."
That persecution, in part, is what has motivated Gill to put himself forward.
His logic: "It's even more incumbent on Muslim Americans who have an opportunity to serve and can make a contribution; we should," Gill said. "That's how we're going to break down barriers, showing that we genuinely care about the issues we're facing. It's not, 'Oh, Muslims only care about the issues in the country they came from.' No, I'm worried about taxes, schools, roads ... That's how, if there's common ground, we're going to find it."
Why did he switch parties? Gill said he didn't leave the GOP; the party left him when it turned sharply to the right on immigration and other issues.
He's put his money where his mouth is. Gill has been a generous donor to national and state Democrats. Since 2012, he's dropped more than $25,000 on Vermont candidates, including Gov. Peter Shumlin, Treasurer Beth Pearce and various legislative contenders, according to the Vermont secretary of state's and VTDigger.org's campaign finance databases.
Since 2006, he has also donated $140,000 to federal Democratic causes and candidates, according to the Federal Election Commission, including $5,000 to the Draft Biden 2016 PAC, $40,000 to the Democratic Congressional Campaign Committee, and $1,000 each to U.S. Sen. Patrick Leahy (D-Vt.) and Congressman Peter Welch (D-Vt.).
The May kickoff at Waterworks for his Senate campaign attracted a parade of heavy hitters: House Speaker Shap Smith (D-Morristown), Senate President Pro Tempore John Campbell (D-Windsor), Chittenden County State's Attorney T.J. Donovan and Rep. Kesha Ram (D-Burlington) all attended.
Gill has become friendly with Donovan, another ambitious politician, who is now the attorney general-elect. But even Donovan was taken aback by Gill's drive to win office so soon after moving to Vermont.
"I'm one of the ones who gives him a hard time about it," Donovan said. "I've always told Faisal that we're not like everywhere. We expect people to be involved in the community first. We expect people in politics to start at the local level."
Gill campaigned on a platform of reducing college student debt and implementing taxes on luxury goods. He finished eighth in a Democratic primary for six state Senate seats in Chittenden County — not a bad showing for a first-time candidate in what is a notoriously difficult race.
But Gill still appears to have been surprised by his defeat — and any implication that he is a carpetbagger. He knocked on countless doors, he said.
"I wasn't born here — does that mean I'll never be a Vermonter?" Gill said. "What is the right amount of time to be in Vermont, and who decided that? ... I don't think a single person could say I don't know the issues."
Meanwhile, Gill has been following Donovan's advice. He volunteered to serve on the Winooski Community Services Commission, which makes policy recommendations to the city council. He also serves on the Vermont Board of Medical Practice, which handles licensing and professional conduct complaints against health care professionals.
Gill sat in a conference room on December 7 at Gifford Medical Center in Randolph as that board debated, for nearly 45 excruciating minutes, the wording of a resolution to support a Department of Health prescription regimen for caregivers.
It was the kind of thing only a political-process junkie — or someone who greatly values free catered lunches — could enjoy. Gill smiled later and said he had been pleased with his role in the debate, which had boiled down to asking, essentially: "Will this have any practical effect?"
He had an hourlong drive home. But as board members filtered out, Gill lingered, chatting eagerly with anyone who entered into his orbit.