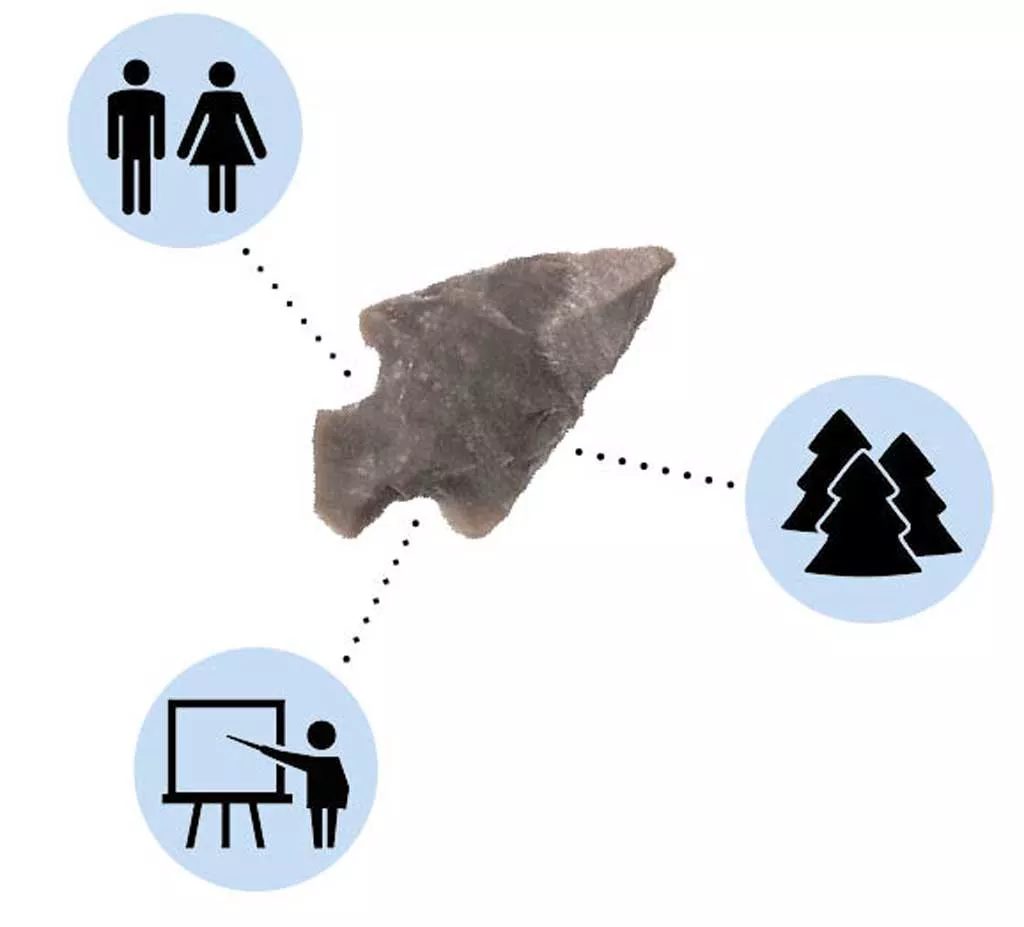 Most people wouldn't have batted an eye at the seven pieces of chiseled stone advertised last week on a Williston auction-house website. Sandwiched between images of a circus poster and a cast iron railroad crossing sign, they looked liked the sort of arrowheads available on eBay for less than $10.
But the objects advertised on Duane Merrill & Company's site are anything but ordinary. They come from an ancient Abenaki burial ground in Swanton that became a cultural battleground when it was discovered more than 40 years ago.
The Monument Road burial remains — believed to date back 2,500 years — were kept in University of Vermont labs for decades. From the perspective of the Missisquoi Abenaki community, the stone objects aren't artifacts at all, but rather sacred possessions meant to accompany their ancestors to "the other side."
"Ultimately they said, 'We want everything back, every last bit of it, even the dust. We want it all back so we can put it back in the ground with our elders,'" recalled John Moody, an ethno-historian who helped the Missisquoi Abenaki return the artifacts to their original resting place. "That was a wish that was very clearly communicated ... that is what everybody basically thought happened."
But last week's auction ad told a different story. At least seven sacred objects had stayed above ground and, as of last week, were headed for the block. Members of the Missisquoi and Vermont's three other Abenaki tribes caught wind of their impending sale just 12 days before the originally scheduled auction date of March 30. Their reappearance has jeopardized a shaky truce between the Native American community, private landowners, the University of Vermont and state officials.
"It's sacrilegious," said Don Stevens, chief of the Nulhegan Abenaki tribe.
"These are almost like the bones of our ancestors," said Bernie Mortz, who recently stepped down as chief of the Koasek Abenaki.
Lucy Cannon-Neel, chair of the Vermont Commission on Native American Affairs (VNCAA) and a Nulhegan Abenaki, offered this analogy: "It would be like someone going to a Revolutionary War grave and digging someone up for his buttons and personal items so they can auction them off."
Ancient Abenakis
In 1973, Anita and John Boucher began digging a basement for their new house on Monument Road, which runs parallel to the Missisquoi River on the border between Swanton and Highgate.
The backhoe hit something unexpected: an ancient Missisquoi Abenaki burial ground.
UVM archeologists were called in to salvage the burial remains. They unearthed 84 graves, which, in addition to human remains, contained copper beads, ceramic pots, hide pouches containing snake remains, chipped stone tools and other objects. The presence of copper meant the site had been unusually well preserved. Using radiocarbon dating, archeologists estimated that the burials took place between 885 BC and 100 BC.
When the dig was complete, the Bouchers continued construction on top of the site. UVM held onto the remains for years, studying them intermittently, but in 1986 — at the Abenakis' urging — university representatives began negotiating to return the items to the place they were found.
It was a process plagued, at times, by competing desires and ugly accusations, according to a written account of the events by UVM anthropologists Deborah Blom and James Petersen and an Abenaki scholar, Frederick Wiseman. Moody, who witnessed many of the events, had a more positive assessment: "I would describe it as a challenge." UVM archeologists viewed the remains as a seminal discovery that helped "counter the 200-year-old myth that Vermont had never been home to Natives," and they wanted time to fully study them before returning them to the Abenaki.
But members of the Missisquoi Abenaki believed their ancestors would not be at rest until the burial grounds were completely restored, and in the meantime, those involved risked spiritual and physical calamities. "That's why we always get upset when these things are disturbed, because it's not good for our people. We get sick," Stevens said. "You don't mess with spirits."
The Division of Historic Preservation (DHP) helped to mediate, and eventually, the state — with assistance from an anonymous donor — purchased the Bouchers' property for $325,000 and tore down the house to return the grounds to their original state. It wasn't until 1996 that the Missisquoi Abenaki were able to deliver the remains back to Monument Road — via a canoe flotilla. Tribal members were careful to rebury them in the same locations from which they were exhumed.
But the state's relationship with the Abenaki remained strained for other reasons. The four tribes had been engaged in a prolonged effort to win formal recognition from the state of Vermont, and victory came only after years of what Abenaki tribal members viewed as attempts by state officials to discredit their identity. The Nulhegan and Elnu tribes succeeded in 2011, followed by the Missisquoi and Koasek in 2012.
Seven Arrowheads?
Unbeknownst to tribal members until last week, UVM allowed the Bouchers to keep seven of the many objects found on their land.
"They told me that I could choose whatever I wanted to keep as mementos," Anita Boucher recalled in an interview Friday.
This was news to the state, too, according to state archaeologist Giovanna Peebles of the DHP, who sent an email on March 18 alerting representatives of Vermont's Native American community. "We recently learned that in the late 1980s UVM returned these seven artifacts back to the Boucher family." Of the impending auction, she wrote, "DHP has exhausted all available avenues as a state agency. No laws have been broken ... I'm sorry to have to be the bearer of these [sic] sad news."
Boucher declined to comment on her recent decision to sell the items, saying, "I don't want to talk about that. We are rehashing old wounds that are 40 years old."
When the Bouchers brought the items to the auction house, "We didn't see an issue," said Ethan Merrill, who co-owns the auction house with his brother, Duane. "There are many arrowheads that are auctioned all over the United States. Every week you can find various stone points being sold."
They might have been sold without fanfare if not for a casual email exchange between two friends in early March. Linus Leavens, an auction company employee, happened to mentioned the artifacts to Peebles.
The news raised red flags for the state archeologist, who, back in the 1980s, had participated in the negotiations to return the remains to Monument Road.
Merrill said he didn't speak with Peebles directly, but through Leavens, she communicated her objection to the sale. He passed that message on to the Bouchers, but they didn't budge.
"We have debated this issue for a number of years, and I'm not willing to donate any more," Boucher said in the interview. "We have not been treated nicely. It's cost us many dollars."
The Bouchers did, however, give their blessing to an alternate plan hatched last week to sell the artifacts to an anonymous benefactor. In response to the outcry and in deference to the Abenakis' concerns, Merrill explained that someone had agreed to purchase and donate them to UVM's Fleming Museum. By Friday, the artifacts had disappeared from the website.
Three days later, though, that deal was off. "Some people from the state loved the solution and thought it was a great thing. Then some other people got involved from different departments and scared them off," Merrill said, who added that opponents of the arrangement had descended on the private benefactor, and "it just really soured the whole thing for him."
From the Abenakis' perspective, putting the items on display would likely have been no better than selling them into obscurity; Fleming's director, Janie Cohen, had also expressed concerns about acquiring the artifacts. There is, Nulhegan chief Stevens said, only one permissible outcome: "They need to go back to the ground where they were found."
It's still possible that will happen. On Monday, Merrill confirmed his company won't be auctioning off the artifacts — "Obviously it's a very sensitive matter, more than any one of us probably imagined" — and he's optimistic that the auction house, together with the consignors, can reach a compromise with the Missisquoi Abenaki.
Tribal members did not return calls for comment. According to several VCNAA members, some had concerns that discussing the matter in public would disrespect their ancestors and interfere with their efforts to return the objects to their graves.
Legal Grounds
Peebles referred questions to DHP head Laura Trieschmann, who directed them to Dale Azaria, the general counsel for the Vermont Department of Housing and Community Development. She said DHP supports reinterment — preferably without money changing hands. "We do not endorse the idea of these artifacts being offered for sale. So, what we were trying to do was find a solution that would not involve them being sold. We do not think there should be a market for these things, but the reality is, there is a market for these things."
Merrill declined to disclose the estimated value of the artifacts out of respect for Abenaki beliefs.
DHP had no role in what Merrill described as the state's "monkey-wrenching" of the arrangement with the anonymous benefactor, according to Azaria. Asked if other state entities might have been involved, she said she couldn't specifically say. "Members of the Native American community reached out to a lot of people in the state government, including legislators and the administration. I don't know the full scope of who was contacted. As part of the executive branch, we've been working with other parts of the executive branch."
David Van Deusen, another member of the VCNAA, said he finds it hard to believe situations like the current one can still occur. "If it is illegal to go to Egypt, dig up artifacts and sell them to the highest private bidder, why is it OK for Abenaki artifacts to be dug up in Vermont and sold to the highest private bidder?"
In fact, the latter would be illegal, in more ways than one.
Vermont law prohibits tampering with burial remains, and people found guilty can face up to 15 years in prison. It is also illegal to "excavate, steal, remove, injure or destroy" any type of a burial site, even it falls on private land. A federal law, the Native American Graves Protection and Repatriation Act (NAGPRA), established that Native Americans have the right to recover remains and objects that can be traced back to their ancestors.
And yet the Bouchers are in the legal clear, according to the state. That, Azaria explained, is because the seven stone objects were unearthed before those laws were put in place. At the time, Vermont law did prohibit removing human remains from graves, but it wasn't amended to apply to objects until 1989. NAGPRA didn't pass until 1990.
John Crock is an associate professor and director of UVM's Consulting Archaeology Program who studied the remains when they were in the university's possession. "It wouldn't happen that way today," Crock said. "I think archeologists have learned a lot, and we've had more collaboration with Abenakis around burial issues." During the intervening years, local archeologists also worked with the Native American communities to amend those state laws to rule out future Monument Road-like scenarios.
But now, in 2014, the Missisquoi Abenaki find themselves struggling a second time for control over their ancestors' sacred possessions. At the moment, the auction house and Abenaki tribal members seem optimistic that they can orchestrate an agreement. When the VCNAA meets on Wednesday, several members of the Missisquoi Abenaki Tribal Council are expected to weigh in publicly for the first time. Where the laws failed, it's possible cultural empathy and a dose of diplomacy will prevail.