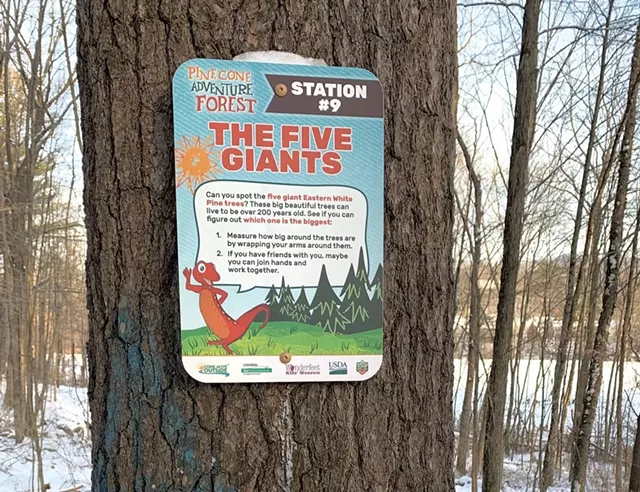 VICKI wilson
Vicki's son Jack trying out the tree-measuring station
My 9-year-old son, Jack, stood at the Pine Hill Park trail entrance in Rutland studying the sign welcoming us to an interactive trail called the Pine Cone Adventure Forest. A map showed the locations of 12 kids' play stations, including the Five Giants, a troll bridge and something called a Badge Hunt.
"I want to do it all," Jack said.
Well, I thought. This is a good start to a family hike.
I'd been hoping to take my family to Pine Hill Park ever since we'd started passing it on our way to ski in Killington. Located at the Giorgetti Athletic Complex, about a mile from downtown Rutland, the trailhead is easy to find, with ample parking. The park is well known, regionally and beyond, for its 17-plus miles of mountain biking trails. With winter in full swing, the idea of fat biking or snowshoeing there tempted me. That Sunday afternoon, though, we'd come to take a laid-back hike on the lightly snow-covered trails after having spent Saturday skiing.
"Then let's go do all the stations," I suggested to Jack.
The first stop in the Adventure Forest was a kid-size rock wall built into a real rock called Elephant Rock. At about 10 feet tall in some places, it must look enormous to a kid, but even in gloves, Jack was able to climb it. Next, we followed painted troll footprints over a narrow, flat, wooden Troll Bridge and stopped at a station called Stick City, where people had propped the sticks provided against trees and each other to build "forts" big enough for my husband and me to duck into. Other stations offered a place to build fairy houses and a "mountain" (a sloping hill with just enough elevation to be a little challenging) that kids could scale using a rope. The Five Giants turned out to be five towering Eastern white pine trees that kids were encouraged to wrap their arms around and measure. The last station, though, was the family favorite. The Badge Hunt called for visitors to use a compass to find the locations of five boxes attached to trees. The boxes displayed pictures of several different badges from now-closed historic Rutland summer camps. Since we hadn't brought a compass, we used the one on my phone.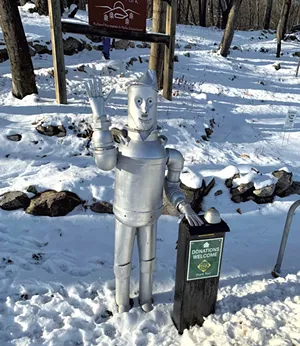 VICKI wilson
The Tin Man mascot at the trailhead
The Pine Cone Adventure Forest trail opened last fall. Andy Paluch, a program director for the Rutland-based Come Alive Outside, an organization that encourages people to be more active and live healthier lives in the outdoors, said the Adventure Forest invites kids to engage with nature. "I feel like all of the stations are things kids naturally do in the woods," he said.
Paluch and his organization created the Pine Cone Adventure Forest along with several other groups: the Rutland Recreation & Parks Department, local families, and the Pine Hill Partnership, a nonprofit organization that oversees the park. A grant from the Vermont Department of Health provided funding.
This spirit of community cooperation seems to underpin Pine Hill Park as a whole. The 275 acres of trails are maintained and financially supported by volunteers. Rutland High School students, religious organizations and sports teams put in days and days of work. Local parents and children pitch in on about a week's worth of community workdays throughout the year to help create new trails, and to clear and maintain established trails — which sometimes entails using a Snowdog machine to groom paths covered in snow. "We're all volunteers — strictly volunteers — and we do what we can do," said Shelley Lutz, a founding member and the secretary/treasurer of Pine Hill Partnership.
Their work is impressive. The weekend following our family outing, a friend and I went back to the park to do some more vigorous hiking. We grabbed a free trail map at the entrance and made our way through the forest. The bridges we crossed were sturdy and attractive, and the beautiful woods and pond views offered a good excuse to stop and catch your breath. And I began to see why bikers come to Pine Hill Park throughout every season: There are well-kept beginner trails, as well as trails the Pine Hill website calls "Advanced Intermediate with more sustained climbing." Sassy names like Sore Elbow, Droopy Muffin, Broken Handlebar and Voldemort add to the allure.
"I'm pretty proud of what the park has turned into and what we've been able to do," said Lutz, an avid mountain biker.
On our way back from our hike, I took my friend on a detour through the Pine Cone Adventure Forest. We peeked in the Badge Hunt boxes and admired the stick forts children had built. When we were done, I pulled out the map and looked at the trails we'd walked. There were still many miles more to explore.
"This is great," she said.
"I know," I answered. "I want to do it all."
Know Before You Go
Pine Hill Park is open for day use only, year-round. Admission is free.
Fat biking, mountain biking, hiking, trail running, nature study, Nordic backcountry skiing and snowshoeing are allowed. Snowshoes are available for rent at the adjacent Giorgetti Athletic Complex. No motorized vehicles.
Check on trail conditions and what's open before you go at trailhub.org.
Dogs are welcome but must be on leash.
Bring a real compass for the Pine Cone Adventure Forest!
Donations for park maintenance can be made at the Tin Man mascot at the Pine Hill Park trailhead or on the website.
Pine Hill Park 2 Oak Street Extension, Rutland