Can't tell the difference between a coder and a maker? Don't know the first thing about FIRST robotics? Then this A to Z guide is for you. It's not comprehensive, but it'll help you get a handle on Vermont's evolving innovation ecosystem.
A is for Access
Access to the internet varies widely in Vermont. The state's 2014 draft telecommunications plan notes that 75 percent of Vermonters can download at a speed of four megabits per second and upload at a speed of one megabit per second or faster — better than dial-up, but not by much. Burlington residents, by contrast, can spring for one-gigabit-per-second connections from Burlington Telecom. So can commercial customers in areas served by providers such as FirstLight Fiber. That's like the difference between inching down Route 7 behind a manure spreader and cruising on the Autobahn.
B is for BTV Ignite
Why don't you hear more about the Queen City's super-fast, fiber-to-the-home internet connection? Because it comes courtesy of Burlington Telecom, which illegally gobbled up $17 million in taxpayer funds and defaulted on its Citibank loan. The utility is now operating in the black (minus payments on its debt), and the city is poised to privatize it. Meanwhile, BT and its advocates are waging a PR campaign to demonstrate the value of this resource. Last year, Burlington teamed up with US Ignite, a coalition of cities across the nation that have similarly speedy networks. The effort, called BTV Ignite, has sparked lots of meetings and big conversations, but not much tangible progress. Yet.
C is for Coder
Coders write the code that tells computers what to do. These people used to be called computer programmers, but what a mouthful!
D is for Digital Forensics
Digital forensics experts sift through data on electronic devices, often to recover evidence. Two nationally recognized digital forensics training programs call Vermont home. One is at Norwich University; the other, at Champlain College's Leahy Center for Digital Investigation, gives students real-world experience assisting local law-enforcement agencies. Not surprisingly, more than 90 percent of Champlain's digital forensics students get job offers shortly after graduation.
E is for Emergent Media Center
The Emergent Media Center is another Champlain College initiative that puts students to work solving problems using digital tools. Through the EMC, students create art, mobile applications and video games. Its most notable project, Breakaway, is a United-Nations-backed, soccer-themed, role-playing game designed to reduce violence against women. It's been played in more than 180 countries since it debuted in 2010.
F is for FIRST Robotics
U.S. FIRST Robotics competitions are like science fairs on steroids. Kids in grades K-12 build robots, then enter them in tournaments where they go head-to-head with other robots. The teams make T-shirts and buttons and often wear costumes. It's a wild, geeky scene. Inventor Dean Kamen founded the organization in 1989 — the acronym stands for For Inspiration and Recognition of Science and Technology — though it took nearly 20 years to catch on in Vermont. Now numerous schools and organizations field teams. Norwich University will host a FIRST Lego League qualifying event on November 16; the University of Vermont will host the FIRST Tech Challenge for grades 7-12 on March 1, 2015.
G is for Governor's Institutes of Vermont
Tech-savvy teens find summer STEM opportunities through GIV, which hosts weeklong intensives at Vermont colleges in areas such as information technology and digital media, engineering and environmental technology. In February 2014, GIV also hosted Winter Weekends programs, devoted to advanced mathematics and astrophotography.
H is for Hackathon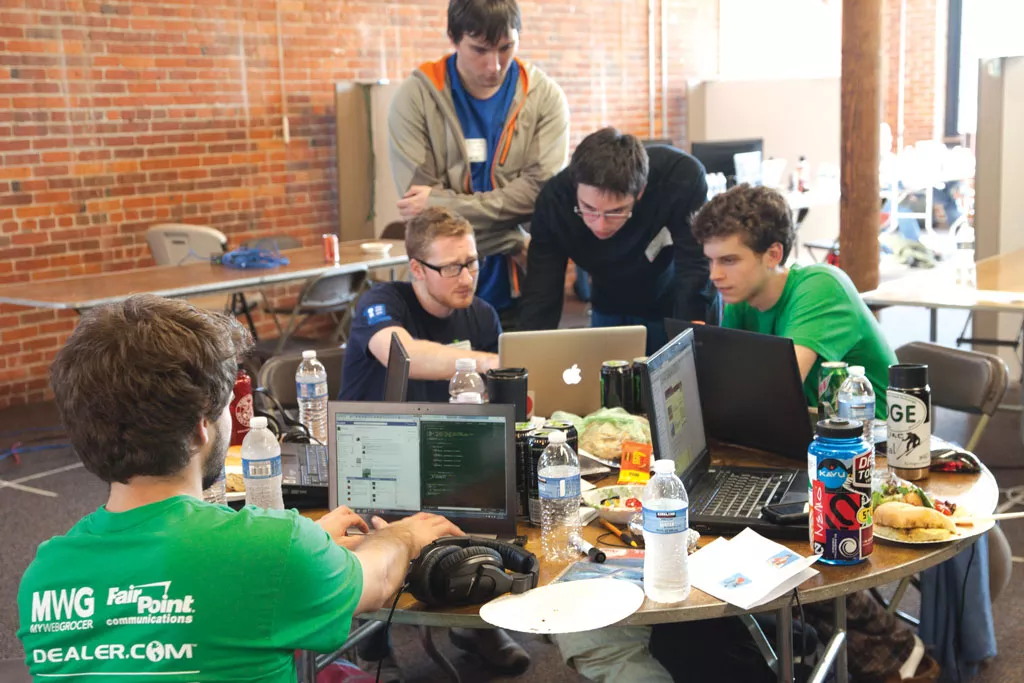 Matthew Thorsen
HackVT at MyWebGrocer
Hackers aren't all evil masterminds. They build things, too. Hackathons are competitive or collaborative events — often organized around a theme — during which coders and designers develop apps. Vermont's best-known hackathon, the 24-hour HackVT, was started in 2011 by MyWebGrocer. The Winooski company pitched it as an opportunity for contestants to build "a killer app" for the State of Vermont. This year, MWG handed the reins to Green Mountain Power, which organized the 2014 HackVT around energy innovation. Other local hackathons have included "Hack the Stacks," aimed at helping the Fletcher Free Library; and a "Food Systems Hackathon" at UVM for farmers. Both were organized by Code for BTV, the local "brigade" of civic-minded hackers affiliated with Code for America. A hackathon for creatives, StoryhackVT, debuted in 2013 and held its second competition this past September.
I is for Invention2Venture
This annual spring event at UVM brings together researchers and entrepreneurs for roundtable discussions and networking. It starts with a ceremony recognizing UVM's new patent holders and student and faculty researchers whose work has been licensed for commercial use.
J is for John Cohn
Richmond resident and IBM Fellow John Cohn is a local tech-scene rock star. Not only is he a world-class scientist, claiming 60 patents issued or pending, but he also hosts UVM's FIRST Robotics (See "F") competition and travels the state delivering his electrifying "Jolts and Volts" presentation to elementary, middle and high school students. Cohn even has his own music video — "Engineering Paradise," a parody of "Gangsta's Paradise." "If you be a gamer, you can't give me no lip," he raps, "cuz when you be fraggin' your homies, you be usin' my chip."
K is for Karma Bird House
The former grocery warehouse at 47 Maple Street in Burlington once housed JDK Design. In 2013, the firm downsized and invited other companies to rent space in its refurbished industrial HQ. Now the Karma Bird House is home to artists, coders, designers and small businesses, including cybersecurity firm Pwnie Express; pop-up transportation startup Bridj, which operates a data-driven bus service in Boston; IrisVR, which works with architects to render their designs in 3-D virtual reality; and Budnitz Bicycles, whose sister business is social-media startup Ello.
L is for LaunchVT
Founded in 2013 by Emily Piper of the Lake Champlain Regional Chamber of Commerce and Nick Grimley of Hackett, Valine & MacDonald, the LaunchVT business-pitch competition matches Vermont startups with mentors from around the region. The coaches help eager entrepreneurs hone their skills. Entrants compete for hard cash and in-kind prizes worth $75,000. The 2014 winner: IrisVR (See "K".)
M is for Maker
The term "maker" originated with 9-year-old Make Magazine, which encourages readers to "bring a DIY mindset to technology." Makers use old-fashioned tools, but they also wield 3-D printers, laser cutters and microelectronics devices. Both UVM and Champlain College now host on-campus maker labs; a community maker space, Generator, opened in Burlington's Memorial Auditorium in the spring of 2014. It offers small studios and classes in everything from basic metal working to creating "Franken-Critters." The local maker community shows its stuff each fall at the Champlain Mini-Maker Faire at Shelburne Farms. The 2014 event took place the first weekend of October.
N is for Norwich University
The nation's oldest private military college is also home to some of its most sophisticated cybersecurity research. The Department of Homeland Security recently awarded Norwich's Applied Research Institutes a $2.3 million grant to bolster their cyber-attack prevention programs.
O is for Office Squared
When it opened in 2009, Office Squared was Vermont's first coworking space, where telecommuters or freelancers could rent a desk for a day at a time or longer. It's an attractive option for tech consultants or startups seeking an affordable place to work. Since then, the coworking concept has taken off nationwide; the Commercial Real Estate Development Association estimated that there were 781 such shared offices across the country in 2013. In Vermont, they include Local 64 in Montpelier, the Hub NRJ in White River Junction, Hinge in Burlington and Vermont Center for Emerging Technologies spaces in Burlington and Middlebury.
P is for Patent Troll
Patent trolls aren't inventors — they're shell companies that buy patents, then seek to recover licensing fees. If you've ever sent a scanned document over email, for example, an outfit called MPHJ Technologies claims you owe it money. According to a Federal Trade Commission investigation, the company has sent letters to more than 16,000 businesses nationwide, demanding licensing fees of $1,000 per employee. These claims are hard to fight in court — except in Vermont. In 2013, the legislature passed the first anti-patent-trolling legislation in the nation. Vermont Attorney General Bill Sorrell is currently suing MPHJ on behalf of Vermont businesses and nonprofits that received those letters. The state recently won a victory when Judge Helen Toor decided to try the case in Vermont rather than in federal court. The feds don't recognize patent trolling as a crime; national legislation stalled in the Senate last year after universities and pharmaceutical companies opposed it.
Q is for Quadcopter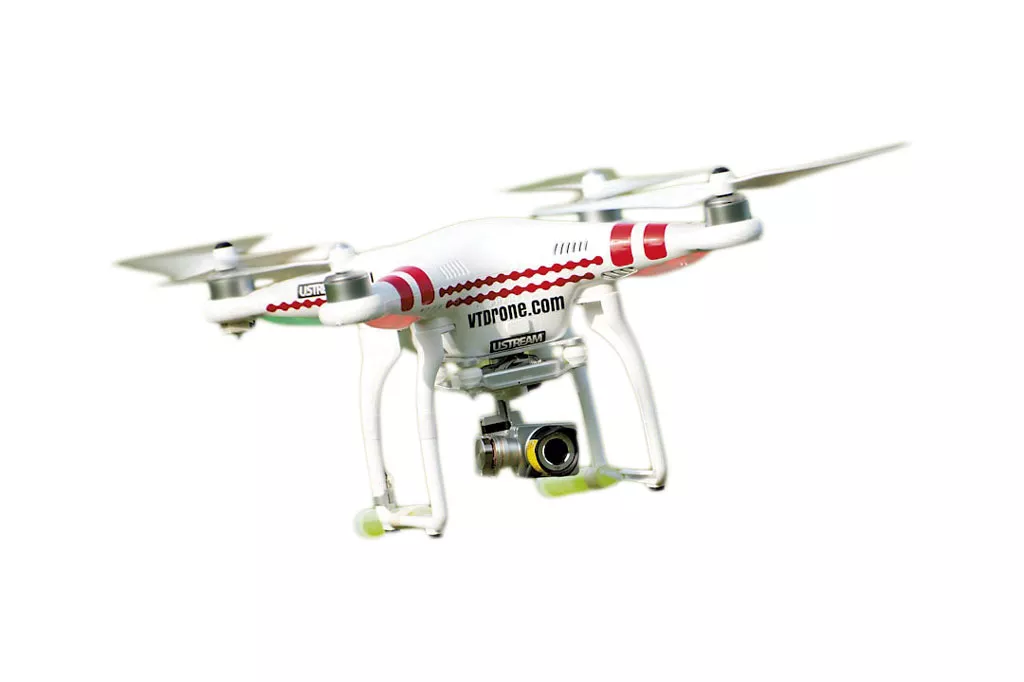 Natalie Williams
Quadcopter
It's a bird, it's a plane — it's a small, lightweight, four-propeller drone! Many media companies now employ these little buggers for aerial photography. There's already a Northern New England Drone Users Group, and it has a whopping 60 members. They gather frequently for "fly-ins," and to talk shop at meet-ups with tantalizing titles such as "Beer and Drones" and "Poutine and Drones."
R is for Ruby
This open-source programming language is popular in the Burlington area — so much so that the Queen City hosts an annual Burlington Ruby Conference every August. Coders from all across the Northeast attend.
S is for StartupVT
This nonprofit affiliated with Startup America organizes events aimed at enhancing the entrepreneurial ecosystem — such as a community roundtable scheduled for October 29 at Local 64 in Montpelier.
T is for Tech@VT
The Vermont Center for Emerging Technologies convenes this statewide series of casual mixers for entrepreneurs, tech professionals and investors. The next one takes place in Bennington on November 6.
U is for Uber
Too lazy to call a cab? If you're in Burlington, you can now book a ride using the Uber app on your smartphone.
V is for Vermont Complex Systems Center
This fascinating interdisciplinary program at UVM studies the patterns of complex systems, be they physical, biological, social or synthetic. Courses this year include Evolutionary Robotics and Advanced Bioengineering Systems. Its playful logo, an octopus in a robot suit, hints at the center's impressive reach.
W is for Woodstock Digital Media Festival:
Quaint Woodstock seems an unlikely spot for an annual gathering of digerati, but this festival, organized by part-time resident David McGowan, is now in its fourth year. The 2014 event, featuring sessions on interactive storytelling and video making, will take place on Friday, November 7.
X is for Xemory
The National Science Foundation awarded this Burlington-based startup a grant to develop Neurobotik, a game that allows kids to design and improve robots by guiding their evolution. Xemory is piloting the game in October at four Chittenden County schools, and will show Neurobotik at the Vermont Tech Jam.
Y is for Young Hacks Academy
Colchester parent Thomas Bacon founded this weeklong coding summer camp in 2013, and expanded it a year later to 10 locations across Vermont. This summer, it will be open to kids ages 9 to 14 in every corner of the state, from Manchester to Newport, St. Albans to White River Junction.
Z is for zettabyte
The byte is a digital unit of measurement (one byte = eight bits). Twenty years ago, a kilobyte (1,000 bytes) seemed pretty big. Today, a terabyte (a trillion bytes) seems like a lot of data. A zettabyte is a billion terabytes, or 1,000,000,000,000,000,000,000 bytes. In 2012, Cisco Systems estimated that by 2016, global internet traffic would reach 1.3 zettabytes per year.
The original print version of this article was headlined "Coders, Makers and Patent Trolls"