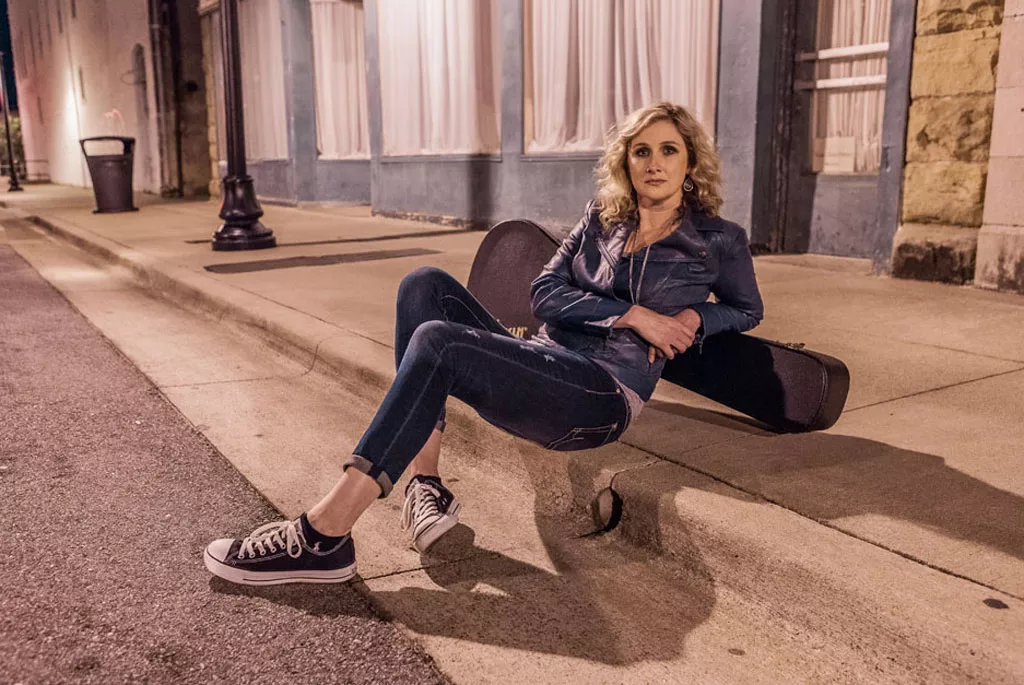 Some musicians find their way early in life and take a straight-arrow path. For others, the muse can be a bit elusive. That's the case with Amy Black. The Boston-based songwriter kicked off her career three years ago at age 40 and cut two country-tinged records before finding a place where she truly feels at home: the world of soul music. Her new record, The Muscle Shoals Sessions (Reuben Records), shows that her latest direction was worth taking.
When she was a child in New England, Black and her family often visited the tiny hamlet of Muscle Shoals, Ala. Both of her parents had been born there, and both sets of grandparents still called it home. Muscle Shoals was also the hometown of soul music. From the 1960s on, superstars such as Aretha Franklin, Wilson Pickett, Etta James and Otis Redding recorded at Muscle Shoals' FAME Recording Studios, backed by a group of affable locals nicknamed the Swampers. Bob Dylan, the Rolling Stones and Little Richard, among other rock and pop stars, cut records there as well.
What did FAME Recording Studios mean to a young Amy Black? Not much.
"All those years of being in Muscle Shoals, and being with my grandparents, and passing FAME, I had never even walked in there," she says.
Then again, in her early years Black wasn't entirely focused on music. She sang in church, and in bands during college, where she discovered Aretha Franklin, Billie Holiday and other female divas. But when Black left college, she left singing behind, too. She embarked on a career in business and didn't return to music for nearly two decades.
Black cut her first record, One Time, on her own Reuben Records label in 2011. The record mined the country/Americana vein explored by singer-songwriters such as Lucinda Williams and Mary Chapin Carpenter. Black wrote most of the tunes, which paired nicely with her silky, sassy vocals.
Courtesy of Amy Black
Amy Black
When she cut her second record, This Is Home (Reuben Records, 2014), Black was working in similar territory. She wrote a song called "Alabama" to honor her late grandfather, for whom her label is named. And although This Is Home was recorded in Nashville, it seemed only natural to cut "Alabama" in her grandfather's hometown. Black booked a day at FAME Studios, but then she recorded a version of the song in Nashville. It turned out so well that a do-over in Muscle Shoals didn't make sense. Instead, Black banked her time at FAME for future use.
To cash in that credit, Black decided to step into the territory that had made Muscle Shoals famous: soul. She dug deep into the catalogue and avoided overdone covers of female singers. She finally settled on three tunes from the classic era, along with the Black Keys' "Tighten Up." That birthed an EP, also called The Muscle Shoals Sessions.
Produced and mixed by Lex Price, who also plays bass for k.d. lang, the recording included Spooner Oldham, the keyboard player from the original Swampers.
The EP dropped in 2013, before This Is Home was finished, so Black put together a few dates with fellow Boston singer-songwriter Sarah Borges and went out on a short tour. The result was positive: Fans gave the songs and the show big ups. More importantly, the EP and tour had a big impact on Black's musical direction.
"Recording the music in Muscle Shoals and then playing it live was just a blast," she says. "It got into my soul. And I said, 'I want to record more of this music. Let's go back and turn this into a full-length record.'"
In January 2015, Black headed back to FAME to do just that, backed by a band that included Oldham, Nashville picker Will Kimbrough on guitar and original Muscle Shoals horn player Charles Rose, who also does arrangements for Lyle Lovett and His Large Band.
The result is a full-length version of The Muscle Shoals Sessions, a record as warm and funky as an Alabama summer night. Standout cuts include a horned-up version of the Sam Cooke classic "Bring It on Home," the slow slide-guitar groove of "You Gotta Move" — a traditional tune that the Stones cut at Muscle Shoals — and a truly gorgeous take on Mel & Tim's 1972 hit "Starting All Over Again." Black also steps outside the traditional canon to cover "Gotta Serve Somebody," which Bob Dylan had also recorded at FAME.
Mixed in with those covers, Black added three tunes of her own: "Please Don't Give Up on Me," "Woman on Fire" and the slinky, sexy "Get to Me."
What was it like to try to compose songs that would stand up to the classic soul numbers on the rest of the record?
"It probably should have been intimidating," Black says. "But when I decide to do something, I just do it. Near the end of the last session, Will Kimbrough pointed out that this was a pretty gutsy move on my part, and I thought, Oh. He's right."
As it happens, she needn't have worried: Her "gutsy" move paid off. Black's three originals simply don't stand out from the rest — and that's meant in the best way possible. They fit seamlessly into a really fine record.
No small part of the credit, Black says, goes to Oldham. "We all know what he brought to that music in all those years. He adds an authenticity and a connection to the past that just makes it feel legit."
Now that The Muscle Shoals Sessions has dropped, Black is touring with the support of a six-piece band and working on a record of originals. And not surprisingly, she says, the starting point is soul.
"I think, with this record, I'm just finding my sweet spot," Black says. "And I'm figuring out where I want to go from here."