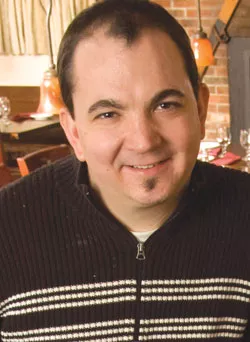 The Essex Culinary Resort & Spa has long been a destination for fine dining and culinary education. Starting on Thursday, August 4, guests can get both when they take one of 12 seats at the chef's table at the resort's new restaurant, Amuse.
The name, says Essex food and beverage director and master chef Arnd Sievers, comes from the term "amuse-bouche," the single-bite palate jumpstarters often served at fine-dining restaurants. Adds executive chef Shawn Calley, "Why not call it that? We want to amuse people with our food and service."
According to Sievers, the mission of Amuse is to entertain and educate guests. Diners seated at the marble chef's table, with its teardrop-shaped pendant lights spotlighting each plate, can talk to executive sous-chef Alex Casimir as he prepares five- to nine-course dinners to their tastes. A chalkboard displays the prime ingredients of the evening, such as Vermont Wagyu beef and Monitor Barns Farm chicken and produce. Using those staples, says Calley, the chefs can go "wild and crazy" preparing what they think will be delicious at a particular moment.
Patrons of the 56-seat restaurant who don't dine at the chef's table can still get some education with their edibles. The bill of fare includes the resort's in-house equivalent of the The Food Lover's Companion, a popular glossary of foodie terms. "There's a little thing about the farms and explaining our mission. We explain the Anti-Griddle and sous-vide," says Calley. "We want to give people more knowledge about what we're doing."
Yep, there's an Anti-Griddle. Calley says one dish that requires the fast-freezing implement is a "surf-and-turf" of braised, Asian-style pork belly and grilled watermelon — which, says Calley, has a translucent appearance akin to tuna. Once it's grilled, Casimir, who started his career at Le Cirque in Las Vegas, freezes the melon on the Anti-Griddle. He finishes the plate with baby wasabi greens and soy pudding or foam.
Despite the sophisticated bent of the food, both chefs insist they want diners to feel comfortable coming in jeans and T-shirts, even if they're supping on filet Rossini with foie gras and truffle demi-glace — or braised and fried chicken hearts. "We don't want to be a hoity-toity fine-dining restaurant," says Sievers. "It's a casual setting with great food."