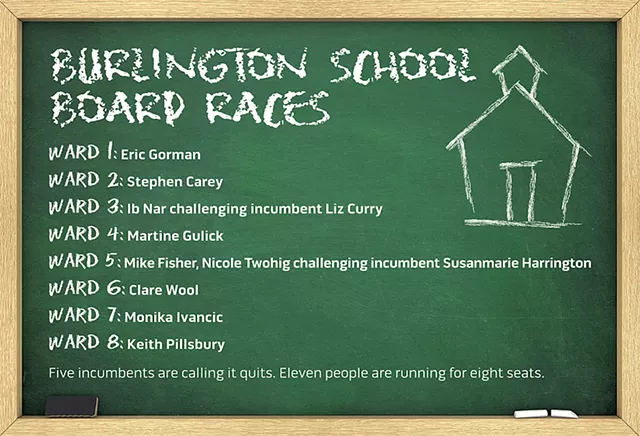 Four people who are running unopposed for seats on the Burlington School Board would bring a pro-teacher bias to contract negotiations on pay and benefits, according to board member and former chair Mark Porter.
Two of the candidates are retired teachers. One is a school librarian. The fourth is married to a teacher's aide. They'll all be on the Town Meeting Day ballot on March 6.
The fact that they are running "just blows my mind," Porter said during an interview, reiterating concerns he raised at a January meeting.
"Ludicrous," Darren Allen, a spokesman for the statewide teachers' union, the Vermont-National Education Association, said in response. Teachers don't leave their constitutional right to participate in the democratic process at the school door, he said.
The candidacies in Burlington follow tense labor disputes. A bruising strike last fall drove a wedge between Burlington's teachers and board members and did not resolve money woes. The $84.9 million school budget proposal heading to voters calls for a 7.9 percent property tax increase, one of the largest proposed in the region.
And absent a blizzard of write-in ballots, the candidates will serve on a Burlington School Board that looks very different from today's. Eight of 12 seats are up for election, and five incumbents are stepping aside, including Stephanie Seguino, a University of Vermont professor of economics who has been a chief negotiator on union issues, and David Kirk, who apologized in 2016 for social media posts that Superintendent Yaw Obeng blasted as "sexist, racist and ethnocentric."
The four candidacies rekindle debate about whether educators who serve on school boards have conflicts of interest.
The issue came up during a late-night rant at the end of a board meeting last month, when then-chair Porter accused a fellow board member of racial bias, announced he was not running for reelection and riffed about the possible self-interest of NEA-connected candidates. Porter said he resigned as chair on February 3, partly over criticism he got for his remarks.
Meanwhile, the four candidates strongly deny that they have any conflicts, taking the position of the Vermont-NEA. Allen said Porter "should do a little homework before he makes such obnoxious statements about educators."
State law prohibits educators from serving on school boards in districts where they are employed. And rightly so, because that would be a direct financial conflict of interest, Allen acknowledged. But Vermont allows teachers who work in one district and reside in another to serve on boards where they live — a common scenario.
The way Porter sees it, teachers can increase their own pay through a regional strategy of pushing up "comparables." Collective bargaining relies heavily on the district-to-district comparison of raises, pay and benefits. A salary bump for teachers in one town can help educators in neighboring towns.
To illustrate his point during an interview, Porter brought up Martine Gulick, who is running unopposed to represent Ward 4 in the New North End and works as director of library media services at Essex High School — a teachers' union job. "It's not even indirect," Porter said. "If she voted for an increase in salary [in Burlington], she would actually be voting for an increase in salary for herself when Essex negotiates."
Not so, responded Gulick: "We have teachers all over the state who serve on their local community school boards so it's not unusual at all, and it's not a conflict of interest." She added that she'd consider recusing herself from contract negotiations to avoid a perceived conflict.
With the younger of her two children now graduated from Burlington High School, Gulick said, she finally has time to serve the community. "I was certainly not in any way encouraged to run because I was a teacher," she said. "I've sort of wanted to do this, as my husband would say, for the last 10 or 20 years."
Porter also pointed to Monika Ivancic, who is married to a teacher's aide at Champlain Elementary School and is running unopposed to represent Ward 7, also in the New North End. "I mean, gosh, she's going to vote for his salary. How can that be OK?" asked Porter.
Her response? Unless barred by a specific policy, Ivancic said she will indeed vote on the para-educators' union contract that sets her husband's salary. Fair compensation helps ensure a good school system for kids, said Ivancic, a facility manager at the UVM chemistry department. She added that the contract "doesn't represent just my husband; it represents many other para-educators in our district."
Stephen Carey, who is running unopposed for a seat in Ward 2, taught at Champlain Valley Union High School in Hinesburg for 39 years and now substitutes in the Burlington School District. He said he assumes he'll have to stop once he's on the board.
Last fall's strike and a narrowly averted walkout in 2016 helped motivate Carey to run and repair the relationship between teachers and the board. "The last two contract negotiations were kind of ugly," Carey said.
He sees no conflict, only a "continuation of interest" in his lifelong career. And yes, Carey said, he does want to improve teachers' pay. "I think teachers are very much underpaid, quite frankly."
Under the current contract, Burlington teacher pay ranges from $43,914 to $87,940 for a 187-day work year.
Another retired educator, Keith Pillsbury, taught middle school in Essex for 36 years and is unopposed in Ward 8. He previously served on the board from 1987 to 2014, except for a four-year gap.
Pillsbury doesn't believe educators have a conflict. "Mark Porter, that's his opinion, and my constituents will make their own minds up," he said.
At the Vermont-NEA, Allen said he has no firm numbers on how many union members serve on school boards. It's not many, he suggested. Allen also downplayed union efforts to muster candidates, as did Fran Brock, a Burlington High School teacher and president of the Burlington Education Association.
The local union is not endorsing candidates this year and did no formal recruiting, Brock said, adding: "It's easy to try to build some sort of conspiracy, but it isn't there."
The union does sometimes jump into the fray. The BEA helped Mark Barlow defeat an incumbent, fiscal conservative Scot Shumski, in the New North End in 2015. But after Barlow voted to impose a teachers' contract in 2016, the BEA did not support his reelection last year. Barlow won anyway and agrees with Porter that NEA members on boards have a conflict.
The question comes up regularly, said Nicole Mace, executive director of the Vermont School Boards Association. The NEA does "encourage folks to run for the board, which is not a problem, but it's a fact," she said. She's not surprised to see in Burlington "an interest in having more representation on the board among teachers, given the last two rounds of bargaining."
The important thing is for board members to disclose and discuss conflicts of interest, Mace said.
State law and local board policies, including Burlington's, prohibit officials from voting to enrich themselves. But there are grayer areas, such as voting on a spouse's contract. Mace said that the Burlington board should, for example, discuss Ivancic's potential conflict regarding her husband.
"The board should talk about it," Mace said. "I don't think it's out of line for people to raise these concerns."