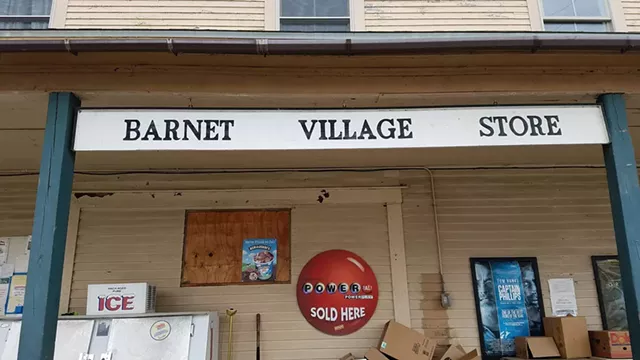 Courtesy Of Deb King
The storefront
Another one bites the dust.
The Barnet Village Store, a community hub in the small Northeast Kingdom town on the New Hampshire border, will close this week. It's yet another of Vermont's general stores that has fought the good fight against Amazon, dollar stores and grocery chains — and lost.
Deb King, the Barnet store's longtime owner, also battled an even greater force: tax-free goods just across the Connecticut River.
The Barnet store's closure continues a disconcerting trend for general stores, considered the gathering places of many small Vermont towns. Some 30 have closed in the last decade. Approximately 70 to 75 are still in business.
The building at the intersection of Route 5 and Monument Circle has housed a general store since the 1890s. After working at the store for a few years, King bought it in 1986. By the time she took control, the store sold mostly groceries.
Year by year, though, external pressures have hurt her bottom line. There's a Walmart Supercenter about 18 miles away in Woodsville, N.H. Online shopping, too, has changed things for King.
"I think I have the same amount of customers," she said. "They just don't spend as much ... They buy differently now. If you have only two days off a week and you want to do all of your errands, it's much nicer to go to Walmart, do everything you need to do and not have to make so many stops."
The death knell, she said, was news that someone is opening a convenience store in Monroe, N.H., just a mile and a half away. The Granite State doesn't have sales tax or a bottle-return law, King explained, two advantages for business owners who operate there.
She owns a second store in West Barnet — about five miles away — and King said she'd focus her attention there. That store has gas pumps, among other amenities, she added.
The Barnet Village Store's last day open will be December 15.
"I've had a few people come to me and say, 'Try to hold out because maybe the new store won't make it,'" King said. "But the reality is that I've been holding out for the last few years, and I think this is a good time."