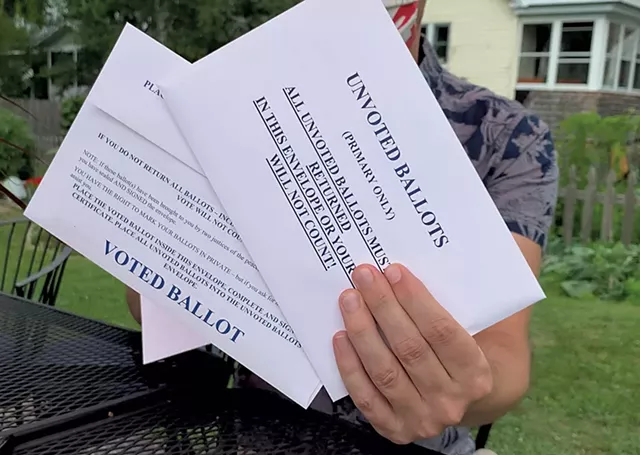 Eva Sollberger ©️ Seven Days
Ballots
The number of Vermonters who voted by mail soared to record levels in last week's primary — but so did the number of botched ballots.
Of the 174,987 votes cast on August 11 — a record for a primary — 6,055 were ruled defective and discarded. That's 3.6 percent of ballots, nine times higher than the 0.40 percent from 2018's primary.
"It's a concern that we had 6,000 votes that were not counted for one reason or another," Secretary of State Jim Condos said last Friday. "It would be wrong if I just sat back and said, 'That's acceptable.'"
The issue is a particular cause for concern because balloting in the November 3 general election is expected to take place largely by mail, thanks to the coronavirus pandemic.
Efforts by the White House to undermine confidence in mail-in voting and to withhold funding from the U.S. Postal Service are amplifying anxiety about the election. Condos branded the Trump administration effort a "disgrace to our democracy." Postmaster General Louis DeJoy, a Trump appointee, announced Tuesday an end to highly criticized cost-cutting moves until after the election.
Condos' office will begin mailing ballots on September 18 to overseas military members and, soon thereafter, to every other active registered voter in Vermont — essentially, any voter whose status is not being challenged by their local election board.
Vermont has embraced voting from home as the safest way to cast a ballot during this pandemic-plagued year. For the August primary, mail-in voters were sent three ballots to choose from, one for each of the state's major parties. Some voters failed to sign the envelope containing their voted ballot as required. Others neglected to return their unmarked ballots, another requirement. Still others filled out a ballot in more than one primary — picking David Zuckerman for governor in the Democratic primary, for example, and Gov. Phil Scott in the Republican primary.
Uncounted or spoiled ballots may very well have altered the outcome of a few races that were decided by a small number of votes. Clerks in Chittenden County — where just 45 votes separated two candidates for the Democrats' sixth state Senate nomination — reported 1,779 defective ballots.
"I just think primaries are challenging," said Lisa O'Neil, town clerk in Hartford. "I think people get overwhelmed by the amount of information in the envelope we send them."
Of the 1,857 votes cast in Hartford, 131, or 7 percent, were rejected as defective, O'Neil said. She didn't immediately know how that compared to past years, but it's 18 times higher than the statewide defective rate last primary.
The error rate is clearly related to the multiple ballots people received for the primary, said O'Neil, whose office received many questions from voters.
"There were people confused about why they got three ballots," O'Neil said. "There were people confused about why there was no presidential ballot in there."
Many — but not all — town clerks insert instruction sheets in the absentee ballot package. These so-called "buck sheets" are supposed to give voters clear, concise step-by-step instructions for how to complete and return the ballot, Condos said. The sheets largely repeat the instructions preprinted on the ballot envelopes.
"Despite that, we still have people who just didn't follow the rules," Condos said.
Voter Brendan Corey of East Fairfield said he was not surprised to see the high error rate, given how many steps were involved and how much information people had to read in various locations.
"Once you opened up that big envelope, it was like, 'Holy crap!'" said Corey, a Franklin County middle school teacher. "They've got to keep it as simple as possible to get the most Vermonters to vote."
He suggested larger font sizes, easier-to-follow instructions, and maybe even some graphics or user-friendly symbols.
One of the most common errors was filling out more than one party ballot. After choosing one party's ballot, voters were supposed to place the two unvoted party ballots in an envelope and mail them back, as well. Some people marked more than one ballot, invalidating both.
Some also failed to return the unvoted ballots, which is required by law to prevent voter fraud. Their returned ballots were invalidated.
Still other voters forgot to sign their names on the outside of the "certification envelope" containing their marked ballot, Condos explained. The measures all exist to ensure the integrity of the absentee ballot system.
"It's never been as big a problem as it was this year," Condos said. "And now that it's happened, we're going to take a look at that again."
Condos said elections officials plan to brainstorm with town clerks how to improve mail-in voting and the upcoming general election process.
The Town of Bennington had one of the higher rates of defective ballots – 7.7 percent, or 215 out of the 2,796 ballots received.
The large number of people voting by mail for the first time certainly contributed to the confusion, Town Clerk Cassandra Barbeau said. Filling out multiple ballots was more of a problem this year, she said.
"The primary is a tricky election," she said. "In Vermont, people don't like to stick to one party. We're an independent group of people."
People voted one ballot, then spotted someone they liked on a second ballot and wrongly thought they could vote for that candidate, too, Barbeau explained. The multiple-ballot problem will take care of itself in the simpler general election, she said, when each voter gets just one ballot.
"Although we had a high rate of defective ballots, I don't expect it will be as much of an issue in November," Barbeau said.
Condos said clearer, concise instructions will accompany all ballots this fall. The return envelopes will be marked with a red stripe to signify that they enclose a voted ballot. This should help the post office prioritize them for on-time delivery, Condos said. It is possible that some primary ballots were declared defective because they arrived too late, he said.
"My nature is to see what we can find for solutions to overcome that issue and try to reduce that number significantly," Condos said.
Part of the challenge is that ballots are considered cast the moment they are put in the mail, just as if they had been dropped into a ballot box at the polls. If the voter belatedly realizes they made a mistake, there's no way to fix the error, explained Eric Covey, spokesperson for the Secretary of State's Office.
Voters can check at the Secretary of State's My Voter Page, mvp.vermont.gov, to see whether their ballot has been received. The site will list a ballot as defective before the election if clerks enter that data, which is not required.
"Once your piece of mail gets to our office, it's considered voted," O'Neil confirmed.
That's different from voting at the polls.
"In the case of a voter on Election Day, they would go back to the clerk and say 'Oh, I've made a mistake.' And they'd be given an opportunity to get a new ballot," Barbeau, the Bennington clerk, explained.
Given that this option is not available to at-home voters, O'Neil, the Hartford clerk, suggested that voters ask a family member to help them if necessary. Barbeau advised all voters to simply take their time.
"There is no pressure," she said. "Sit down at your dining room table or wherever your comfy spot is, read all the instructions, and then proceed."