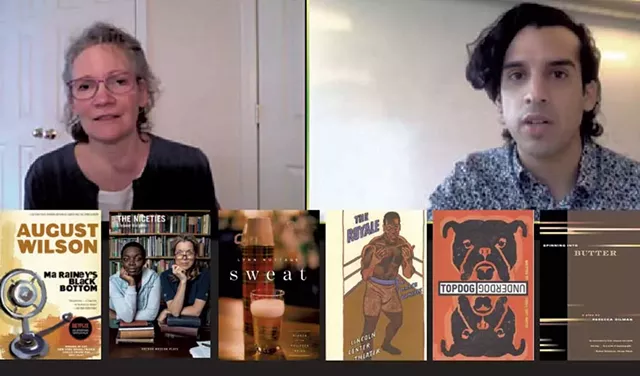 Courtesy Of Middlebury Acting Company
Karen Lefkoe and Nicolas Caycedo in a scene from Spinning Into Butter
At a time without the possibility of live performance, Middlebury Acting Company has sought out a new role for itself and new subjects for Vermont audiences. The company created an online play-reading series called the American Dream Project, selecting six plays — five written by people of color — that reflect the racial and economic injustices this year has underscored. Using theater to prompt discussion, the series lets participants explore and experience the human consequences of systemic racism.
Participants read a play in advance, join a live online audience to watch actors perform selected scenes, and discuss the work together. The Vermont Book Shop of Middlebury has partnered with Town Hall Theater to be a one-stop ordering source for the scripts.
Online acting is fundamentally closer to a reading than to a performance, though viewers still see the text come to life. Without theater's physical dimension, a Zoom presentation spotlights playwriting itself: scene structure and dialogue. MACo's post-scene discussion occurs in small breakout groups, with a full-group summary in conclusion.
The series began on Sunday with Spinning Into Butter by Rebecca Gilman. It's the only play by a white playwright, and white people are very much the center of the story. A student at Middlebury College in the 1980s, Gilman based her play on a real event at the school during her first year: After a Black student received intimidating messages, the entire campus wrestled with how to condemn racism.
Set at a fictional college in Vermont, Spinning Into Butter offers no tips for subverting systemic racism. It only acknowledges how impossible the project is, and how much the best efforts of liberal white people can set back the attempt. When it premiered in 1999, the play could be seen as a dark comedy of academic infighting and political correctness at a small liberal arts college.
Aspects of the script have aged well, as Gilman's characters embody the nuances of white people grappling (badly) with a doomed idealization of racial equity. If anything, the play is ahead of its time in showing white people scrambling to exonerate themselves from the charge of "discrimination" — a term that conveys both prejudice and the height of intellectual discernment.
Structurally, the play leaves Black people offstage and gives one Nuyorican student a short scene in which to light a plot fuse. A play about white people is little help in unveiling the effects of racism, but it shines a bright light on the comforts of self-deception and the limits of self-awareness.
About 50 people joined the first play discussion. After providing background on the play and playwright, moderator Rebecca Strum introduced the scenes.
Zoom, for all its virtues, is not an ideal theatrical medium. Without physical connections among actors, performers can only fill those little screen boxes with so much. But certain scenes come off well, and MACo made good use of the platform with an especially strong group of actors.
Karen Lefkoe played Sarah, a college administrator charged with handling diversity issues. Brimming with white guilt, she's looked deep enough to find she can't eradicate her own racism, let alone help anyone else. Lefkoe's strong performance captured the character's frustration, as well as her restless wit.
Nicholas Caycedo played a student Sarah grills about his ethnicity, which would be key to unlocking a new scholarship she's found as long as he's willing to check the right box. Gary Smith appeared as a college dean primarily concerned with being applauded for his "flawless motives" for showing indignation about a racist in the student body. Mary Adams-Smith portrayed a pragmatic administrator convinced that writing a 10-point plan will be enough to make the problem go away.
Andrew Cassel played Ross, an art history professor who tries to convince Sarah that she can breeze through racial tension on good intentions alone. A long scene between the two of them is the play's tour de force. The full complexity of a scene like this can't emerge from two static images, but Lefkoe powerfully evoked the essence of Sarah's struggle, with Casselas a solid foil.
The discussions that followed centered on the quality of the performances as much as on the play itself. Actors and audience tackled the play's themes together, using the opportunity to reflect on racism. The thoughtful discussion was evidence that MACo's project will supply context and structure for important dialogue.
In 2020, the murders of George Floyd and Breonna Taylor catalyzed protest, awareness and change. Plays can inspire change, too. The American Dream series features one play each month through May 2021, and new participants are welcome to join.
The series continues with Lynn Nottage's Sweat, the story of a factory closure that triggers a racial reckoning. In The Royale, by Marco Ramirez, a Black boxer negotiates a title bout with a white fighter during the Jim Crow era. With bold language and characterization, Suzan-Lori Parks sets two brothers, both three-card Monte artists, on a quest for identity in Topdog/Underdog.
In The Niceties, by Eleanor Burgess, a Black student's paper about slavery leads to a confrontation with a white professor. The series concludes with Ma Rainey's Black Bottom, August Wilson's story of white producers trying to exploit the singer and her band while the musicians themselves resolve conflicting ambitions.
In a national awakening, nonfiction books about racism are best sellers right now. They're enlightening yet inherently abstract as they examine issues culturally, politically and sociologically. A play invites a reader to stand in another's shoes. The American Dream series transforms ideas into characters and stories, letting participants experience as well as reflect.