Molly Zapp
Kanom jeep
Kae Alexander and her husband, Bill, noticed a strange but fairly regular occurrence at her Vermont Thai Restaurant, which she formerly ran in Milton. Couples would come in and "the wife" would enjoy the Thai curries, noodle dishes and soups Kae prepared, while "the husband was waiting to get a burger after," said Bill. That is to say, the husbands were taking up space in the restaurant but not paying for its food. No restaurant owner likes that arrangement.
At her new restaurant, Victoria's Café in South Hero, Kae designed her menu to reach diners who seek and fear the curry. The result? A large menu that includes dishes familiar to anyone who's eaten Thai food stateside — pad Thai, massaman curry, pad krapow — but also cheeseburgers and maple duck.
Kae based the Thai parts of the menu on what people had ordered most frequently at her previous establishment. Some of the harder-to-find Thai offerings available in Milton, such as deep-fried eggs in tamarind sauce, didn't make the cut. However, her daily specials offer what Bill — who augments Kae's intermediate English — calls "more exotic dishes." These include homemade rice noodles (guay tiaw), which take eight hours to steam, or full-size egg rolls, which have proven popular.
In a phone interview, Kae said she learned cooking from her mother. Originally from Thailand, she had her first restaurant job at 19 or 20, in the food court of a department store in Bangkok. She went to college for interior design but found she liked cooking better.
Soon enough, Kae became a chef at the Dusit Thani, one of the oldest luxury hotels in Bangkok. (Recently closed, it's slated to be demolished and rebuilt.) Unlike in the U.S., where fine-dining kitchen staffs tend to be hierarchical, she said that, even as a newly hired cook at Dusit Thani, she and the other chefs cocreated the menus. Kae went on to own multiple restaurants across Thailand, including Chon Buri in Bangkok, where she and Bill first met. In 2011, she moved to Vermont, and the two married.
Kae, 37, has been cooking in Vermont since 2012, when she launched a Thai catering business. In 2013, she opened Vermont Thai Restaurant in Milton, which stayed open for about a year. Between that March 2014 closure and opening Victoria's Café in December 2018, Kae said, she learned how to make "American food by hand" by working at Chef's Corner in Williston. She also worked as a line chef at the University of Vermont Medical Center.
Kae even got a taste of bland American cuisine by working at Panera and Olive Garden. But if cooking at chain restaurants where the food is largely prefabricated was a step down after owning restaurants, Kae didn't complain about the experience. She simply expressed appreciation for being able to have her own place again, with control over what she serves.
"It's been my dream for a long time," she said. "I want to do my style."
Another big event during this time: Kae and Bill welcomed a daughter, Victoria. Now 2, she is the café's namesake.
Located on Route 2, the main drag in South Hero, Victoria's Café serves locals, visitors, part-time residents and ferry commuters. Its interior mirrors the Thai-American mix of the menu, with a poster of Pink Floyd, an illustrated print of a vaguely European bistro, elephant figurines and artificial orchids.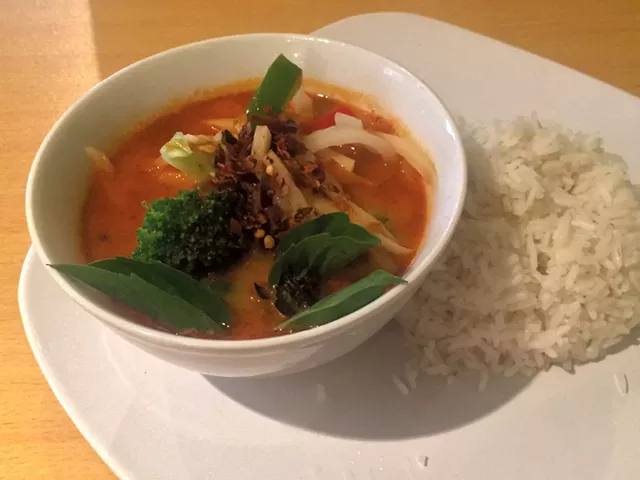 Molly Zapp
Red curry
On a recent Thursday evening there, I began with the kanom jeep ($7), a sort of open-faced dumpling made with ground chicken, crispy browned garlic and tender homemade rice wrappers. Light, delicate and savory, it came with a tangy brown dipping sauce. A dish of Chinese origin, it's commonly found in Thailand, Kae said.
Although the American part of the menu included some intriguing options — maple duck with rosemary ($22), and a fusion-y roasted duck stir-fry with sweet basil and jasmine rice ($22) — I opted for one of the trusty curries: red, spicy, with vegetables ($15).
As I waited for its arrival, I overheard timid-sounding customers ordering "the dumplings" and "No. 22" rather than venturing to pronounce "gyoza" and "pad see ew." But who's to judge? Best not a Vermont food writer sitting alone and reading Lolita with a four-pack of microbrews from the gas station down the road. (The restaurant was BYOB at the time; as of May 1, it began serving beer and wine with an emphasis on Vermont beverages.)
The red curry, loaded with thinly sliced bamboo, bell peppers, carrots and broccoli, was on the sweet side. And to my palate, it was on the mild side of medium. To crank up the heat, my eager high-school-age waitress brought me red pepper flakes and Sriracha. I wondered if she was the first server I've had who was born in this millennium, as I contemplated my mortality alongside the coconut milk.
After my meal, and again in a later phone interview, Kae emphasized her willingness to adjust dishes to her customers' palates. "I say, if it's not spicy enough, please let me know. I want the customer happy. I try to put real Thai chile peppers for customers I know like it," she said. "That's why I try to remember customers. I think one real chile pepper would be perfect for you."
Kae prides herself on remembering regular customers' preferences and happily adapts dishes upon request. Broccoli instead of peppers in a mild, gluten-free curry? No problem, she said — just ask.
On the low side of the Scoville scale, Thai desserts tend to be quite sweet and fruity, and Victoria's mango sticky rice was a satisfying example. Warm, sweetened coconut milk was stirred into the sticky rice, topped with fresh mango, strawberries and black sesame seeds.
Though Kae doesn't judge her customers who order burgers or tacos, she has not given up hope on the spice-averse and said she's seen plenty of customers broaden their eating habits already. "Husband don't want the Thai food, then he tries it, and next time they come back, they all order Thai food," she said with a laugh.