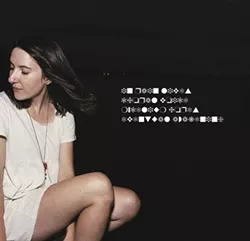 (Como Tapes, cassette)
Como Tapes is a newly local microlabel that exclusively releases music on cassette tapes. The imprint is sort of a spiritual cousin to another local tape label, NNA Tapes, which similarly specializes in obscure and experimental music. Dating back to its 2014 origins in New Jersey, Como Tapes boasts a small but diverse catalog. Since settling down in Burlington this year, the company has begun to set its sights on the local scene. Among its most recent Vermont productions is Wand, a new record from Burlington electronic composer Amelia Devoid.
Devoid's record makes for an intriguing and comparatively accessible entry point into Como Tapes' "other music" milieu. She's a fearlessly inventive composer whose mélange of synthetic and organic noise suggests unique curiosity and creativity. All manner of strange sounds can be heard flitting from speaker to speaker throughout the album's dense 10 songs. Devoid paints in mood and tone, crafting impressionistic soundscapes that range from the sinister to the serene. On the fleeting moments when her cool, pure-toned alto emerges from that murky sonic ether, it's almost like a guardian angel floating in to rescue you from the uncertain depths of her stirring compositions.
On "Data Addiction," Devoid coos in almost indecipherable syllables while chirping electronic percussion and eerie synth sustains swirl around her. What she's actually singing hardly matters as her voice melts into the sonic canvas.
Things get weirder on the following cut, "Ecto Glider." A series of effects on her voice renders the typically reassuring words "follow me" to become increasingly menacing. In the background an equally disorienting assortment of digital sounds heightens the effect.
"Strange Lights" is the most conventional song on the album — and the shortest. But even here, working in a more traditional pop framework, Devoid pokes and prods convention. She sets a pretty vocal melody against an orchestra of yawning electronic sounds that seem to progressively short out, like a child's toy running low on batteries.
"Super Moon" evokes the vastness and strangeness of the cosmos in a glittering canopy of shimmering sounds. On "Damned Girl," Devoid's featherlight vocals are swallowed in a simmering cacophony of malevolent noise. The album closes on "Child Empress," which is built on rippling synth and insistent chimes. Over this, Devoid sings, again in barely intelligible words that drift weightlessly amid her placid, airy soundscape.
Wand is the kind of record that you could spend months deconstructing and still only scratch the surface of the sonic trickery at play. But it's also the kind of record that works if you don't think so hard about it. Just press play, close your eyes and drift away.
Wand by Amelia Devoid is available on cassette at comotapes.com. It can be streamed at comotapes.bandcamp.com.