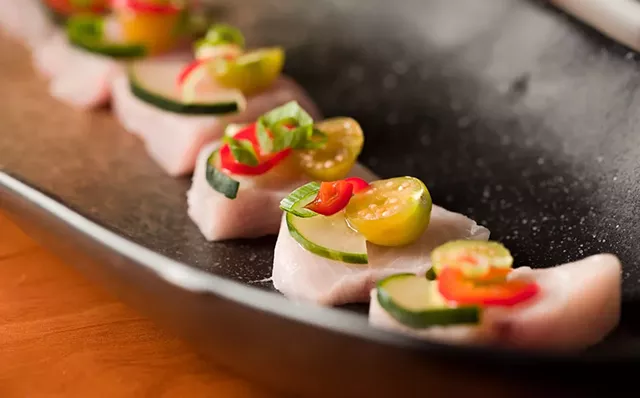 Oliver Parini
Hamachi crudo
"Wait a minute," I said to my dining companion, pointing out a cocktail dubbed the Cigar Club. "This drink is made of tequila, rum, vermouth and Scotch? That's crazy!"
"Well, then, we have to order it," she suggested. Because if the barkeep could pull off that bold blend of booze, he just might be a superhero.
We were in the dining room at the Great Northern, a 4-month-old restaurant on Pine Street in Burlington — the city's hottest hood for eating establishments and food manufacturers alike. Nearby, a couple appeared to be falling in love over their meal, kissing between bites. A gaggle of friends laughed while slurping raw oysters from their shells. The place was beginning to empty out from the dinner rush.
A glass arrived, its contents glowing like a ruby in the candlelight. I took a sip. It immediately made me think of sitting by a campfire on a chilly night. The hint of oak from the aged tequila, in concert with the smoky, peaty Ardbeg Scotch, contributed to its silky perfection.
This instinct for melding bold flavors is a hallmark of the Great Northern's food as well as its drinks. At its best, the ambitious spot — which is open during every mealtime except Sunday dinner — offers brilliant and surprising matchups. When dishes fall flat, which some do, they are still of high quality and are interesting to eat.
Oliver Parini
The Cigar Club
My first meal at the Great Northern, a casual lunch with my food-loving siblings, offered a mixed bag. Some minor issues collectively impacted the overall experience: a wedge of iceberg lettuce with a cake of damp dirt clinging to the top leaf; a mix-up with the dessert menu, leading us to order an item that was no longer available; a really long wait for those desserts, during which the ice cream partially melted and skidded across the plate.
Still, the lunch began beautifully with a couple of East Coast oysters for each of us and a pretty rhubarb mignonette on the side. Then came a dish of scallops and uni with a slick of soy in the bowl and bits of scallion and seaweed dotting the tender shellfish flesh. Although the accoutrements were flavorful, they didn't get in the way of the seafood. The delicate taste and texture of the scallops came through. So did the briny, sensual urchin.
Our next two dishes were somewhat flawed. The great pleasure of a classic iceberg salad is the combination of creamy dressing slathered across the crunchiest of lettuces, punctuated with bites of sweet and salty garnishes. It's retro enough to feel a little bit naughty to a locavore devotee, even when the lettuce is from Pitchfork Farm in the Burlington Intervale.
The Great Northern's concept was a bit muddied (and not just because the lettuce needed another rinse). Scattered around the wedge of iceberg were field greens and pea shoots, plus pickled cabbage, carrots, beets and cauliflower, but not enough dressing. The fried onion rings perched atop, as well as twin slabs of pork belly on the sides, couldn't easily be distributed among the bites without lots of knife work. So, we ate the onion rings before they got cold, forked up the wholesome greens and pickles, and finished up with hunks of smoky belly. Individually, all of the items tasted good, but the dish wasn't cohesive.
I felt similarly about the pressed chicken, which was perfectly cooked and had crispy, brown skin. The meat came with preserved veggies — pickled daikon and carrot, kimchi and pressed cucumber. All were pleasant, and the variety reminded me of my meals at Korean barbecue restaurants, at which a sampling of condiments is a key component.
The starches on that plate were plain white rice, glaze-sticky roasted beets and wedges of scallion pancake, which was a rather dry flatbread with few scallions. My brother, who used to live in South Korea, said that the versions he'd eaten in Asia were a bit more tender and definitely contained more scallion. The chicken and all of the pickles were good, but the rice was ordinary, the pancake disappointing.
The best luncheon dish was the perfect capicola sandwich. The smoky, salty house-cured meat was piled on a delicious Italian-style roll with mozzarella, pepperoncini and aioli. Every bite left me wanting more. Given co-owner Frank Pace's background in butchery, it came as no surprise that his cured ham was delicious.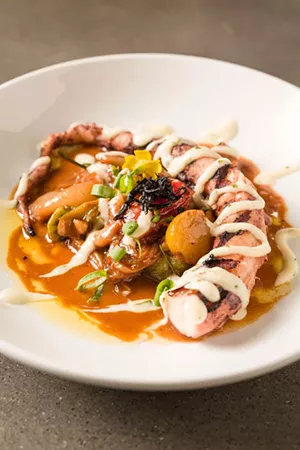 Oliver Parini
Baby octopus
At dinner a few weeks later, I ordered a parade of small plates in order to experience as many tastes and textures as possible. The decision proved a good one.
Tender baby octopus was grilled and served with miso-roasted fennel and cooling mint aioli. Hamachi crudo was topped with slender rings of hot pepper, a sliver of cucumber, scallion and husk cherries and served with a spicy, tangy soy dip. Squash blossoms were dunked in tempura batter and fried, then drizzled with honey and apple-cider vinegar.
A perfectly roasted quail came atop cabbage flavored with honey and peanut; the cabbage could have used a bit more salt and vinegar to perk it up. Forty-hour braised beef was tender and delightfully fatty and arrived with pickled green tomato and a mustard-and-horseradish aioli, served over a crisp hash brown.
The only dinner dish I didn't love was the aged-rabbit ramen. Having made ramen entirely from scratch, I know how much it takes to pull the noodle soup together and don't take that work for granted. In this case, though, I found the broth a little too acidic and not fatty enough (rabbit is inherently lean), and the noodles had passed the point of ideal chewiness. The topping of pickles didn't provide balance because they were also acidic.
The meal's final course was much better. A pair of desserts — panna cotta with shiso-plum compote, and bourbon-almond cake with a smear of lavender-scented blueberries and delicate basil crème anglaise — was lovely. An espresso for my friend and a cup of Taiwanese Ruby No. 18 black tea for me put a nice cap on the evening.
Overall, every seafood dish I had at the Great Northern was excellent, and the meats were all exquisitely cooked, whether braised to tender perfection or left a warm medium-rare in the center. Lovers of fermented foods will be pleased with the number of vinegar and brine-kissed garnishes.
The Great Northern's greatest strength is its bold approach to local cuisine, marrying flavors from various parts of the globe with Vermont ingredients. Some of the complex dishes still need a little tinkering to make their individual components play well together.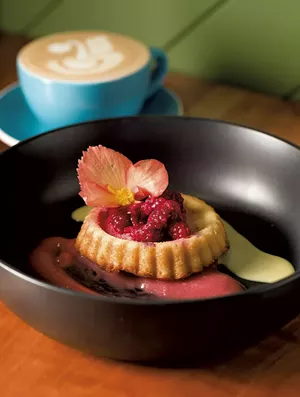 Oliver Parini
Bourbon-almond cake
Before spending five years as owner of and cook for my own farm-to-table restaurant, I was a harsher restaurant critic. I hewed to the capitalist-American belief that if I spent my money at an establishment, I deserved an experience somewhere between delight and bliss. Now I believe that critics — professional or casual — should make an effort to understand the vagaries of the business.
Running a restaurant is an incredibly taxing endeavor. When a new eatery serves breakfast, brunch, lunch and dinner right out of the gate, it requires making a massive investment in staff and training and maintaining a broad inventory of ingredients. It also means that the head chef can't possibly be present for every plating. Thus, other people must be trained to execute his or her vision, and finding seasoned kitchen help is notoriously difficult.
The Great Northern's offerings are ambitious, and most of them work. Over time, as the staff grows in confidence and experience, I expect all the dishes will get better and better. And I can't wait for my next sip of that smoky, silky Cigar Club cocktail.