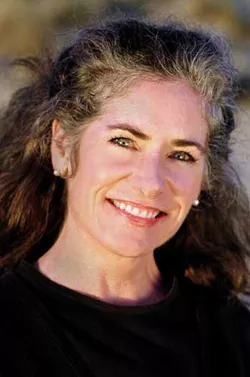 Wedding planner Janet Dunnington belongs to a rare breed: a businessperson who is happy not to get repeat customers. Her services can't ensure a perfect union, of course - what happens after the marriage vows is up to the pair who takes them. But Dunnington, proprietor of the Manchester-based CEO Weddings & Events, is renowned for getting couples off to a good start. And, more to the point, she is so well organized that brides, grooms and their families can actually relax during what is usually a high-stress event.
"I was really calm; I knew everything would happen OK," says Jen Herman of her wedding last September at Stratton Mountain. The couple from Montclair, New Jersey, had learned about Dunnington from a Stratton florist. "We had a pretty good idea of what we wanted, but she is so connected to Vermont, she made it so much easier," Jen says. "The best thing about Janet was, she really kept it on target. She had a whole timeline, a minute-by-minute schedule for everything."
"She really makes it so that people can enjoy the day," confirms Fran Janik, a photographer in Jamaica, Vermont. "I've never worked with another person who does so much for the client." Janik estimates he's shot at least 20 weddings with Dunnington since he relocated from New York City to Vermont in 1998. "Her attention to detail, the thoroughness, the organization are really great" for the vendors, too, he notes. "I was really fortunate to make her acquaintance."
Dunnington estimates she's managed some 200 weddings - never mind other parties and corporate events - since she founded CEO 11 years ago. She takes on about 20 per season, May through October, which means juggling multiple timelines at once. If organizational skills are genetic, she says she got hers from her dad, who "made a lot of to-do lists." She even arranges her groceries on the checkout conveyor belt according to where they'll end up in her kitchen, Dunnington confesses.
That habit must have come in handy in her first career: piloting 100-ton yachts. "I left home at 20 and wanted to sail professionally," explains the petite, soft-spoken native of Savannah, Georgia. "I got my captain's license and was on private yachts for 13 years."
Dunnington spent summers in New England and winters in the Caribbean - that is, when she wasn't in California or South America. "My first taste of event planning was during the 1980 America's Cup in Newport," she says. "I fell in love with Newport and moved there. I knew someone who recommended me to the Hearst Corporation; they hired me to put together all the hotels, parties and hired yachts for their executives - I organized their entire experience for the '83 race. We lost to Australia . . . but I loved it."
By the end of that decade, Dunnington was ready to "put some grass under my feet," as she puts it. "I decided I wanted to nest." She left behind the world of floating luxury hotels and moved inland, to Manchester, Vermont. With her hospitality background, she found work as the food and beverage director of the Village Country Inn. A couple years later, when the Guinniss Corporation was taking over at the Equinox Hotel, the company hired her away. She also wrote a "standards and procedures manual for catering, uniforms, everything" for the hotel. Three years later, Dunnington became conference manager - and soon, de facto wedding consultant.
"Brides kept asking me to help them with outside things, asking my advice," she says. "I saw that there was a need here." Meanwhile, Dunnington got married herself, becoming what she calls "a mature bride" at 39. It occurred to her that "I could work for someone else 100 hours a week, or I could work 100 hours a week for myself but still see my husband."
She established CEO Weddings & Events, with an office in her own home a few minutes from downtown Manchester. "It just took off from there," Dunnington recalls. Though about 90 percent of her weddings take place in Vermont, the rest might be in "Italy, the Caribbean, wherever they want to go," she says happily. "We're now global." CEO has two satellite offices, in Manhattan and New Jersey. "They help in two ways," she explains. "A lot of my clients come from that area, so I'll meet them there for planning. And it's a good starting point for travel."
Dunnington stands out among wedding planners for a couple of other reasons: She is probably the only one in Vermont whose voice provides instant Southern comfort - those honeyed tones help soothe the flustered. She is also one of only 16 "Masters" in the International Association of Bridal Consultants. To retain that accreditation, she explains, "You have to continue your education, keep up to date, give back to the community and do your own seminars."
One of her favorite ways to give back: volunteering at the animal shelter. If she wasn't a wedding planner, Dunnington surmises, "I'd be working with animals. If I had a lot of money, I'd open a retirement home for all animals - cats, dogs, chickens, pigs, horses . . . whatever." So far, she and her husband Bruce have taken in only a 15-pound cat named Tubby.
What does a wedding planner do, exactly? Dunnington says she likes to begin a year and a half, or at least a year, before the wedding day. First comes an interview with the prospective clients to establish a budget and get a sense of their personalities. Then Dunnington lines up vendors to be interviewed and selected. "There may be planners out there who are control freaks, but I encourage my couples to be involved - it's their wedding, not mine," she stresses. Some couples know exactly what they want for colors, linens, flowers and other details; others are clueless and need lots of guidance. Most brides, though, will at least have picked out a gown.
Then Dunnington creates a timeline. Since most of her clients are from outside Vermont, she talks with them primarily on the phone throughout the planning process, but says they "have to come back here for makeup trials, design of florals and linens, and catering - to create a menu." She reviews all contracts with vendors, handles payments, and checks in periodically to keep them on track; she arranges lodging and travel schedules for guests, and even handles invitation RSVPs if the bride prefers that. "There is just a lot of detail coordination and follow-up," Dunnington summarizes. "I look for any glitches."
The day of, she brings in the china, sets up the decorations, manages vendors, oversees the rehearsal, and delivers gift baskets, if any - while keeping as much in the background as possible. "It's a 16- to 17-hour day," Dunnington says. "My goals are to make the planning process fun and, on the Big Day, to help everyone relax and have fun. I want them to enjoy the party, because it goes by fast."
Jen Herman wasn't so sure she needed a wedding planner, though she admits her husband Dave was. "What surprised me was how much we really did need her. Before we hired her, we would get in these little arguments about who did what - or not," Herman confides. "We're busy, we both have full-time jobs."
The Hermans' situation is typical these days, Dunnington says. Most of her clients are professional, career-path couples, 28 to 35 years old, getting married for the first time. "More and more, grooms are very involved," she notes. "Though they usually don't want to be involved in flowers and linens."
Different story if there are two grooms. "One of the most beautiful ceremonies I've ever seen was two guys at the Episcopal Church . . . one of them was a general manager at the church. The day of, I think everyone was there but the Pope."
One thing hasn't changed: The mother of the bride is still the most anxious person at a wedding, Dunnington confirms. "Part of what I do is assure her, help her relax, pamper her."
That task is more challenging, though, if the "other woman" is present - the second or third wife of the bride's father. Mixed families "are unfortunately the norm now," Dunnington says. "Three moms, four dads, etc. I talk about this ahead of time with the couple. Do the exes get along? I arrange them in pews accordingly. One time the divorced parents ended up getting back together," she adds. "But sometimes they really can't get along. I didn't know I was going to be an amateur psychologist when I took this job."
Most of Dunnington's clients spend $45,000 to $100,000 on their wedding. (The planners' fees are based on 10 to 20 percent of the reception cost, a flat rate or sometimes hourly, she explains.) But she's the first to admit that wealth alone does not make the event special. Take her own Big Day: "We got married at the Episcopal Church and the reception was at the Hildene - back when it cost $300 to rent," she recalls. "It was a cocktail party, no organized tables. There was no bouquet. At 39, I didn't think I could wear a wedding gown, but I love vintage, so I found this dress in Woodstock . . . It was just a fun party."
In hindsight, would she have done anything differently? "Well, when I saw the pictures - we're walking out of the church and all you can see in the background is coats and hangers in the church foyer. And I'd decided to have canned music for the reception . . . there were 16 minutes of prelude music, and it was not enough because I was late.
"That wedding," Dunnington concludes with a smile, "was a learning experience."