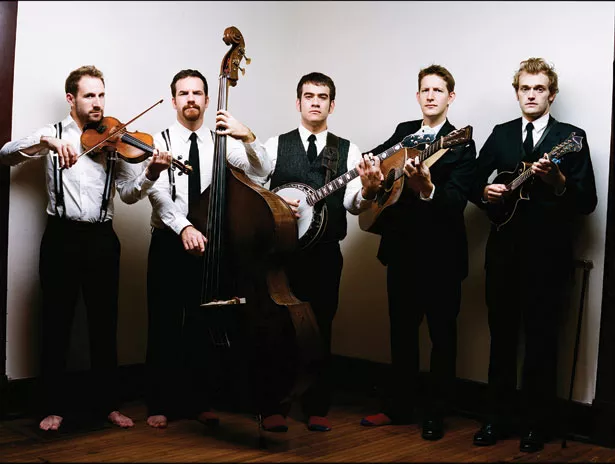 Chris Thile is no stranger to genre intermingling. The virtuosic mandolin prodigy's Grammy-winning trio Nickel Creek drew acclaim from fans of traditional bluegrass as well as those with a taste for pop confection and saccharine balladry. Though the group disbanded in 2007, Thile remains dedicated to exploring compositional boundaries with his new super-quintet, Punch Brothers, whose members are among the finest young acoustic musicians on the planet.
Composed by Thile, the group's debut record Punch is rooted in rigid compositional structure not unlike that of a classical piece, but also relies on the improvisational strengths of its musicians. Seven Days recently spoke with Thile and Punch Brothers guitarist Chris Eldridge in advance of their upcoming performance at Higher Ground.
SEVEN DAYS: Punch Brothers. That's a Mark Twain reference, no?
CHRIS THILE: It's from a short story that Mark Twain wrote called "Punch, Brothers. Punch!" The story revolves around a little poem that Mark encounters on a tram car and it's meant to remind tram conductors which tickets they're supposed to give to which passengers. "Punch, brothers. Punch with care. Punch in the presence of the passenger." And so forth. The poem gets stuck in Twain's head and kind of takes over his whole life. So, finally, the way he rids himself of it is to pass it on to someone else, whose life it then takes over.
So for one, we'd like to be just as sticky. And two, Twain describes the little poem as being "almost music." We kind of feel a kinship with that description in that we're not really "anything" and we always get a little nervous if someone calls us a bluegrass band, because we feel like bluegrass fans are gonna come and hate it. We also can't really call it a classical ensemble, because then you'll have someone show up expecting a Mozart quintet and, obviously, be sorely disappointed. So we feel maybe we are "almost music" and that's our genre.
SD: With that in mind, do you fear your new direction might alienate Nickel Creek fans?
CT: We really like what we do, so we're not really concerned about losing people who don't. We don't want to have to convince anyone. We feel like there are people out there who are going to enjoy this. And it may not be all the same people who've enjoyed what we've done in the past. We might have to go out and find some new people. But we certainly don't want to bully people into liking this. It's different from Nickel Creek. But it's different from a lot of things. There's someone out there for everyone and we'll find our people. And they'll find us.
SD: And how did you find each other?
CHRIS ELDRIDGE: The acoustic-music scene we all come from is really small. After a while you kind of get to know everyone else. It's a small community. So the band sort of formed through these mutual relationships. We're all guys around the same age who are on the same wavelength musically and as far as what our aspirations were.
CT: I started having this vision of this piece and what kind of thing it would be, which really sort of limited the options. I mean, there's only a certain kind of guy who could be in the band, especially if you wanted it to be a group of peers, age-wise.
We came together to make a record, not to start a band. But I think we realized after that first day of rehearsal, maybe separately, "Holy shit. I wanna do this." And then we started doin' it.
SD: So relinquishing control of the composition had to do with the supporting cast?
CT: I'd grown up with two serious loves as far as composition methods are concerned. That is, like that of Bela Fleck, his Drive record and his Tales From the Acoustic Planet record, where the main parts of the composition method are selecting which musicians are going to be on the record. And then you write a piece that's almost entirely open to interpretation by the musicians. Maybe there's a melody and a set of chord changes. And after that you get together with guys and the piece takes shape. So there's that method of composing which I love and which is about as vibrant and living a piece of music as there can be.
With classical composers, the person the piece is going to be for typically doesn't have much to do with the notes that are there, and doesn't really have any say in the notes they play. You have this depth of knowledge and ability to manipulate musical devices that's unequalled among any kind of music. And it's not like it's a revolutionary idea to try and combine the two methods. But it's the most intriguing method of composition to me. It's something that falls squarely in between the two.
So this piece, large portions of that are composed like a string quartet would be, and there are some portions that would be more like that less formal and, I feel, equally successful method of compositions. So you kind of have both. Hopefully, you have, you know, "every note in its right place" kind of composition. And then you also have things that are left up to chance at every performance, so it's going to be different in Burlington than it was in London. That's really exciting.