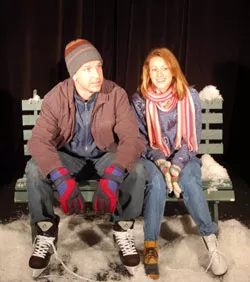 John Patrick Hayden and Kate Weatherhead
Pop quiz: What is the largest county and one of the most sparsely populated east of the Mississippi? Surprisingly, it's not located in some large Southern or Midwestern state. Aroostook County is the Northeast Kingdom of Maine, and the setting for John Cariani's play Almost, Maine (2004), opening at St. Michael's Playhouse next week. You can get there from here, but since most of Aroostook is roadless, it's tricky. And Colchester, Vermont, is a lot closer.
Cariani, 38, an actor and playwright now based in Manhattan, grew up in remote Presque Isle. (The town's population, around 11,000 when he was a child, has dwindled to about 9000, he says.) But he also has close Vermont ties — his mother is a native of Richmond — and fond memories of twice-yearly childhood visits to the comparatively bustling Champlain Valley. "Burlington was always this beautiful city that we went to, because of the lake, because of the churches," he remembers. "We used to love to go on the ferry to the Adirondacks . . . and all the cool stores on Church Street."
The remoteness of the fictional town of Almost informs the story, a series of midwinter meditations on love. The northern lights hover, so the possibility of magic looms for all the couples. Rugged conditions, however, mitigate sappy happy endings. Call it romantic comedy with its feet on the ground.
The playwright doesn't want love stories to wrap with fairy-tale finality. "Each ending is a new beginning," Cariani reflects. "I think it's better when you make the audience wish for the joy, rather than just giving it to them." If the story is played "just for the sweetness in the Valentine, it's a really bad play."
To guard against this, he filled the script with very specific stage directions, guided by his experiences as an actor. (Impressive highlights grace his acting resume, including a 2004 Tony nomination for Best Supporting Actor in Fiddler on the Roof and a 2002-07 recurring role on "Law and Order" as a forensics expert.) "When I was studying, we were taught to cross out stage directions. And I think when you do that, you lose the story that the playwright is trying to tell," he says.
Cariani didn't set out to write plays, but fell into it as he struggled to find fresh material for auditions. "Once a piece is found, it's done all the time," he recalls. "So I started writing little monologues for myself, and I'd go in and lie I'd just make up a playwright and the name of the play."
Almost, Maine, Cariani's first full-length effort, has run on Broadway, in 30 professional productions, countless community theaters, and as far away as Korea, where the title was translated as What Happens to the Heart When the Stars Fall. While he's busy working on his newest script, Cariani is also looking forward to returning to Vermont. A gaggle of local uncles, aunts, cousins and friends will join him for Tuesday's opening night.