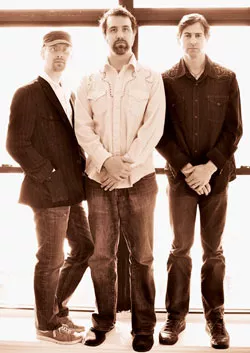 Rich Price, Brain Chartrand and Greg Naughton
Rich Price never meant to become a rock star. Which is good, because he never quite did. But through a combination of talent and dumb luck, the Burlington-based songwriter has carved out a career that would be the envy of many musicians. And he's managed to continue pursuing that career despite bumps in the road and the often dream-crushing inevitability that is growing up, starting a family and — gasp — working a day job. This Thursday, March 8, Price's band, the Sweet Remains, play the Higher Ground Showcase Lounge in support of a new live-concert DVD, Live at the Canal Room.
Price, 35, got his start in music as a student at Middlebury College in the late 1990s. Sipping coffee at a Burlington café on a recent Thursday afternoon, he describes a college experience that's likely familiar to many young local musicians: late-night jam sessions with friends, basement shows at off-campus parties, coffeehouse gigs, etc. But Price, who with his glasses, short-cropped goatee and thinning hairline still looks more the bookish academic than rocker, says he didn't really consider music as a career.
"It was never something that was on my radar," he says.
After graduation from Middlebury in 1999, Price studied for a master's degree in history at Oxford University. While in England, he continued writing songs and would occasionally send rough demos to his old college roommate, Pete Heimbold, better known as Pete Francis, the lead singer of jam-oriented pop act Dispatch. Once back in the states, Price reconnected with Francis and the two holed up in a Providence, R.I., studio, but says they had little in mind beyond catching up and laying down a few tracks.
"The idea was really just to record some songs for posterity," says Price. Those sessions eventually became his 2002 debut record, Night Opens.
That fall, Dispatch hit the road for what was supposed to be their final tour (the band reunited in 2011). Francis invited Price along to document the trip with a video camera —and gave him his first glimpse into the rock-and-roll lifestyle. Shortly after, Price experienced that lifestyle again, as a performer, when Francis invited him to be his opening act on a solo tour.
"It was a pretty amazing opportunity to be handed this opening slot," Price concedes, describing the first in a string of lucky breaks. "Things that don't normally fall into people's laps began falling into mine."
That's an understatement.
Around that time, the mainstream music industry was falling all over itself to unearth the next big male singer-songwriter. David Gray had recently taken the world to Babylon and lit up the charts with White Ladder. John Mayer was exploring your body — which, if you'll recall, is a wonderland — on Room for Squares. Given his easy croon and knack for breezy pop hooks, Price would once again find himself in the right place at the right time.
Following a show at Harpers Ferry in Boston, he was approached by a fan who had enjoyed his set. They chatted for a while and the fan bought a CD. A few days later, the same fan called Price from California.
"He told me his dad really loved the CD," recalls Price, adding he was somewhat confused by the call. "My response was like, 'Oh, that's nice.' And he said, 'No. You don't understand. My dad is the president of RCA Records. He wants to talk to you.'"
Soon after, Price signed a development deal with RCA. But following a series of mergers and other industry shake-ups — and still more dumb luck — he eventually landed at Geffen Records and signed a two-album contract. A song from his demo, "I'm on My Way," which he had written with Vermont's Clint Bierman, now of the Grift, was selected for the Shrek 2 soundtrack, a double-platinum album that also included songs by Counting Crows, Pete Yorn, Tom Waits and Nick Cave. Price's star, it seemed, was on the rise.
He would soon find the record industry to be a fickle mistress.
During an appearance on a California radio station to promote his second album and presumptive Geffen debut, Miles From Anywhere, Price received a call from his manager telling him he was being dropped from the label in favor of another young singer: Ashlee Simpson.
Price was released from his contract but given the rights to his still-unreleased record, free and clear. "I had a pretty good lawyer," he says. That record finally came out in 2004.
Price spent the next four years writing music for film and television and working as a solo artist. He also wrote songs for other artists, including Stephen Kellogg. But he didn't return to his own music as a full-time gig.
Price married his longtime girlfriend in 2005. The couple had their first child shortly after. They're expecting their third this spring. Price and his family now reside in Burlington, where he works as a digital brand strategist for marketing firm Select Design. In other words, Rich Price grew up.
"I started to become less and less interested in the life of a touring musician," he says.
Though he had essentially traded in his music career for the proverbial white picket fence, Price couldn't shake music as a calling.
"I had this idea of starting a trio [composed] of solo artists who had had success to varying degrees," he says. "Something where we could pool resources and fan bases. Something that would be greater than the sum of its parts."
In 2008, he started the Sweet Remains with longtime collaborator Greg Naughton and songwriter Brian Chartrand. In the years since, the band has achieved modest success, doing short tours every six to eight weeks in the U.S., and a recent one in Europe. The Sweet Remains have strong fan bases in cities around the country and have placed a few songs in national commercials and compilations. But Price says the band provides something more important than fleeting music-biz accolades: balance.
"Once I started a family, I realized I couldn't do the touring grind anymore," he says. "The artist's life can be very feast or famine. And at a certain point, you have to decide what's most important. But at the same time, music is part of my identity. It's who I am and what shapes my life. But now that I don't do it full time … I actually find I enjoy it more."
The Sweet Remains play the Higher Ground Showcase Lounge this Thursday, March 8, at 8 p.m. $10/13. AA. Tomorrow Never Knows and Suncooked open.