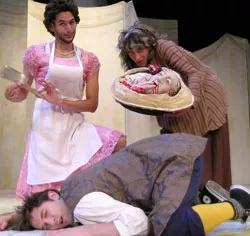 Even ardent Shakespeare fans would probably 'fess up that their initial childhood brush with the Bard was not love at first sight. He does run on a bit for young attention spans, and the archaic vocabulary feels forbidding. Despite the efforts of earnest English teachers, many of us had a tough time trying to understand, much less love, the scribe of Stratford until college or beyond.
O, that the Reduced Shakespeare Company's The Complete Works of William Shakespeare (Abridged) could be performed in every high school! It's raunchy and rowdy, but oh so slyly incorporates lots of iambs and info while packing all 37 plays into 90 minutes. Using just three actors, the RSC's tongue-in-cheek take on Will's works also captures the boisterous spirit of theater in the playwright's own day, when "groundlings" paid a penny to stand and watch shows. At Lost Nation in Montpelier, Kim Bent directs a rambunctious threesome, who gleefully engage the audience in the fun.
The RSC script calls for the performers to appear on stage as actors using their real names, working their butts off to put on the show. No "fourth wall" exists; the performers frequently interact with people attending the play. They rapidly cycle backstage to don exaggerated costumes and outlandish wigs, and grab silly props that help them enact abbreviated scenes. Usually, two perform while another narrates.
The script doesn't attempt to present equally long summaries of all the plays. In fact, it concentrates heavily on the tragedies, "because," as one of the cast notes, "basically we've found that the comedies aren't half as funny as the tragedies." Two of the most famous ones take center stage: Romeo and Juliet and Hamlet. Familiar plots and famous lines provide plentiful opportunity for parody. Meanwhile, all 16 comedies get distilled into The Love Boat Goes to Verona, which hilariously mashes up Shakespeare's humor staples — twins, mistaken identity, shipwrecks, enchanted islands and forests — into one briskly told tale.
The RSC makes even shorter work of the histories, which enable one actor to realize his teen dream of making Shakespeare into a sport. With all the killing and throne-passing, "It's exactly like playing football, but you do it with a crown." A few cleverly narrated "huts" and "hikes" swiftly take down all the assorted monarchs.
Bent has assembled a trio with brio to execute the rollicking script. His energetic direction has the young actors dashing on and off stage and through the audience. They duel in comically choreographed fights, wrestle in awkward love scenes and die melodramatic deaths.
Each member of the ensemble tackles the script with animated ebullience. Portraying most of the female characters, Eric Love renders romantic lines of Shakespearean poetry in a loopy falsetto. He delights in drawing attention to his, uh, girlish charms by skipping and sashaying in floaty gowns and flipping fright-wigged locks like a Valley Girl. Among his priceless moments: bellydancing as Cleopatra with a rubber snake.
Aaron Aubry makes a terrific "serious" character, demonstrating Hamlet's madness with murderous, sex-crazed sock puppets, a Monty Python-esque silly walk and histrionic recitations of famous lines. His comic deadpan is brilliant as he portrays a pretentious academic eager to "whip out" I Love My Willy — a tome stored, naturally, in his pants.
All three actors meet the demands of the physical comedy. Christopher Scheer is especially good in the fight scenes. He thumbwrestles and hipgrinds with Love as families feud in R&J, and partakes in several zany duels. Funniest is his slo-mo swordfest from Macbeth, staged to mimic a battle from Braveheart.
As is usual at LNT, polished technical elements support the storytelling. Costume designer Cora Fauser equips the men with a base wardrobe of tights (turquoise, fuchsia and burgundy), long-sleeved black athletic shirts and black Chuck Taylors with orange laces. The actors quickly add tunics, breeches, gowns and accessories with the indefatigable assistance of dressers Tara Lee Downs, Robin P. Hall and Sarah Menard.
In this evening of laughs, Love gets the play's one serious moment: Hamlet's "What a piece of work is man" soliloquy. The script slips it in unexpectedly. After Aubry has a meltdown trying to get through "To be or not to be," Love suggests skipping his next big speech, and ends up reciting it himself. The audience is caught off guard — prepared for something crazy to happen, only to be reminded of the immense beauty of Shakespeare's language and the timelessness of his ideas.
Love gives the words quiet grace, allowing the audience to reflect briefly on the Bard's greatness. When the silly stuff resumes a moment later, we suddenly remember that it's OK to tease old Wills mercilessly. Because no one will ever take his theatrical crown.